If you're looking for a Pebble Beach tour from San Francisco, maximize your time on this 2-day excursion that includes an overnight stay in Monterey. Both with a guide and during free time, you'll experience a variety of attractions in this coastal resort area, from Cannery Row to Carmel. Learn about Monterey Bay National Marine Sanctuary, see one of the most prestigious golf resorts in the world, travel along the 17-Mile Drive, and pass through Half Moon Bay on Highway 1. You can visit Monterey Bay Aquarium independently, if you wish.
Highlights
2-day Monterey County day trip from San Francisco
Explore Cannery Row, Fisherman's Wharf and Downtown Monterey at your own pace
Visit Downtown Carmel and Pebble Beach Golf Links and travel along jaw-dropping 17-Mile Drive
Overnight accommodation and round-trip hotel transport included
Why Our Insiders Chose This Tour
The quaint communities of Monterey and Carmel are worth the extra day to discover. If you've always wanted to visit the Monterey Bay Aquarium, this overnight tour is ideal, as you'll have plenty of time to enjoy the attraction without sacrificing your sightseeing time.
What You Can Expect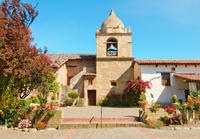 Spend two relaxing days in Monterey, a coastal town south of San Francisco that's known for its scenic shoreline, historical waterfront and Monterey Bay Aquarium, one of the top aquariums in the US. You'll also visit charming Carmel and see Pebble Beach, an iconic golfing sanctuary overlooking the Pacific.

One night of accommodation is included at the Hilton Garden Inn. You'll have both guided and independent time, providing you with the perfect balance of sightseeing. Food, drinks, any optional activities and entrance fees are not included, giving you the flexibility to do whatever you wish.
Itinerary
Day 1: San Francisco – Monterey
You'll be picked up from your San Francisco hotel in the morning -- get ready for a full day of scenic sightseeing! Relax on a drive by climate-controlled van south along Highway 1. Travel through Half Moon Bay and stop in Davenport to stretch your legs before continuing through Santa Cruz and arriving finally in Monterey, located about 120 miles (193 km) south of San Francisco.
See the spectacular Monterey Bay National Marine Sanctuary as you approach Monterey, a beautiful city located on the southern edge of Monterey Bay on Central California's Pacific coast. When you arrive, your guide will take you on a walking tour of Old Monterey for a look at the city's interesting heritage. You'll see some of the original historic buildings that were used when Monterey was the Capital of Alto California while under Mexican rule.
Enjoy free time to explore Cannery Row, Fisherman's Wharf and Downtown Monterey on your own. Or visit the world-famous Monterey Bay Aquarium for a fascinating up-close look at California's diverse marine life (own expense). This entertaining and educational attraction is a must-do while in Monterey!
Your guide will also take you to Downtown Carmel and world-famous Pebble Beach Golf Links, one of the most recognized golf courses. Have your camera ready, as you'll be amazed by picture-perfect vistas while traveling along 17-Mile Drive, a scenic road on the Pacific coast that runs through Pebble Beach and Pacific Grove on the Monterey Peninsula.
At the end of the day, you'll be taken to your lovely overnight accommodation, located just minutes from Fisherman's Wharf and Cannery Row.
Overnight: Hilton Garden Inn in Monterey
Day 2: Monterey – San Francisco
Wake up to a full day in Monterey at your pace. This is an open day to enjoy the many highlights of Monterey. Rent a bike (own expense) and ride along the coast or discover a hidden treasure at one of the many antique stores. Do as much or as little as you like--experience Monterey your way. Meet back at your hotel around 4pm in the afternoon, for the return trip to San Francisco.
Reminisce on your adventure on the relaxing drive back to San Francisco. Stop to stretch your legs in Gilroy -- the garlic capital of the world -- before arriving back at your hotel around 8pm.
Please note: This tour is seasonal and only runs from May through October.

May 2015
Firstly, please make sure you phone and confirm the day before. When we got there they didn't think we wanted the overnight staywhy would I have booked and paid for it otherwise??!!. Once the heaps of confusion was sorted out we got on our way. Fantastic trip. Tour guide really helpful and the scenery and wildlife were amazing. We stayed over in Montereywhich I recommend as the whole round trip would have been pretty long which again was beautiful. Decided to phone the bus company in the morning to check that the driver knew he was to pick us up again that evening - and guess what - nobody knew anything about it. The organisation within the company is poor but the tour is absolutely worthwhile. Just double and triple check everything!!
November 2014
After a few busy days in San Francisco it was lovely to chill-out in Monterey and see other parts of California. The Hilton Garden Inn Hotel was great too!
October 2014
It is a lovely tour.
I was doing the 2-day Monterey tour. It was worth the money. The hotel Hilton is quite luxurious and I have never been staying at such a hotel before. Spending two days in Monterey is perfect. It gives you enough time to walk through the nearby park, relax at the beach, observing wildlife such as birds, seals and sea lions, going to Monterey's stunning aquarium and doing some shopping at Monterey's Fisherman's Wharf (which is actually nicer than Cannery Row).
If there is anything I didn't like then it was the pick-up on the 2nd day. I was waiting for 1.5 hours and I was really getting nervous if they hadn't forgotten about me since nobody contacted me.
The tour staff is nice and helpful. I liked both tour guides and would travel with them again.
October 2014
Really enjoyed this trip which was with greyhound of san francisco. Both the tour guides I had were great. However it was not very well organized by the tour company, I was the only one doing the two day tour so it was half of two one day tours. This would have been fine but when we got to Monterey I discovered my first guide had been given no information other than the address of my hotel so I had to phone the next day to arrange where and when to be picked up by the next tour (which was expensive from a uk mobile as I was kept on hold). Also, although the hotel (hilton) was very nice, it was not in monterey centre so not the best location for a single traveller to be dropped off at with no car. However I did really enjoy my time in monterey and was glad I did the overnight. I just feel that it wasn't very well thought out by the tour company.
September 2014
I chose this trip because I wanted to visit the Aquarium which I needed more time then the tour allowed. We were given 90 minutes in each place (Monterey and Carmel).
The hotel I stayed was close to Transit Square where there is free trolley service to the wharf. The hotel was nice with a great staff. The free day in Monterey was perfect. I could do what I wanted, exploring both piers and the aquarium at my own leisure. The one thing that I feel could be improved was communication regarding the pickup time. The website stated the pickup would be around 4pm, and I was told between 4pm-5pm. I was back at the hotel by 3:45 and waited in the lobby until 5:30pm when they came to get me. I think if the tour company sent me a text message around 3pm telling me of any delays and narrowing the pickup time, it would have allowed me to spend more time exploring the area instead of waiting. Overall, it was worth doing and I enjoyed my time in both Monterey and Carmel.
Advertisement
Advertisement