For a convenient, stress-free way to visit Yosemite National Park from San Francisco, enjoy this 2-day semi-guided tour that includes overnight accommodation and allows you to leave the driving to a professional. When you reach Yosemite, you'll get oriented with the park and its amazing scenery on a guided tour to see famous features like Half Dome. Then you have free time to do what interests you at your own pace. Choose from three lodging options, including a tent cabin.
Highlights
Overnight tour to Yosemite National Park from San Francisco

Guided tour of Yosemite's most famous attractions, including El Capitan, the Tunnel View, Half Dome and Yosemite Falls
Choice of 3 different styles of accommodation at Yosemite

Explore Yosemite on your own, at your own pace on this semi-guided tour

Scenic drive to Yosemite from San Francisco

Free hotel pickup and drop-off from San Francisco hotels

Why Our Insiders Chose This Tour
This overnight excursion goes straight to Yosemite, giving you more free time to enjoy this extraordinary park as you wish. Go hiking, rafting or rock climbing, or try to capture the perfect photo. Opt to stay in a tent cabin in the park for a more rugged experience.
Recent Photos of This Tour
What You Can Expect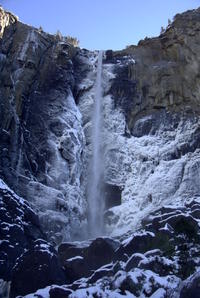 This overnight Yosemite National Park tour from San Francisco includes both guided portions and free time, so you'll enjoy the best of both worlds. When you're with your guide, you'll learn facts about the park and see its major sights, but you'll also be able to explore more at your own pace and take part in activities that interest you most.

Three accommodation options are available when booking. Choose to sleep in a tent cabin inside the park at Curry Village, settle in at the comfortable Yosemite View Lodge outside the park, or enjoy modern conveniences and a great scenic location inside the park at Yosemite Lodge. Meals are not included so you can choose where and when to eat; there are several restaurants and picnic sites in the park.
Itinerary
Day 1: San Francisco – Yosemite National Park
Your tour starts with hotel pickup in San Francisco for the approximate 200-mile (320-km) drive east of the city, through San Joaquin Valley, to Yosemite National Park. When you arrive, enjoy a guided park tour to see natural icons like El Capitan, Half Dome, the Tunnel View and Yosemite Falls. Keep your eyes open for native animals such as black-tailed deer, golden eagles, marmots and maybe even black bears.

You then have free time to explore more on your own. There are many activities for all interests—perhaps go rafting down the Merced River, learn how to rock climb on the park's famed granite cliffs or simply relax on an open tram tour of Yosemite Valley (activities at your own expense). At the end of the day, when most tour buses leave the park, you can sit back and watch the sunset in peace.

Overnight: Curry Village tent cabin, Yosemite View Lodge or Yosemite Lodge, depending on option selected when booking

Day 2: Yosemite National Park – San Francisco
You have free time in the morning (perhaps go for a hike to get your blood pumping), and then enjoy another guided tour in the afternoon. In the late afternoon, you'll depart Yosemite for the drive back to San Francisco, where you'll be dropped off at your hotel to end your 2-day adventure.
September 2012
Would do this tour again but stay longer. Yosemite is a beautiful place to visit and at your own pace.

June 2015
i loved yosemite.the only thing lacking was we did not get to see the giant sequioas.the shuttle of the park is only available in the summer.i didn't know that.
lodging at yosemite at the falls: room was spacious,clean.
December 2012
We really liked our Yosemite trip and ANDY ,our leader was interesting, helpful and genuine. You could tell he genuinely liked his job. We enjoyed our overnight stay, but unfortunately it rained and rained. Would certainly recommend Viator to anyone, and we would certainly use Viator again.
dewi Indonesia
August 2012
beautiful place and the guide is very nice. But the hotel is very standard. I miss to ride a bike again.
July 2012
The park was beautiful. The ride is 4+ hours so staying for overnight was a good call.
November 2013
I enjoyed the free time in the Valley, good deason, wonderful stunning landscape! But I have to say thatI wished a better guide, when going from San Francisco to Yusemite. I think that it is more likely a bus transafer from San Francisco to Yusemite, can't feel any "guided" service. We were told to be picked up at 3pm next day, but the bus much later, and depart in fact at 4pm. I had to wait more than one hour for waitng the but and was very worried if I had missed the bus. I should have see more in the valley, if we could know that exact depart time from Yosemite. The driver did not feel any sorry for his late by saying:"that was yesterday, today changed". It would be nice, if we could have a sotp for enjoy the sunset. So I really feel, insteaf a "semi-guided tour" it is only a bus transfer.
May 2013
The tour is actually the day tour split in two with free time to explore the park. The time in the park with the tour was fairly limited and mainly involved seeing vista points. If I had just been on the day tour I would have been disappointed. However the 24 hours free time in park with the 2 day tour was brilliant and gave enough time to start exploring the parks. Guide on the first day was brilliant and knew so much about everything, unfortunately the guide on the second day was not of the same level and a fairly quiet guide which was quite a contrast. Overall enjoyable tour.
May 2015
Very limited tour - you are paying for a transport service / accommodation, which at over 600 for myself and my partner for one nights accommodation I think is not value for money. On the outward journey, it was our tour guides first day and she read from sheets of paper on a few occasions during the 5 hour drive - very scripted and boring. The guide on our return journey was more animated, however there was a definite lack of tour / information given and most of the trip was spent listening to the bus radio. Yosemite is a great place to visit but we would definitely arrange our own trip next time. We stayed at the lodge inside the park option which was the Yosemite Falls Lodge which was very nice and close to everything.
May 2014
Review of 1 day tour as we re-arranged. Difficult to put a finger on it really..... A long, long day but then we knew that. I think it was a case of too many photo stops when we could have done with more time in the park. Driver/guide seemed a little irritated although tried to conceal this by being overly 'chummy'. Many, many references to 'tips' grated. Large notice by the bus door. We can read. We get it. Really we do.
June 2016
The only worse thing than this tour was having to give it 1 star (no offence Viator). Honestly, if I wanted to get rid of my worst enemy, I and #39;d still find it too horrifying to send them on this. Yosemite = amazing, for all you can imagine. But we did overnight tour; they dumped us with no hotel info
Advertisement
Advertisement