Special Offer
Book by July 17, 2016 to save 10% off our previously offered price!
Experience the spectacular scenery, wildlife and culture of California's coastline, on an epic, 3-day adventure from San Francisco to Los Angeles. Sit back and relax as your friendly guide handles the driving along coast-hugging Highway 1, stopping along the way to explore highlights like the Monterey Bay Aquarium, Santa Cruz beaches, the sea cliffs of Bug Sur, luxurious 17-Mile Drive, jaw-dropping Hearst Castle and downtown Santa Barbara. Finish the one-way journey with a train ride into the sprawling glamour of Los Angeles. Tour size is limited to seven people for a more intimate, small-group experience.
Highlights
3-day one-way California coast tour from San Francisco to Los Angeles
Visit the beautiful seaside cities of Cambria, Santa Cruz, Monterey and Santa Barbara
Enjoy views of the jagged Big Sur coastline and travel along 17-Mile Drive to world-famous Pebble Beach
Explore the Danish town of Solvang and travel through the picturesque Santa Ynez Valley
Admission to the Monterey Bay Aquarium and a guided tour of magnificent Hearst Castle are included
Knowledgeable guide provides flexible itineraries, letting you explore at your own pace
Small-group tour limited to 7 people ensures a more personalized experience
Recent Photos of This Tour
3-Day California Coast Tour: San Francisco to Los Angeles
What You Can Expect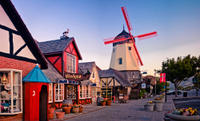 On your 3-day trip from San Francisco to Los Angeles, enjoy free time in each city you visit. Flexible daily itineraries let you explore at your own pace, and admission to the Monterey Bay Aquarium and a guided tour of Hearst Castle are included. Your guide will offer interesting and informative commentary throughout your trip about local history, culture and architecture.
Choose between Comfort and Superior accommodation types.
Itinerary
Day 1: San Francisco – Monterey After pickup from your San Francisco accommodation in the morning, begin your drive south on Highway 1 along the California coast. Stop at the Pigeon Point Lighthouse for views and continue to Santa Cruz for a walk along the beach.
When you arrive in Monterey, spend the afternoon exploring fascinating marine exhibits at the Monterey Bay Aquarium (admission included). You can also sightsee at your leisure or rent a bike (own expense) and cruise down a coastal path. Enjoy dinner (own expense) at one of the many downtown restaurants before heading to your hotel an overnight stay.
Overnight: Your chosen accommodation type in Monterey
Day 2: Monterey – Cambria (B)After breakfast at your hotel, start your second day with a journey along famous 17-Mile Drive, a scenic route on the Monterey Peninsula that runs from Pacific Grove to world-famous Pebble Beach. You'll be treated to views of the stunning Pacific coastline, passing impressive golf courses and mansions along the way. Stop in the small coastal resort town of Pebble Beach to check out the world-famous golf course, Pebble Beach Golf Links.
Continue along the jagged Big Sur coastline. Stop at the eclectic Nepenthe Cafe for incredible views of the Pacific Ocean, and spot sea lions lounging on the beach.
Next, you'll take a guided tour of Hearst Castle, an awe-inspiring mansion and estate designed in the early 1900s for newspaper magnate William Randolph Hearst. Your guide will tell you all about the history of this National and California Historical Landmark, which sits atop a hill of the Santa Lucia Range overlooking the Pacific Ocean.
After your tour, head 15 miles (24 km) south to the charming seaside village of Cambria. Enjoy free time here to take an evening beach stroll and have dinner at your leisure and expense.
Overnight: Your chosen accommodation type in Cambria
Day 3: Cambria – Solvang – Santa Barbara – Los Angeles (B)Have breakfast at your hotel and then relax on a 2-hour drive south to Solvang, a Danish town whose many bakeries, restaurants and merchants offer an authentic taste of Denmark. Explore the town by foot to appreciate the traditional Danish architecture and learn some local history.
Continuing toward Santa Barbara, take in views of the picturesque Santa Ynez Valley with its rolling vineyard-covered hills, and stop at a scenic overlook to take in the beautiful Lake Cachuma and its environs.
Spend time wandering through downtown Santa Barbara and along the city's world-renowned beaches. You'll then board a train for a brief ride to your final destination, downtown Los Angeles, where you're free to continue exploring on your own.
Please note: This is a one-way trip and does not include return transport to San Francisco. If you wish to return to San Francisco with your guide, you can choose to join the 6-hour return drive by van for an additional cost, payable directly to the tour operator.
April 2016
We booked this trip pretty much last minute and it definitely exceeded our expectations. Kelly was amazing, very knowledgeable and friendly. The mid size van was comfortable for the five of us and Kelly is an excellent driver, we felt safe and well taken care of. The accommodation included in the package is pretty basic so worth upgrading if you want something nicer. This trip is an easy and carefree way to experience the Californian coast and all it has to offer.
April 2016
We booked this trip last minute and it exceeded expectations. Kelly was amazing, very knowledgeable, friendly and accommodating. The midsize van was comfortable for the five of us and Kelly is an extremely safe driver, we felt well taken care of. The accommodation included in the package is pretty basic so worth upgrading if you would like something nicer. Overall, this is an easy and carefree way to experience the Californian coast and in this context, high recommended.
October 2015
An amazing trip with a very knowledgable guide. Loved the small group and getting to know others from around the world. Fabulous scenery at a lovely pace with plenty of time for all activities. Loved every minute of the trip
October 2015
I don't drive but I want to take a road trip from SF down to LA, so choosing this tour is a very easy decision. And it's one hell of a great decision. Adam contacted me long before the start day to confirm pick up location. And I appreciated him for that. For many wrong reasons, I ended up changing my pick up location 3 times and he was ever patient with me and it helped to easy my mind a lot. The day the tour started, he arrived early so we can have a good start. There were only 3 passengers me and a nice couple from Australia and the car was super comfortable for us. Adam is a very careful driver and knowledgeable guide, he made many stops along the way so we could take as many photos of the picturesque coastline as we wanted.
On the first day, because of good traffic and early start, we even had time to make a stop at the redwood forest. All the towns we made a stop were nice, charming and made me feel like I was travelling back to the past. The Monterey Aquarium is much more interesting than I expected. And the hotel in Monterey is just great, big room, very stylish. The wine and cheese reception is a nice surprise. On second day, the 17-mile drive is up to expectation. The fog came down heavy so we couldn't have a good view from Nepenthe cafe but we still had nice view on the road and Adam made more stops a long the way for us ladies to take pictures again and again. Hearst Castle is really something. Hotel in Cambria is nothing special but comfortable and quite charming in looking department. On the third day, we arrived at Solvang quite early, before the big bus tour arrived so we almost had the whole town for our own to take as much picture as we wanted. The train trip from Santa Barbara to Los Angeles was quite nice. I could take in the nice beach view from the train big window.
Tips: You have to try the cakes at Nepenthe cafe. If you travel as a couple, spend a bit more for the Superior Lodging and you will have a nice surprise.
September 2015
Mark was an excellent driver and knowledgeable guide. We really enjoyed the trip and would definately recommend it to others who prefer not to drive themselves. It is much more relaxing and great to see everything this way.
July 2015
Brilliant guide, small group, wonderful sights and comfortable hotels
July 2015
J'écris en français Nous un couple australien, ma petite-fille Janine et moi, nous avons eu l'occasion de faire ce voyage avec Mark. Mark était un guide très expérimenté, il nous a montré tout ce qu'il fallait montrer et beaucoup davantage. En route,, nous avons eu de longues discussions très inéressantes sur les Etats Unis aiinsi que, des problèmes écologiques. Mark est très sensible à ces questions, ce qui me plaisait beaucoup! c'est rare pour les Américains ! Il nous a trouvé deux hôtels délicieux où nousd avons passé la nuit.
C'était un voyage 100 réussi, grâce à Mark. MERCI!!! Regula de la Suisse
March 2015
I loved this trip. Mark our guide/driver was excellent. The scenery is stunning and we missed nothing. I really wanted to see "The Lonesome Pine" and it was on our itinerary. There were 3 of us and I guess this is the minimum number for the tour. It made it special and even better than driving independently. Mark said he had driven this route a few years ago with his Father and they "missed almost all the sights". Originally I was going to hire a car with a friend to do this journey. However my plans changed so I booked this trip and it was a great success .
September 2014
Great trip. Adam very good guide, giving lots of information about each destination. Fellow travellers very good company. Bus very comfortable. Accomadation in Monterey excellent, in Cambria no breakfast provided, no tea or coffee in room, no kettle. Would recommend tour to friends.
September 2014
Really Amazing tour. Adam was wonderful at giving us all the necessary information, he stopped when he spotted whales and answered our questions when we asked about the area, the sea life etc... I would recommend this tour 100%.
Special Offer
$960.00 Save $226.50
Advertisement
Advertisement