Experience some of the Bay Area's top attractions on this Alcatraz and Muir Woods tour that also includes a stop in Sausalito. At Muir Woods National Monument, stare in wonder at the coastal redwoods, some of the tallest trees on Earth. Soak up the charm of seaside Sausalito, and experience Alcatraz in one of two ways—admission to the prison, which includes the ferry ride to Alcatraz Island and the audio tour, or a cruise on the bay that circles the island twice for up-close views.
Highlights
Combined Alcatraz audio-walking tour and excursion to Muir Woods and Sausalito
Listen to an audio-guided walking tour of the Alcatraz 'Cell Block' (if Alcatraz option is selected at time of booking), otherwise, enjoy a 1.5-hour bay cruise around Alcatraz
Explore the giant redwood sequoia trees at Muir Woods
Shop and relax in Sausalito, California's prettiest town
Enjoy convenient pickup and drop-off from central San Francisco hotels
Access FREE wireless on board tour vehicle
Why Our Insiders Chose This Tour
An interesting contrast between the bleak prison and the freeing beauty of the woods. You'll experience a walking audio tour of Alcatraz, a stroll among the awe-inspiring trees of Muir Woods and a short stop in picturesque Sausalito. Three don't-miss attractions all in one day!
Recent Photos of This Tour
Alcatraz Tour plus Muir Woods, Giant Redwoods and Sausalito Day Trip
What You Can Expect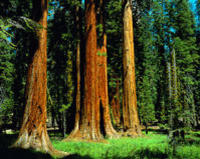 This tour is likely to sell out! The Alcatraz daily ticket allotment regularly fills up weeks in advance, so book early to avoid disappointment.

When booking this combo Muir Woods and Alcatraz tour from San Francisco, you have two options—an Alcatraz admission ticket, which includes the ferry to and from the island, or a cruise that circles Alcatraz Island, providing up-close views but no access to the prison itself (the cruise option is a good alternative if Alcatraz admission is sold out on your preferred date).

Muir Woods and Sausalito (included with both tour options):
Cross the Golden Gate Bridge and travel north to Muir Woods National Monument for your exploration of the giant coastal redwood trees. This old-growth forest is home to some of the planet's oldest and tallest trees, which you can admire in all their glory as you walk along shady paths.

Then head to Sausalito, a picturesque small town just north of the Golden Gate Bridge that sits between the Marin Headlands and San Francisco Bay. You have leisure time here to walk along the waterfront, maybe purchase a snack (own expense) or perhaps shop in the galleries and boutiques.

Alcatraz admission:
If you select this option when booking, you'll board the ferry to Alcatraz at Pier 33 on the Embarcadero in San Francisco. Enjoy the scenic ride across San Francisco Bay to Alcatraz Island, and disembark to start your independent tour of this island prison. Put on your provided headset to listen to the award-winning audio tour, "Doing Time," and learn about notorious criminals like Al Capone who were incarcerated here. Hear about escape attempts from 'The Rock,' and listen to commentary from former inmates and staff.

Escape from the Rock cruise:
This 90-minute cruise on the bay takes you underneath the Golden Gate Bridge before circling Alcatraz Island twice, providing plenty of photo ops and time to study the former penitentiary from the water. Listen to spine-tingling stories about escape attempts, and hear about what prison life was like for famous inmates like Machine Gun Kelly. This fascinating cruise includes chilling sound effects and tales about Al Capone, Billy Cook the Killer, Clyde Johnson and more. (This tour option does not include a ticket to Alcatraz itself.)
Itinerary
The tour schedule for the day depends on the availability for Alcatraz. For example, if Alcatraz is available in the morning, the tour commences at the pier to begin with the Alcatraz portion. If there is no availability for Alcatraz in the morning, upon arrival at Fisherman's Wharf you will commence with Muir Woods and Sausalito and then continue to the pier for Alcatraz in the afternoon, returning at leisure
The Alcatraz portion usually takes approximately 2 hours to complete, with the audio tour consisting of approximately 45 minutes. You are advised to inquire on your arrival to the island as to what time the next guided tour will begin. There is no restriction on the amount of time you spend on the Island. The ferry boat service departs Alcatraz every 30 minutes and you can disembark at your own leisure
The Escape from the Rock Cruise departs Fisherman's Wharf at 11:30am, leaving 1 hour after conclusion of the cruise to relax at Fisherman's Wharf before the Muir Woods tour departs at 2:00pm
The Muir Woods and Sausalito section consists of at least 4 hours in total
There is a 1 hour and 15 minute stop at Muir Woods. Passengers may choose whether they wish to walk the trail or not. This short, self-guided walk takes approximately 30 minutes
The stop in Sausalito is 30-45 minutes at leisure
April 2016
Very well organized. Our driver Chabli was great. We feel we learned much about San Francisco that day. Alcatraz was interesting and the audio tour was very good.
April 2016
Kabush was hilarious!!! He provided entertainment, great commentary on the history of San Francisco, safe driver and provided us with a truly enjoyable trip!!!
April 2016
Great information about Alcatraz that I never knew, the audio walking tour was excellent, The trip to Muir Woods was so wonderful seeing the redwoods this should be on everyone list. Our bus driver Randy did an excellent job full of information and drove like a pro.
April 2016
March 2016
On this tour we were able to see many beautiful sites in 1 day. Make sure to be careful when booking because we thought we were taking a tour inside of Alcatraz when in fact it was a boat ride around Alcatraz Island. It was disappointing because we could not buy a ticket on the spot since they sell out far in advance. We still enjoyed the boat ride nonetheless. The Giant redwoods in Muir Woods was very impressive and fun to walk around the monument. Sausalito is a lovely little town to end the day in. Our guide Randy was informative and humorous. Also, he stopped in a great scenic spot to take pics of the Golden Gate Bridge.
March 2016
The tour was fantastic. Our driver, Randy, was the best. He was very personable and knowledgeable. We did a city tour the previous day with a different company and the tour guide was so obnoxious that we were a little nervous about this tour but it was great from start to finish. A!catraz is fascinating and Muir Woods is not to be missed. We had a wonderful day. I highly recommend Viator and you are extra lucky if you get Randy as your guide.
February 2016
December 2015
My tour guide for Muir Woods and Sausalito was Manny and he made the experience 5 stars!! He had a great attitude and went above and beyond for the group. The Alcatraz part of the tour was amazing however I could have organized it myself as they just dropped us at the pier and we were on our own.
December 2015
We loved the entire tour. Alcatraz was really good -- we probably could have spent more time there. Our tour to Muir Woods and Sausalito were also excellent. We especially enjoyed Igor, our bus driver, who really made the bus travel over the top.
November 2015
Alcatraz was the best audio tour I've ever experienced. Very well organized. Manny, our tour guide to Muir Woods and Sausalito, was fabulous. Very knowledgable and friendly.
Advertisement
Advertisement