130 Reviews
Location:

San Francisco, California

Duration:

1.5 hours
Be part of an iconic San Francisco tradition at Beach Blanket Babylon, a unique, dazzling cabaret spectacle in the heart of the North Beach district. Full of gaudy costumes, hilarious satires, outrageous musical performances and plays on pop culture, this high-energy show mixes the story of Snow White with characters including American political figures, the British Royal Family, TV icons, pop stars and even the San Francisco Giants. This constantly changing show has been dazzling audiences since 1974, making it one of America's longest-running musical revues!
Highlights
Ticket to Beach Blanket Babylon, one of America's longest-running musical revues
Enjoy a night of outrageous entertainment in the heart of San Francisco's North Beach district
Admire extravagant costumes, hilarious satires and dazzling musical performances
Follow the story of Snow White mixed with characters including Barack Obama, Honey Boo Boo, Justin Bieber and Oprah Winfrey
What You Can Expect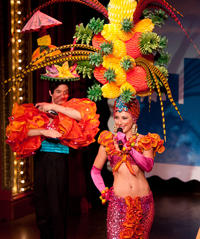 At your selected show time, head to Club Fugazi in North Beach, San Francisco's entertainment district. The venue, built in 1913, exudes a unique charm and elegance with its ornate detailing and colonnades, and the intimate two-tiered theater has a distinctly burlesque feel.
Follow the story of Snow White as she takes a fast-paced journey around the world in search of her Prince Charming. Along the way, she encounters a star-studded, ever-changing lineup of hilarious pop-culture characters, including President Barack Obama, the British Royal Family, Honey Boo Boo, Justin Bieber, Nicki Minaj, Gangnam Style, Bill Clinton, Oprah Winfrey, Michael Jackson, the stars from 50 Shades of Grey and the San Francisco Giants.
This high-energy cabaret spectacle is dotted with hilarious satire, outrageous renditions of popular songs, gaudy costumes and oversized, ostentatious headpieces. The San Francisco Chronicle gives Beach Blanket Babylon its highest rating and calls it "the real San Francisco treat!"
August 2015
Great show as always. Smooth entry - no problem with voucher.
August 2015
July 2015
It was a great show - I'd recommend it to anyone planning a trip to San Francisco!
July 2015
This was our first show on first night in San Francsco, and what a great welcome it was.... What great enthusiasm, costume, voices and HUGE Hats! Thank you Beach Blanket Babylon performers and staff. Catrina and Tim ! Cincy ohio
Anonymous
July 2015
Arriving from Sydney on my first trip to San Fran, I wanted to make sure I was able to fit in a show. Having had the Beach Blanket Babylon recommended to us, we decided to buy tickets for the 5pm session on Sunday the 13th of July. I would highly recommend this show to all , it was hilarious with incredible costume designs and music. The performers have amazing voices and did a fantastic job. The show itself was very up to date and current with acts depicting celebrity stories which have only taken place in the last few weeks. I would highly recommend this for all travellers, including families.
July 2015
A great way to begin your visit to SF! Hilarious and amazingly creative! Actors and actresses are STARS! Space is small so arrive early and be willing to stand in line...bring food to eat while you wait as only snack items are available inside!
July 2015
I've lived in SF and had never seen the show nor really knew what to expect. But going in without any expectations, this was a great show - really enjoyable and funny! I would definitely recommend to US travelers, or anyone who is familiar with US politics and current events.
July 2015
Fantastic show! Didn't really know what to expect, but couldn't stop laughing and was a really enjoyable evening out. Highly recommended. I have been to San Francisco many times and so happy to have ticked this off my list of things to do.
June 2015
Very entertaining with very talented performers! I wish there was a DVD I could purchase so I could watch it when I need a laugh.
June 2015
Advertisement
Advertisement