See Beach Blanket Babylon, North Beach's iconic cabaret, during this night out in San Francisco. Experience one of the nation's longest-running musical reviews, a show that has been entertaining audiences since 1974 in the ornate Club Fugazi. Watch the performers play out the story of Snow White, wearing outlandish costumes and enormous wigs, then mix in a hilarious satire including everyone from the San Francisco Giants to Barack Obama to the British Royal Family.
Highlights
Ticket to Beach Blanket Babylon, one of America's longest-running musical revues
Enjoy a night of outrageous entertainment in the heart of San Francisco's North Beach district
Admire extravagant costumes, hilarious satires and dazzling musical performances
Follow the story of Snow White mixed with characters including Barack Obama, Honey Boo Boo, Justin Bieber and Oprah Winfrey
What You Can Expect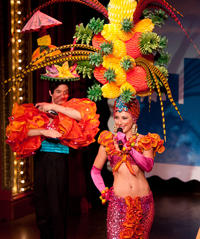 Head to Club Fugazi in North Beach at your selected showtime. The elegant, ornate space was built in 1913, and its two-tiered seating gives the theater an intimate feel. Settle in to your seat for a 1.5-hour show that includes the story of Snow White mixed with modern pop-culture satire.
Follow Snow White as she searches for her Prince Charming, coming across Justin Bieber, Bill Clinton and the San Francisco Giants along the way. Listen to the outlandishly-dressed cast give their hilarious renditions of popular songs and belly-laugh at the hilarious satire.
The lineup of pop culture references is ever-changing with the news, and the San Francisco Chronicle gives Beach Blanket Babylon its highest rating. It is truly a San Francisco institution and has been in a continuous run since 1974.
June 2016
This was a wonderful evening! The music was extremely well done, The choreography was great and the costumes were unbelievably fabulous. Beach Blanket Babylon is a must-see.
June 2016
My wife and I thought this was one of our favorite stops. Very Funny! The cast and their costures are so enjoyable.
June 2016
Amazing, nonstop comedy and music from start to stop.
So glad I went.
May 2016
We thought it was great fun. Loved the costumes and music was great.
May 2016
As the song says - 'If you're going to San Francisco' - this is a MUST DO. Very topical, great talent, hilarious. Get there early. Best revue I have ever seen.
Noel T and Carol A Australia
April 2016
We had a wonderful time at Beach Blanket Babylon! I am a former cast member and was blessed to have our seats upgraded and to meet with some of my friends who are still on cast. The show was awesome but the time spent with the cast, crew and director was PRICELESS!!!
April 2016
March 2016
This was absolutely one of the most creative and entertaining shows my wife, daughter, and I have ever seen. And we've seen a few. The talent on that stage was incredible. If you are in San Fran, do yourself a big favor and see the Beach Blanket Babylon Show. Fantastic music and huge laughs. Loved it.
February 2016
Absolutely great time. Clean and funny show.
February 2016
Absolutely outstanding!! One of the funniest, most engaging shows I hae ever seen. We couldnt stop laughing for 90 minutes. Excellently done by the cast.
Advertisement
Advertisement