12 Reviews
Location:

San Francisco, California

Duration:

2 hours

(approx.)
Spend an evening exploring two of San Francisco's vibrant areas for food and nightlife on a walking tour through Chinatown and North Beach. On their own, they will stir your senses. Together, they awaken you to new flavors, ancient cultures, and a diverse lifestyle.
Highlights
Walking tour around San Francisco's Chinatown and North Beach
Discover the beauty of Chinese sculpture and architecture
Learn how fortune cookies are made

Sample authentic Chinese dim sum

Indulge your sense with a tea tasting

Explore Beat generation hangouts and Western saloons

Savor North Beach's Italian heritage with delicious pizza

Recent Photos of This Tour
Chinatown and North Beach Night Walking Tour
What You Can Expect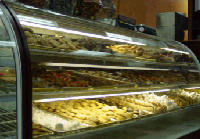 You'll start your walking tour in Chinatown. Explore the area by twilight, including tasting dim sum from one of the oldest bakeries in the area. Delve into Chinese mysticism and culture, as you explore local sculpture and architecture.
Search out authentic Chinese and Italian crafts and pottery and uncover their hidden secrets only intrepid locals know. You'll be astonished by the new finds in secret alcoves and the wonderful aromas and taste of some of the best coffee, dim sum, and other food on this two-hour tour.
"Best Tour for 2011" - San Francisco Bay Guardian
September 2015
The guide was knowledgeable and our tour came with lots of food and tea tasting opportunities. The pizza dinner at the end was amazing, we had to skip our original dinner plans. The only thing though I would suggest is to allow 3-3.5hrs for this tour rather than the suggested 2hrs.
April 2014
Great food, a lot of fun!
February 2013
Fantastic local guide with so much knowledge
April 2015
This tour proved better then I thought it would be. Our guide, Caesar was very informative and welcomed our questions. It is well worth the time, Chinatown is a whole world of its own inside the city.
October 2008
The tour leader was great--very informed. Enjoyed the tastings in Chinatown and dinner in the Italian restaurant. Even though I have been to San Fran before, I was glad I went on this tour.
May 2015
tea tasting was enjoyable, as was pizza and wine dim sum was a real disappointment - almost all sweet and starchy
June 2013
Had a great time on our trip to California and enjoyed this part of our trip, nice and safe tour taken with a knowledgable tour guide.
June 2013
We live near San Francisco so have been to Chinatown several times but got to try some new things. The tea testing and dim sum were both informative and delicious (I had dim sum before and didn't care for it). We ate everything. The guide was informative except when we asked for a restaurant recommendation. He said he didn't like Chinese food and that was that. He should have had a good answer since I'm sure everyone asks that. The Italian place at the end was good. Some in our party didn't care for the ultra think cracker crust but that is just preference. The owner was very pleasant and informative and we enjoyed the wine. We met a very nice couple visiting from Canada and ended up walking the to their hotel after the tour. I will definitely try another - it is a great gift idea for my husband and son-in-law who are so difficult to buy for.
September 2015
It was OK but I would not recommend it.
March 2014
I'm pretty sure this should be listed as a 3 hour tour. There is a ton of food so come very very hungry. I'm sure the guide is a very nice person but he seems easily frazzled and I'm not sure how much he truly knows about Chinatown. Several people left for various reasons so I'm not sure if there is a time management problem on the part of the guide or there should just be three hours allotted for this tour and people are expecting two. I would also recommend starting this tour elsewhere in Chinatown. Grant Street is just too crowded at the time the night tour starts and perhaps the tour should start an hour earlier so people are more able to wait to eat during the tour and we won't be inconveniencing business owners and vendors that want to go home. I'm sure some little tweaks like this will make this a good tour but there are a lot of them that need to be made, hence the two star rating.
Advertisement
Advertisement