Engage your senses and delve into a world of discovery at San Francisco's Exploratorium! With a fantastic new location on Pier 15 overlooking San Francisco Bay, the revamped museum offers more than 600 interactive exhibits that the whole family will love. Explore the amazing realms of physics, anatomy, emotions and Earth's ecosystems through hands-on displays that will delight and inform visitors of all ages.
Highlights
Admission to San Francisco's Exploratorium
Spend a day with the whole family at this enthralling educational museum
Enjoy fun, immersive, interactive exhibits that engage all the senses
Learn about physics, music, anatomy, geology, ecosystems and much, much more
Conveniently located at Pier 15 between the Ferry Building and Fisherman's Wharf
What You Can Expect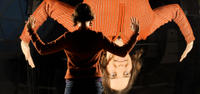 Kids and adults both will love the all new Exploratorium in San Francisco! Recently reopened in a brand-new building, this favorite family attraction boasts a convenient new location along the Embarcadero waterfront, between Fisherman's Wharf and the Ferry Building. Enjoy the vibrant bayside energy of Pier 15, and then head inside the discovery museum with your all-day general admission ticket.
Explore at your own pace on a self-guided experience through more than 600 exhibits spread across five different galleries, including an open air-space outside and many brand-new features. Isolate the senses at the Seeing and Listening gallery, and discover the inner workings of the brain in the Human Phenomena space.
Get creative by building mechanical contraptions in the Tinkering gallery, and investigate Earth's amazing eco-systems at the Living Systems area. Learn about the natural and human forces that shape the unique San Francisco Bay Area in an outdoor discovery space, and take in sweeping views of the San Francisco Bay and new Bay Bridge at the Bay Observatory Gallery.
See Itinerary below for a more complete description of the Exploratorium's multi-sensory galleries.
Itinerary
Exploratorium Galleries
Central Gallery: Seeing and Listening
Experiment with light and vision, sound and hearing, and motion and spatial perception. Our eyes and ears respond to light and sound waves, but these are just the first steps in perceiving the world. Playing with light and sound is the best way to learn how they work, and investigating real phenomena can also give you a deeper understanding of the scientific process.
West Gallery: Human Phenomena
Experiment with thoughts, feelings and social behavior to see how humans think, feel and interact. Here, you and others are the exhibit, so play with social interactions, observe others and contribute your reflections.
South Gallery: Tinkering
Think with your hands! Making things and developing ideas by hand helps us construct understanding. So slow down, settle in and make something personally meaningful, from playful contraptions to surprising connections between mechanical systems and natural phenomena.
East Gallery: Living Systems
Sometimes life is hard to observe, because it's too tiny or fast or is hidden underground or in the ocean. Here, investigate the living world to discover what you've been missing! Use scientific tools to investigate living things of different sizes, the ecosystems they inhabit and the processes they share.
Outdoor Gallery
Open your senses to this place by the Bay! Investigate forces shaping the city of San Francisco, San Francisco Bay and the greater San Francisco Bay Area. Watch shifting winds and tides, reveal hidden life, shake a bridge, observe human behavior, and find new ways to notice the places we inhabit.
Bay Observatory Gallery: Landscape Observation
See how natural and human forces interact to create the dynamic landscape surrounding us. Learn to uncover the stories embedded in a place by directly observing the geography, history and ecology of the San Francisco Bay region. The Observatory Gallery also offers incredible views of the Bay and the Bay Bridge!
June 2016
Get there early and bring some snacks. You and your kids are going to want to do everything. I have 2 kids and they wanted to see, touch and read everything. Its a must do when visiting San Francisco. This is a great place to kill some time if you have a day to spare.
April 2016
Spectacular experience. Worth doing in any sort of group you are part of. Family, friends, kids, everyone has someting or a lot positive to take out of this. Super well invested time and money.
July 2015
This museum is incredible. The exhibits are interactive, engaging, informational and fun for all ages. It is clean, spacious and easy to spend hours there.mthis is a must for adults and children. I would visit again as too many things to experience in one visit.

January 2015
I absolutely loved all the displays at the Exploratorium. This is not just for kids, there are plenty of exhibits that could keep you curious and entertained for days. Loved it!
August 2014
The Exploratorium is really great, for all ages. we (dad, mom, 8yo) enjoyed it so much ! you need to be early, as in the afternoon it tends to get crowdy. Our son really liked the electricity experiments and the buid-your-own stop motion movie.
August 2014
Highly entertaining for young to old.
April 2014
My children ages 7 and 9 loved this place and easily could have spent the entire day there. The only drawback: lines for every exhibit. Thank you!
February 2014
It was easy to get to, good content, convenient (but expensive) parking.
December 2013
It was great. Lots of hands on exhibits
December 2013
The new Exploratorium is the BEST.
Advertisement
Advertisement