Grab a photo with your favorite celebrity lookalike at Madame Tussauds in San Francisco. Head over to Fisherman's Wharf and wander through the six interactive areas of incredible wax figures. Sit in the Oval Office with the president or pull a dance move with Michael Jackson. Then go behind the scenes to learn about the wax process and the skill required to create these convincing figures. To extend the fun, hop over to the neighboring San Francisco Dungeon and join the experience with complimentary admission.
Highlights
Admission to Madame Tussauds San Francisco
Pose like a VIP with your favorite actors, including George Clooney, Kate Winslet and Leonardo DiCaprio
Compare your height to that of sports stars like Tiger Woods and Gabby Douglas

Sit in the Oval Office with Barack Obama
Learn about the wax process and all the man-hours put into each celebrity figure
Choose the combo option to include entrance to the San Francisco Dungeon, also at Fisherman's Wharf
Recent Photos of This Tour
Madame Tussauds San Francisco Including Complimentary Admission to the Dungeon
What You Can Expect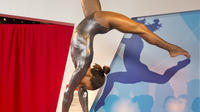 Make your way to Madame Tussauds, located in the Fisherman's Wharf neighborhood of San Francisco, to cash in your prepaid entry ticket.
Access the museum's six exhibits, as well as the behind-the-scenes feature. Bring your camera for shots with wax figurines of all of your favorite celebrities, world leaders and sports figures. Explore at your own pace and stay as long as you like.
Additionally, receive complimentary admission to the San Francisco Dungeon, where spooky stories and mysteries from 200 years of San Francisco history are brought to life through live-action vignettes featuring detailed sets, period costumes and special effects.
Exhibits include the following:
Spirit of San Francisco: It's a secret! The collection of Bay Area celebrities and other figures is not publicized — find out for yourself when you arrive.
Film: Figures include Alfred Hitchcock, Whoopi Goldberg, Marilyn Monroe and ET.
Music: Michael Jackson, Adele, Beyoncé, Lady Gaga and others.
History and Leaders: Figures include Barack Obama, Steve Jobs, Rosa Parks and George Washington.
Sports: See Tiger Woods, Muhammad Ali, Serena Williams and more.
'A' List: Wax figures include George Clooney, Leonardo DiCaprio, Kate Winslet, Jennifer Aniston, Anne Hathaway, Johnny Depp and Elton John.
Behind the Scenes: Learn the often-turbulent story of Marie Tussaud, and what it takes to bring the wax figures to life, or rather, the display floor.
November 2015
Excellent tour, best Madame Tussauds we have been to. Recommend this to anyone, good fun.
Shell Australia
October 2015
I loved this, you must do it, so real.
August 2015
Madame Tussauds was AWESOME!!! With this booking we also got a free trip through the Dungeon located right next door. I would say the only part I did not care for was the obsession with taking pictures. I understand the need for the additional income, and I bought one or two. It was the tourist thing to do afterall. :
July 2015
The models were so life like.
July 2014
Madame Tussauds was awesome! I couldn't believe how real the wax figures looked. I got take pictures with my favorite celebs, including Beyoncé and George Clooney. Then, I tricked my friends into thinking I actually met them :)

Ginjabread USA
July 2014
Awesome! Madame Tussaud's in SF is super interactive. We had a blast being able to try on props and take pictures with our favorite celebs. Would definitely go back.

Trina Tron USA
July 2014
We had a great time at Madame Tussauds. Being a Bay Area native, my favorite figures were the San Francisco icons. I made sure to take a picture with Joe Montana from the 49ers to show my dad, who is a big fan - he almost believed me when I said I met him in real life!
August 2014
The most accurate and believable of all the wax museum figures I have seen!

June 2016
Was short, construction going on so not sure if part of it was closed. Wouldn and #39;t recommend, there are other things in San Fran to do that are much more fun. However the dungeons were good fun, the time went very quick in there, the actors were very good, the whole thing could be scarier
September 2015
alright, not great. we expected more
Advertisement
Advertisement