Follow in the footsteps of Barbary Coast sailors, Beat writers, Italian immigrants and anarchists during this walking tour of North Beach, one of San Francisco's most intriguing neighborhoods. A local expert guides you past storied hotspots including jazz clubs, coffee shops, a plethora of speakeasies — and even Broadway Street strip clubs. You'll see notable landmarks including City Lights Bookstore, Vesuvio, Kerouac Alley, The Cellar and 1010 Montgomery. Then, even examine memorabilia at the Beat Museum to continue your journey into the city's colorful past.
Highlights
2-hour historical walking tour of North Beach in San Francisco, led by an entertaining guide
Hear fascinating stories of neighborhood denizens, from Italian anarchists to Broadway Street's adult entertainers
Admire famous landmarks including City Lights Bookstore, Vesuvio and The Cellar
See personal memorabilia from Beat icons such as Jack Kerouac and Allen Ginsberg at the Beat Museum

Recent Photos of This Tour
North Beach Underground Tour with Beat Museum Admission
What You Can Expect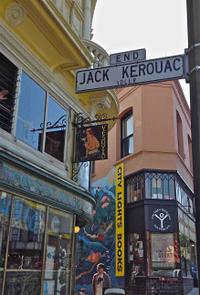 Begin your cultural underground tour in Kerouac Alley of North Beach, where the Beat Generation congregated in the 1950s. Follow your guide into the streets to learn about the lives of writers and visionaries such as On the Road author Jack Kerouac, and discover some of the edgier stories behind this famous neighborhood.
Learn about the Gold Rush days when the Barbary Coast was home to sailors who got 'shanghaied'; get an overview of Italians who settled and hear of the anarchists among them; discover why gay bars, drag shows and Broadway's adult entertainment thrived here; and get a pulse on the punk scene of the 1980s.
You'll understand why the Beat movement, marked by tolerance, rejection of censorship, environmental awareness, experimental drug use and spirituality seeking really took off in San Francisco. In addition to walking past a secret underground tunnel, speakeasies and the infamous Broadway Street strip joints, your guide shares old photos of places that existed during the Beat Generation heyday and reads literary excerpts referencing the historical sites on your tour.
See City Lights Bookstore, co-founded by Lawrence Ferlinghetti, who was involved in a high-profile obscenity trial for publishing Ginsberg's famous collection
Howl and Other Poems
. Check out Vesuvio, a bar frequented by Beats, and The Cellar, which was an influential jazz and poetry club. Pass by places Beats once called home — including 1010 Montgomery, where Ginsberg wrote part of
Howl
.
Your 2-hour cultural tour concludes at Washington Square Park but you can head back to the Beat Museum (admission included) after your adventure if you wish. Be sure to explore the first-edition manuscripts, letters and personal memorabilia at the museum on your own to learn more about the influential and passionate lives of the Beat Generation.
September 2015
Interesting!
Didn't realise there was so much history around North Beach and The Beatniks!
Thanks for a lovely afternoon, we even went to the Vesuvio for 1 of Jack's favourite drinks after!!
September 2015
Van was excellent. This was very enjoyable for me 58 y.o. woman and my 2 sons - 23 and 24 y.o.
June 2015
Ryan did a great tour. He brought us North Beach and the Beat very close. Thanks, we really enjoyed it.
September 2014
Ok, so if I could give this tour more stars I would. If you want to know more about the Beat Gen and San Fran - please do this tour. They charge you so little and they actually provide you so much more than they describe on Viator. Ryan, our tour guide, is a fount of knowledge when it comes to Beat writing, the Beat Generation hot spots and their writing.
Ryan takes you to their old haunts and gives you insights into their lives, influences, loves, vices and writing. He knows the ins and outs of the area (he also does the foodie / restaurant tours and gave us some great restaurant suggestions). Also, the guy is hilarious. The museum itself is amazing and inside is the original car from On the Road - filth and all. The owner is welcoming and attentive. They have some amazing Beat artifacts, books and media available (it has its own little makeshift cinema). I purchased some amazing things from the museum, like a poster that I absolutely fell in love with. Brandon, who also works in the Museum, was kind enough to wrap it up nicely and it survived the entire trip (about 8 + flights) in my bag - thank you dude! I will be framing it and hanging it up in my new apartment in Sydney, Aus.
Ryan also suggested that we go to two restuarants one in a Lighthouse (below sea level) and another on Mission St called La Taqueria. Both were EXCELLENT.
My friends and I loved this tour. I know I will be back soon and will be visiting there again.
Advertisement
Advertisement