See beautiful San Francisco by Segway on this 3-hour private tour. Enjoy your choice of three different routes that travel through Golden Gate Park, North Beach, Chinatown, Fisherman's Wharf and more, with the additional option to take your tour at night. A local guide will lead the way, providing fun and insightful commentary as you discover San Francisco on two wheels.
Highlights
Segway tour of San Francisco with private guide
Have a choice of time slots and itineraries to explore the iconic sights of the city

Combine the fun of touring by Segway with the ease of having the guide all to yourself
Try wheeling around San Francisco's legendary hills and the famously crooked Lombard Street (advanced riders)

Take in the the city by night as you glide through glittering Chinatown, North Beach and Fisherman's Wharf
Why Our Insiders Chose This Tour
Sightseeing on a Segway is already a terrific choice for touring San Francisco, so why not elevate your experience with a private tour? Ride longer, see more and enjoy it all at your own pace. Having a guide that responds to your interests and skill level makes you feel like a real VIP.
Recent Photos of This Tour
Private Segway Tours of San Francisco
What You Can Expect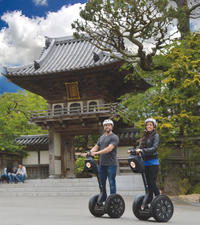 Your private tour will begin at Fisherman's Wharf or Golden Gate Park, depending on which route you choose. Before taking off to explore, your guide will provide a 40-minute training session to ensure that you feel confident hitting the streets on your Segway.

Then, you're off! You'll cover much more territory than on a walking tour, and there will be plenty of chances to stop for questions and photos as you go. The pace and itinerary of your tour can be always be adjusted by your guide to accommodate the skills and interests of your group.

Please note that a minimum of two people per booking is required. Choose from three different routes with varying tour times, detailed in the Itinerary section below.

Itinerary
Wharf Tour:
Enjoy stunning views of the San Francisco Bay as you glide along the waterfront. If your group is feeling confident, you may even take on some hills!

You'll cruise through Aquatic Park to the San Francisco Maritime National Historical Park, taking in great views of Alcatraz Island and the Golden Gate Bridge. Next you'll head to Russian Hill, and Lombard Street, the most crooked street in the world. Depending on your skill level, you may get the chance to ride down Lombard!

Glimpse hidden stairways and paths as you travel through the streets to North Beach, an area with strong Italian roots, evident in the cafes and restaurants. You'll stop in the heart of North Beach at Washington Square Park, next to Saints Peter and Paul Church, and hear about the history of the area, from early explorers, to Gold Rush fever, to Beat poets, the counterculture and more. You'll then return to the waterfront and glide past historic ships including a WWII Liberty ship, Fisherman's Wharf and Pier 39. The hills portion of the route may be adjusted or canceled based on rider ability and safety.

Golden Gate Park Tour:
Wheel through seven miles (11.2 km) of the 1,000-plus acres of Golden Gate Park as you learn the history of this lush San Francisco green space from your experienced guide. Your guide will take you to landmarks such as the Conservatory of Flowers, Stow Lake, the Lawn Bowling Courts, the deYoung Museum, the California Academy of Sciences, the Japanese Tea Garden and Shakespeare Garden. You'll have time to take a quick tour of either the Conservatory of Flowers or the Japanese Tea Garden (own expense) if you choose.

You'll also discover hidden gems such as Lily Pond, Fern Grotto, Storybook Cross, a redwood tree grove, and a pioneer's log cabin. The park is so large that many locals don't get to see all of it! As you travel, you'll hear how the area – covered by sand dunes in the 1870s – was transformed into the urban oasis you see today. The private tour includes extra time for exploring the Music Concourse and Stow Lake.

Night Tour:
When the sun goes down in the city, hit the streets for a night tour of some of San Francisco's most famous neighborhoods! You'll meet at Fisherman's Wharf and head to North Beach, also known as the city's Little Italy where Beat poets once made their home. Your guide will share the history of this lively neighborhood as you pause at Washington Square Park, adjacent to Saints Peter and Paul Church.

Next, glide over to the lantern-lit streets of nearby Chinatown for a glimpse of the dim sum shops, classic temple architecture, and abundance of souvenirs stores. From Chinatown, head down to the waterfront near the Bay Bridge where a dynamic light sculpture called Bay Lights dangles on the bridge cables. Continue along the Embarcadero past the Ferry Building to Fisherman's Wharf for a look at the historic piers, including a WWII Liberty ship, the Pampanito submarine, Fish Alley, the Fisherman's Chapel and the steaming pots of local crab vendors.

Enter the festively-lit Ghirardelli Square where the renowned chocolate is made, then find the National Maritime Museum nearby. You'll have a chance to snap photos in front of the historic sailing ships at Hyde Street Pier and take in the view of Alcatraz Island before ending your private Segway tour.
January 2016
Excellent the private tour at night is great, we had Kyle he was professional and amazing we would recommend this tour, go ahead and book it now!
November 2015
Very exciting tour!
The guide Carlos was awesome!
September 2015
We felt silly booking a Segway tour because... you know... it's a Segway Tour. How touristy can you be? Truth be told, it was the most fun we had in our entire week in the Bay and would ABSOLUTELY do it again. My boyfriend and I opted for the private night tour and it was well worth the extra money to go VIP. You can really create the experience you want with your guide and go at your own pace. We had a guide named KYLE who felt more like a friend than a guide by the end of the night. He was bursting with energy from the moment we walked up to the garage and kept that pace the entire time. He gave us a rundown of what to expect during the tour and then we got into our training. Kyle was patient, thorough, supportive and informative. He also made sure to get to know us a bit so we could have the PERFECT tour. Once we got on the road, Kyle shared history of the city and fun facts with a real sense of humor... Not the hyuk-hyuk jokes you expect from any old tour guide. Knowing we were sports fans, he even made sure to show us places relating to Joe DiMaggio. He led us to the World Famous Slice House in Little Italy where we had delicious pizza. We also braved Russian Hill and Lombard Street once we felt very comfortable on the Segways. Kyle took us all the way up to the top of Telegraph Hill where Coit Tower is located. Beautiful views of the whole city at night. So beautiful in fact that my boyfriend proposed up there. Kyle took pictures for us and suggested we go celebrate with egg rolls in Chinatown! Just like his pizza recommendation, his egg roll suggestion was perfect. We were having so much fun that we could have gone for 2 more hours. I can't stress enough how much an awesome guide like Kyle made this trip for us.
September 2015
This was a great way to get an overview of Golden Gate Park. Our guide Kelly was exceptional and was very open to giving us the freedom of stopping when we wanted to or keep going at a faster pace. We even enjoyed some off the footpath time onto rougher terrain. Excellent education prior to trip on Segway use despite all our party having previous experience. Recommend this excursion.
August 2015

July 2015
We were initially scheduled for an evening tour of Chinatown/North Beach areas but it was canceled. The tour company employee, Chelsea, worked very hard to rebook us and are we ever glad she did. We changed to the Golden Gate Park Tour and it was AMAZING. Kelly, our guide, was very patient with us, showing us everything we needed to know about using the Segway. He made sure we were 100 comfortable before setting out. Once underway he made sure to point out stuff I'm sure we'd have missed on our own. The Haight - Ashbury are was way cool but the woodsy areas of the park were the highlights for us. If you have been undecided whether or not to take this tour, with this company, I can wholeheartedly without any reservation recommend these folks. They are the real deal and will treat you right from beginning to end.

July 2015
Our guide Devin was very patient and accommodating. Covered a lot of territory on those Segways. A great way to see the city.
June 2015
Really good fun and worthwhile. Our guide was Tracey and she was very helpful, funny and informative
June 2015

June 2015
Absolutely the best city tour I've ever gone on. Our guide Devin was super. I'd absolutely go again.
Advertisement
Advertisement