Be sure to wear some flowers in your hair for a journey through the 1960s on the Magic Bus in San Francisco! Visit parts of the city that played a pivotal role in the counterculture movements of the '60s while riding aboard a decked out, psychedelic bus. See Summer of Love hotspots like Golden Gate Park and the Haight-Ashbury district, and get in touch with your inner beatnik and philosopher in San Francisco's North Beach and Chinatown neighborhoods. It's the grooviest tour in the city!
Highlights
Visit Chinatown, North Beach, Haight-Ashbury and Golden Gate Park
Learn about hippies, Beatniks and the rock 'n' roll movement
Hear interesting and informative commentary on the cultural movements of the 1960s
Ride in a colorful musical bus that shows you the history of iconic San Francisco lanmarks

Sing along to classic tunes with a flower in your hair

Why Our Insiders Chose This Tour
Offbeat and groovy! Visit the cultural attractions that defined San Francisco in the psychedelic 1960s. Timeless music and fun sing-alongs make this tour a trip for anyone who lived through -- or wish they'd lived through -- this fascinating time in San Francisco's history.
Recent Photos of This Tour
Ride the Magic Bus: A 1960s-Era San Francisco Tour
What You Can Expect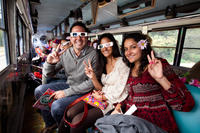 Take a psychedelic trip through San Francisco on the multicolored Magic Bus! Board the decked-out party bus in central San Francisco, where you'll be greeted by peace-loving, costumed guides.
Roll through the crowded, colorful streets of Chinatown, where Buddhism and other ideas of Eastern philosophy influenced the city's intellectuals in the 1960s. Nearby, see the favorite haunts of Beat Generation poets like Jack Kerouac and Allen Ginsberg, including the famed City Lights bookstore and Vesuvio café.
Continue on to the Haight-Ashbury district, the heart of the city's counterculture movement in the 1960s that remains a favorite hippie hangout. Travel back to the Summer of Love with the help of 3D glasses and time-warping window projection screens while your guide shares stories about this crucial moment in American history.
Cruise through the lovely meadows and gardens of Golden Gate Park, home to 'Hippie Hill' and the site of many celebrations and demonstrations during the 1960s. Stop at the Victorian-era Conservatory of Flowers, near where more than 20,000 people gathered for the Human Be-In event in 1967 and where the first Earth Day was held in 1970.
At the end of the groovy and informative 2-hour tour, you'll be returned to the original departure point with peace, love and history in your heart.
February 2016
It was great - a lot of fun and really made you feel the 60's again. Bus is cute, guide is perfect - I'd recommend for anyone who wants to do something a bit different.
October 2015
The tour guide and bus driver were absolutely phenomenal!
August 2015
Fantastic tour! I loved the guide and the multi-media presentation. Very creative!
August 2015
If you are going to visit San Francisco, this tour is a must! Educational, entertaining, and whimsical are but a few adjectives I would use to describe this tour. You will truly feel like you took a step back in time!
October 2014
Great tour of the city. Lots of fun!
August 2014
It's been awesome and I had a blast! A highly recommended tour of San Francisco!
Very interesting tour of this amazing city, including history, events, music and a great sense of humor! I loved it!
August 2014
April 2014
This was a truly great and unique trip...literally!!!! We have told so many people about this as not a traditional tourist booking for San Fran.
Our guide was wacky, kind and upbeat for the whole experience......the ideal host!!!
If you are of a certain age and want to experience again the changing times of the 60's this is for you!!!
March 2014
February 2014
Best event of our vacation!
Advertisement
Advertisement