Travel around San Francisco on a trippy 1960s-inspired bus and visit Alcatraz during this full-day tour. In the morning, ride the Magic Bus through Chinatown, the Conservatory of Flowers in Golden Gate Park, the bohemian Haight-Ashbury and the Beat generation's North Beach to learn about the history of this eclectic city. Climb aboard the ferry to Alcatraz in the afternoon for a scenic ride to one of the world's most notorious prisons, now a National Park. Take walking audio tour featuring commentary from former guards and inmates, available in 10 languages.
Highlights
San Francisco combo tour of the Magic Bus and Alcatraz

Travel back to the 1960s aboard the Magic Bus on a fun-filled historical tour
Visit North Beach, Chinatown, Haight-Ashbury and Golden Gate Park
Hear entertaining stories about the Beatnik generation and the Summer of Love from your costumed guide
Explore the notorious Alcatraz prison on a fascinating audio walking tour
Discover what prison life was like for some of history's most notorious criminals
Round-trip ferry ticket included
Why Our Insiders Chose This Tour
These people know their history and really know how to bring it alive. The trippy Magic Bus tour was produced by the same people who created the Alcatraz audio tour; both are rich with archival materials and deliver glimpses into what life was like on Alcatraz and in 1960s San Francisco.
Recent Photos of This Tour
What You Can Expect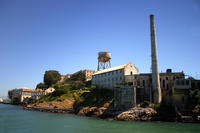 1960s-era Magic Bus City Tour

Meet the trippy, 60s-inspired Magic Bus in Union Square for your tour of some of the city's most interesting neighborhoods. The tour uses real archival material to bring the past alive and expose visitors to authentic sights and sounds of the 1960s.
Pass through Chinatown, an important center of Eastern influence for the hippie generation, then hit North Beach, where the Beat movement was spawned at the famous City Lights Bookstore. Continue to Haight-Ashbury, the epicenter of the hippie movement and the site of the Summer of Love. The bus' retractable projection screens will roll down and show you what a ride down Haight Street would have looked like in 1969. Head to Golden Gate Park, host to the first Earth Day in 1970 and the Human Be-In event in 1967, and stop at the Conservatory of Flowers.
After several hours of reliving the 1960s aboard the Magic Bus, your tour will end in Union Square.
Alcatraz Tour

Catch the ferry to Alcatraz at 3:50pm and enjoy the sights of the Golden Gate Bridge, the Bay Bridge and the city's receding skyline on the way out.
Arrive at Alcatraz, a former federal prison that's now a National Park and get a brief orientation to the maximum security facility, which operated from 1934 to 1963. Pick up your 2.5-hour self-guided audio tour, available in 10 languages, and start exploring. Listen to commentary from former staff and inmates and learn about the stints that famous inmates like Machine Gun Kelly and Al Capone served. When you're finished looking around, hop on the next ferry (ferries depart every thirty minutes) and head back to Pier 33.
Spend as long as you like exploring Alcatraz, then hop back on the ferry, which leaves every 30 minutes, for the ride back to the city. Your day of exploring the city's history ends here.
April 2016
This was one of the best tour experiences we've ever had. The Magic Bus was perfect for seeing San Francisco through the eyes of the 1960's. See Haight-Ashbury as it was and now is, envision the Fillmore with standing room only, imagine parks filled with rock and hippies. It was an excellent journey for those of us who remember the 60's. Combining this with Alcatraz made a full day, but with time to grab lunch at Pier 1. I highly recommend this combo tour for folks who appreciate the 1960's!
April 2016
I was highly impressed with the technology on the bus and with the friendliness of the driver and tour guide! The tour guide was perfect for the Magic Bus trip! I did however expect, for some reason, that the tour would end somewhere near the pier. But plenty of time to get there. And I probably didn't read something i should have.
October 2015
September 2015
Excellent tour and very different!
September 2015
We had a wonderful time, traveled all the way from North Dakota, when we got to union square to board the bus we realized we had left our tickets in our vehicle which was parked at the hotel. We were sure they wouldn't let us on the bus. when we explained this to Serene Rain, our tour guide, she took my hands, looked into my eyes and said I believe you. We had a wonderful time on the bus, learned some things about the Hippie movement and had lots of laughs. I would recommend this tour to anyone!
September 2014
We purchased this tour because that was the only way to get tkts to alcatraz. Our tour guide Gaya was full of energy and so much fun. You need to be open minded if you decide to go on this tour, if you go along with the whole thing you will enjoy if not you will not! We enjoyed it!!!
September 2014
This tour was tremendous fun, and quite exceptional, and combined with Alcatraz it was a tour that I would recommend to anyone.
September 2014
Really great tour! Enjoyed learning about the history. Great tour guide, very funny and entertaining!!!!!
August 2014
To be honest, I only booked this tour because I wanted Alcatraz tickets and this was the only way I could procure them. That being said, I had a great time on the Magic Bus. My husband, my three kids (21, 19, and 14) and my daughter's 18 year old boyfriend loved it as well. As a matter of fact they said it was one of their favorite things that we did in San Francisco. It was fun and whimsical, without being too hokey. I would recommend this tour, particularly for those traveling with older teens and college-age kids.
August 2014
HOST WAS GREAT AND VERY INFORMATIVE.
Advertisement
Advertisement