Book a shared arrival transfer from San Francisco International Airport (SFO) to your private residence, and enjoy a stress-free journey by comfortable bus. It's a simple, cost-effective option that's available 24 hours a day, seven days a week.

Highlights
San Francisco arrival transfer to private residences
Get to your home efficiently and effectively
Shared ride door-to-door ground transportation
What You Can Expect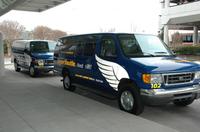 Getting from San Francisco International Airport (SFO) to your private residence can be complicated, but it doesn't have to be. This convenient option takes all the hassle out of renting a car or paying for a taxi after a flight.

Just enter your details when you book, and your shared transfer is confirmed instantly. When you land, show your voucher to the driver and hop inside the vehicle. The service is available 24 hours a day, seven days a week, so it doesn't matter when your flight arrives.

Please note: Price displayed is based on additional passengers booked. Single passenger rates differ, please refer to the pricing calendar. This transfer is valid within the city limits of San Francisco only.

November 2015
on time and a very direct route to where we were going. fast driver but that is to be expected
November 2015
November 2015
The Shuttle is very efficient and on time. There where guys equipped with tablets outside to help us get into the correct van. I found it helpful to phone the number on the voucher to confirm my paid booking and on arrival the confirmation number was used to secure my ride. I will use this Shuttle again.
October 2015
It was relatively quick and pleasant. By the time I checked in with them and we picked up other passengers was no more than 30 minutes. There were 7 or 8 passengers and I was dropped off last but I was still at my destination within an hour of landing so not bad!
October 2015
I was pleased and it was quite easy to find the driver at the airport. Make sure you have your voucher as they will have no record that the transfer has been paid for.
September 2015
September 2015
Took a bit longer for the driver to come than I expected but we were the second drop off and it was a pleasant drive down 280 instead of busy 101. The driver wouldn't take my suggestion to use Hamilton instead of University, which is stop and go due to tourist, but it didn't take that much longer.
July 2015
The driver was nice and helpful. I arrived to my destination from the airport in a very reasonable time. Very convenient, smooth and easy.
July 2015
The driver was very courteous and knowledgeable.
June 2015
Advertisement
Advertisement