Experience the supernatural side of one of the city's most famous neighborhoods on this San Francisco ghost tour. During this evening walking tour, you'll explore the streets of Chinatown with a guide, who fills you in on the spirits said to haunt this historic area. Hear chilling tales and mysteries, and enjoy an alternative way to discover Chinatown.
Highlights
Chinatown ghost tour

Learn about San Francisco's haunted side

Explore Chinatown after dark, when the spirits emerge

Hear about the supernatural history of the neighborhood

Recent Photos of This Tour
San Francisco Chinatown Ghost Walking Tour
What You Can Expect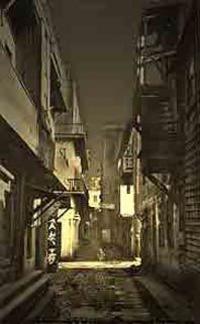 One of the oldest and biggest Chinatowns in the US, San Francisco Chinatown is hugely popular during the day with its many shops and restaurants, but fewer visitors explore the neighborhood at night. Dive deeper into this historical area on this haunted San Francisco tour with an informative guide.

You'll start by following your guide down lamp-lit passageways and alleys where spirits from decades past are thought to lurk, waiting until twilight to emerge. Listen to stories of the neighborhood's ghostly history, and hear about mysteries and folklore that will leave you with a tingling spine. You'll learn about the goddess Kwan Yin and the reverence she receives, the secrets of magic moon cake, and the significance of ancient Chinese mythology.

This is a side of Chinatown that most people miss, and it's a great way to add a little something extra to your San Francisco experience. Your tour ends at Portsmouth Plaza Park, from where you can continue your night out on your own (if you're not too scared).

June 2016

May 2016
Cynthia Yee was an amazing tour guide, friendly, easy going, and very informative!
My boyfriend and I being locals, me of 6 years and him born and raised in San Francisco never thought to take a tour in our own City. I'm so glad we did, because this is a must-take-tour ESPECIALLY for locals. Even he was surprised how much he didn't know about Chinatown!
We learned so much that night, Friday the 13th, a surprisingly quiet night for Cynthia's Ghost Walking Tour of Chinatown. The tour was very personal as we were the only attendees that night. I guess people really didn't want to actually risk seeing a ghost on a night fated to be unlucky :D
I don't want to spoil the tour for future takers, but we learned so much as though we were hearing stories from a family member or friend, stories of Chinese heritage and history in SF we never knew before from secret passageways of escape for immigrants when Chinatown was first developing, to the bubonic plague in the early 1900s, tales of sailors and ladies of the night along the Barbary Coast, the origin of getting shanghaied, and of course stories of many an infamous murder and locations of ghost sightings.
Though we didn't see, hear, or feel any strange presences, we did think we smelled a whiff of perfume from a fabled lady killed at Fragrance Alley. I would absolutely purchase this tour again and bring more friends next time to impress them and learn even more about the history of Chinatown. Maybe around Halloween time.
April 2016
Great Tour Guide. We loved the interactive aspect. Great fun exploring hidden secrets of Chinatown. 100 recommended for everyone older than 12!
January 2016
Very fun and interesting, gave interesting history of Chinatown, loved it!

November 2015
Tour started on time and we walked all around the hidden alleys of ChinaTown. Our Guide told us many stories about the ghosts and legends from the neighborhood. It was a fascinating look at another culture right here. Well worth the expense and time.
November 2015
This was such a great and different idea to do for Halloween instead of going to the clubs... our tour guide Ruby was amazing!! Very nice, entertaining but most of all knowledgeable. She had a lot of great information to share and kept us moving and wondering more along the way. I definitely recommend this tour if your just visiting Sf or just want to be entertained about spooky ghost stories.
October 2015
was very informative, I don't think Ruby stopped talking once during the tour. I liked it very much and would recommend it to anyone.
October 2015
This was a fantastic tour, the guide was extremely knowledgable and told very interesting stories. We even used an EMF reader that detected the presence of spirits in certain places we visited. I would definitely recommend this tour.
August 2015
This was a great tour. We had fun and learned lots of interesting facts about China Town. Cynthia, our guide, was wonderful and very informative. Ended the tour with delicious fortune cookies. We would take this tour again.
July 2014
My wife really wanted to do this one but i think i eneded up likeing it just as much well worth it very interesting and a nice stroll around china town. highly recommend
Advertisement
Advertisement