43 Reviews
Location:

San Francisco, California

Duration:

90 minutes

(approx.)
Are you fascinated by ghosts? Join this evening walking tour and let the local guides bring to life the tales of San Francisco Chinatown's supernatural past and present, as you're lead you on a ghostly tour of Chinatown's historic and mysterious streets and alleyways. You'll be amazed at what you'll discover along the way!
Recent Photos of This Tour
San Francisco Chinatown Ghost Walking Tour
What You Can Expect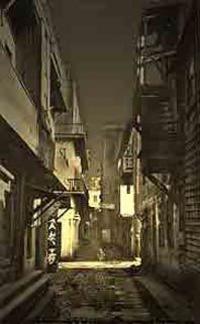 San Francisco Chinatown, the oldest Chinese community in the United States, has been a popular shopping, dining and sightseeing destination for over a century. Yet most outsiders have never experienced the extrasensory realm of vintage Chinatown after dark. Some say that specters from decades of Chinatown history emerge just after twilight!
Let the knowledgeable guides bring to life the tales of San Francisco Chinatown's supernatural past and present, as you are lead on a ghostly tour of Chinatown's historic and mysterious streets and alleyways. Follow along by lamplight as you journey through the neighborhood passageways where these lively spirits are said to bide their time. The mystical folklore of this spirited San Francisco enclave will keep you on edge, as you drink in the chilling experiences of the Chinatown inhabitants of both yesterday and today.
All the while, learn about the reverence still offered to the Goddess Kwan Yin and the hungry spirits, along with the secrets of the magic moon cake. Ancient Chinese mythology and folklore flourish to this day in the oldest and most popular Chinatown in all of North America. SF Chinatown Ghost Tours extends to you a chillingly open invitation to personally experience the unearthly side of Chinatown you never even knew existed - book this frightseeing tour now!
August 2015
This was a great tour. We had fun and learned lots of interesting facts about China Town. Cynthia, our guide, was wonderful and very informative. Ended the tour with delicious fortune cookies. We would take this tour again.
July 2014
My wife really wanted to do this one but i think i eneded up likeing it just as much well worth it very interesting and a nice stroll around china town. highly recommend
July 2014
Loved it!!! Cynthia was a wonderful, knowledgeable guide. The tour was the perfect length and told some great stories about the history of Chinatown. We loved seeing the colorful buildings and alley ways. Would highly recommend.
May 2014
Great tour...informative and fun...made the trip to Chinatown worth it.
April 2014
Our guide Cynthia was very good,taking us through china town, the bits you could see from the street and the hidden allyways and DEADends.
Heard some good stories about the birth of chinatown and some people and spirits that have inhabited the place,a good walk,very entertaining.
If you are planning to eat then i suggest you eat before the walk, we found that a lot of the resturants were closed when we finished the walk.
A very good night out!
March 2014
Our guide was very friendly, informative and funny. After having done a dozen weekend trips to SF, this tour gave it new life. Learned many things about Chinatown we never knew. Would definitely recommend to friends and even friends with pre-teens. Thank you to our great guide and viator.
January 2014
I actually enjoyed this tour a lot more than I expected. Not only did I hear tales about those who had passed and may still haunt the area, but I got an education on Chinatown itself, the Chinese culture and feng shui, which I still don't fully understand but have more knowledge about it than I did.
Though it is San Francisco, I wasn't expecting as many steep inclines on the tour. So if you have mobility or health issues, keep this in mind. Don't get me wrong. The inclines are doable, but if you're asthmatic (like I am) or have joint pain, you will get a bit winded - so use caution.
I would highly recommend this tour to anyone looking for a fun evening out. (And Four Seas where the tour starts has pretty darn good food as well.)
December 2013
This was the highlight to mine and my daughters trip, we had a lot of fun hearing about the history of Chinatown and the many ghost stories. We will definitely be taking this tour again.
December 2013
Michael and I enjoyed your tour very much. We give you a 5 stars
Sharon Walczak
August 2013
Advertisement
Advertisement