139 Reviews
Location:

San Francisco, California

Duration:

2 - 3 hours (depending on if lunch is selected)
Uncover the secrets of San Francisco's Chinatown district on this fascinating walking tour. Immerse yourself in the vibrant colors, buzzing atmosphere and rich heritage and culture of this storied neighborhood as your insider guide takes you to popular and off-the-beaten path locations, including an authentic Buddhist temple, an herbal pharmacy and Waverly Place, an unassuming 2-block-long alley full of interesting history. Stroll by the street food markets, sample fortune cookies at the factory where they're made, and upgrade to include a 10-course dim sum lunch. You'll leave with a whole new appreciation for this slice of the city!
Highlights
Walking tour of San Francisco's Chinatown
Tour popular sights and off-the-beaten-path spots that only locals know about
See the buzzing food markets along Stockton Street and explore Waverly Place

Pop into an herbal pharmacy and an authentic Buddhist temple
Sample fortune cookies at the factory where they are made

Learn about Chinatown's fascinating history and culture from your expert insider guide
Upgrade includes a mouthwatering 10-course dim sum lunch!
Why Our Insiders Chose This Tour
Chinatown is such a historic and bustling area of San Francisco that it's best seen with an insider -- and the guide on this tour is fantastic! Finish your walk around the neighborhood with an optional dim sum lunch or continue wandering the colorful streets on your own.
Recent Photos of This Tour
San Francisco Chinatown Walking Tour
What You Can Expect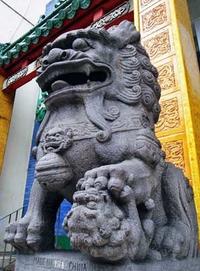 Meet at Old St Mary's Cathedral to begin your walking tour of Chinatown's most popular sights and hidden locales. Your guide will teach you all about the history and culture of Chinatown, explaining how the remarkable authenticity of ancient Chinese culture has been preserved and celebrated in its road to becoming a must-visit San Francisco attraction.

As you navigate a historic maze of mysterious sights, have your camera out as you admire eye-popping Chinese decorations adorning the streets. Pass pagoda-style buildings and hear about their significance, and step inside an herbal pharmacy to learn about the uses of ginseng root for longevity, pearl pills for beautiful skin and gecko lizards for energy.
Stroll down Stockton Street past busy markets selling some of the freshest and most exotic foods in the Bay Area. Gain an understanding of Chinatown's religious culture as you visit an authentic Buddhist temple, where you'll see dazzling altars adorned with red lanterns, gold antiques and incense-filled bronze urns. You'll also see a Chinese language school to find out how local Chinese families keep alive language and cultural traditions for their children.
At your next stop, Waverly Place, your guide will give you the inside scoop on Chinatown's most interesting alley full of temples, private clubs and secret societies. This 2-block-long street may seem unassuming at first glance, but you may be surprised at what you learn.
If the intoxicating sights, sounds and smells aren't enough, get ready for a great taste of Chinatown. Visit a fortune cookie factory to sample these 'wise' cookies and watch how they're made. Upgrade to include a hosted 10-course dim sum luncheon at one of Chinatown's most popular restaurants!
Ending back near your original starting point, you'll leave with a list of recommended stores and restaurants in Chinatown, so you can continue exploring Chinatown like a real insider.
Itinerary
Dim Sum Luncheon Sample Menu (if option selected)

Savory dim sum dishes

Pork and shrimp dumpling
Pork and shrimp potsticker
Steamed Shanghai pork dumpling
Steamed chicken and cilantro dumpling
Steamed barbecued pork bun
Vegetable egg roll
Vegetarian fried rice
Chicken chow mein

Dessert
Sesame ball filled with sweet bean paste

Specialty teas
Jasmine and chrysanthemum tea
October 2015
Really great tour, the tour guide was very funny and happy to answer questions and make really good recommendations about what to do after the tour. Would fully recommend going for the Dim Sum lunch after the tour as it was delicious.
October 2015
This is one of the best activities we did on our trip. Well worth your time and money. Linda is amazing. She makes in interesting, informative and fun. She is warm, personable and witty. Stay on for lunch. The food is excellent. Thank you Linda!
September 2015
Linda was informative and entertaining. My kids loved this tour!
September 2015
Really enjoyed the tour. Linda was a great guide and had all kinds of information on Chinatown. We chose to also have lunch with the tour, food was great. I'd advise anyone to go on this tour.
September 2015
Linda is a charming, animated raconteur of history and of tales about her home neighbourhood and community. As visitors from Ireland, we know the history of our own people crossing the Atlantic for a new life, but Linda told us about the people who came across the Pacific and offered us a fascinating account of how 'the little guys who don't eat much' came and worked very very hard indeed and made such a difference.
We have walked through Chinatown before, loving the colour and bustle, but Linda provided a structured and nuanced experience: thank you for the introduction to Chinese medicine, for letting us wander through a supermarket and to listen to the old man who plays his own kind of traditional music! The big bag of fortune cookies, bought in the tiny cookie factory, sustained us and our friends for a week one cookie is not enough! and the friendly lunch, that we enjoyed when the trip ended, was perfect way to conclude our visit.
We are fans of walking tours, and really rated this one: it is a tour for people of all ages and degrees of interest and fitness, just wear sensible shoes.
September 2015
Linda was great!!!! Loved China town
September 2015
Our tour guide was fabulous! She made the entire experience fascinating and come alive. I highly recommend her, and apologize for forgetting her name. Last name Lee. Unlike other Viator tours we've been on, this tour guide was an interesting addition. She came prepared, grew up in Chinatown and had first hand knowledge of the area and its inhabitants. A pleasure! And a big thanks to her for making it such a great walk through a part of town we would otherwise have probably skipped. If a tour guide is good, it's a whole different experience than when you get someone who is less knowledgeable.
August 2015
Lindda was great. Informative, engaging, and veery funny!
August 2015
Linda was knowledgeable Chinatown and showed us a good time.
August 2015
Linda was a awesome tour guide! We enjoyed the tour so much we have already told friends traveling next month to book a tour. Sure we could have walked around ourselves, but I would never have known about or went to most of the places she took us, it was fun and we learned a lot too! I say it's a MUST DO!
Advertisement
Advertisement