12 Reviews
Location:

San Francisco, California

Duration:

25 - 60 minutes
Hop aboard the ferry for a trip from San Francisco to Sausalito or Tiburon. This one-way or round-trip ferry service takes you across San Francisco Bay with beautiful views of the city skyline, Bay Bridge and Golden Gate Bridge. In the charming bayside city of Sausalito or Tiburon, explore narrow streets filled with boutiques, galleries and museums at your leisure, and enjoy a meal (own expense) at a waterfront restaurant offering unbeatable views of the surrounding Bay Area. This is a great way to maximize your stay in San Francisco, and makes for a romantic getaway or a fun day trip with family and friends.
Highlights
One-way or round-trip ferry service from San Francisco to Sausalito or Tiburon
Soak in views of Alcatraz and the Golden Gate Bridge on your scenic ferry ride
Browse art galleries, boutiques, specialty shops and museums on a self-guided tour
Enjoy a meal at a lovely waterfront restaurant offering stunning views of the San Francisco Bay
Multiple departure times give you the flexibility to explore at your own pace
Drinks and snacks available for purchase on board
What You Can Expect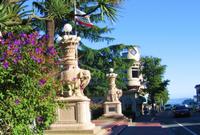 From Fisherman's Wharf in San Francisco, board a ferry and relax on the ride along San Francisco Bay to your choice of Sausalito or Tiburon. Along the way, enjoy views of the Bay Bridge, Alcatraz and the iconic Golden Gate Bridge. This comfortable vessel features several amenities for your comfort and convenience, and drinks and snacks are available for purchase on board. After exploring Sausalito or Tiburon at your own leisure and expense, choose from multiple ferry departure times to return to San Francisco.
Sausalito
This quaint, charming bayside city tucked among the Marin County hills features a variety of art galleries, boutiques, specialty shops and fine dining. You'll be greeted by the Elephant Light Standards, a pair of concrete elephants flanking the entrance to Vina Del Mar Park which have come to be a symbol of Sausalito.
Take time to meander through the narrow streets at your own pace and enjoy views of the San Francisco skyline. Check out the Bay Model Visitor Center, visit the Bay Area Discovery Museum, rent a kayak, go hiking or biking, or tour the houseboats and marinas.
Tiburon
Originally named Punta de Tiburon (Point of Sharks) by Spanish explorers in the 1800s, this historic railroad town feels like a quaint, romantic New England fishing village with a modern flair.
Tiburon's classic, chic Main Street offers a slew of galleries and antique, wine and specialty shops. Bring your bike for a leisurely tour of the shoreline paths or challenge yourself to a hike up Mt Tamalpais.
Enjoy a lovely meal (own expense) at a casual outdoor café or high-end waterfront restaurant offering spectacular views of San Francisco. Check out the Railroad Ferry Museum, visit Old St Hilary's – a restored Gothic church overlooking the bay – or explore the Tiburon Uplands Nature Preserve or Richardson Bay Audubon Center and Sanctuary.
April 2015
Great. Do not go on a weekend.
April 2015
Great. Do not go on a weekend.
June 2014
Easy boarding and smooth sailing
June 2013
It was another beautiful sunny San Francisco's spring day. The queue to get on-board and off was long but it was well organised. Sausalito was lovely as ever. I had a great time.
October 2015
One of the two earphones issued did not work. Narrative was informative and complete. Staff was helpful and kind. They got that horde of bikes on and loaded very quickly and neatly. Enjoyable trip.
October 2015
The ferry trip from San Francisco to Sausalito is a very pleasant way of spending a half-day in San Francisco. However, the service from pier 39, for a tourist, is less convenient and gives less photo opportunities than the competing Golden Gate service from the Ferry Terminal. We booked return tickets with them through Viator, but these were only accepted as singles by the local tour company, who insisted I pay extra for the journey back. I reported this to Viator, who provided a full refund very quickly. Full marks to Viator, a lot less to the ferry company!
August 2015
Great place to visit. Ferry very straightforward although lengthy queues on the way back
July 2015
Very convenient, and on schedule.
September 2014
Seven ladies loved the ferry ride over to Sausalito. The Art Festival was great art, food, sun, and live music! Going back to S F had 180 bikes/ bikers plus a ferry load of others--- crowded ..but we all got back. Everyone was helpful....many, many sailboats out. for Labor Day weekend! Thanks !
March 2014
Clean and well maintained ferry. Be sure to stick to the timetable and do check on the 'correct' port of call!
Advertisement
Advertisement