Discover historic buildings and saloons on the old San Francisco waterfront, and learn about the city's notorious reputation during and after the Gold Rush years on this evening walking tour. Hear about shanghaied sailors, famous brothels and infamous bars from your knowledgeable guide as you explore the Barbary Coast, a former red-light district in today's Financial District that was once considered dangerous. Enjoy three cocktail tastings at old city saloons, made by serious mixologists who perfect the classics on this fun and informative 3-hour tour.
Highlights
Gold Rush and Barbary Coast walking tour of San Francisco

Explore an area of San Francisco once considered one of the most dangerous parts of the country

Hear about brothels, treasure-hunting ships and infamous bars from your knowledgeable guide

Savor three cocktail tastings at historic city saloons where San Francisco bartenders reinvent old drinks
What You Can Expect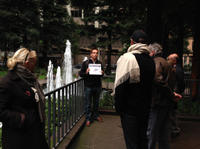 Meet your guide in San Francisco's Financial District to begin your walking tour of the remains of the Gold Rush and Barbary Coast eras. As fortune-hunters flooded San Francisco in the mid-19th century, a red-light district flourished in what is today downtown San Francisco. Named after the Barbary Coast of North Africa where pirates and slave traders were rampant, this tawdry area of the city was one of the most dangerous places anywhere in the US.
Listen to your guide share fascinating anecdotes of the scandalous happenings that were part of everyday life in San Francisco's Barbary Coast as you stroll along the old waterfront and imagine how the area was once crammed with rowdy bars and brothels.
See historic buildings in Jackson Square from that era, and visit the remains of the Niantic, a ship that brought treasure-seekers to the city during the Gold Rush until it ran aground and was converted into a hotel.
Walk along the block of Pacific Avenue (then Pacific Street) between Kearny and Montgomery that boomed with jazz clubs and dance halls in the early 20th century and was known as Terrific Street.
During your tour, stop into old San Francisco saloons for three cocktail tastings, mixed by modern bartenders who revive traditional drinks or invent their own creations. You'll learn more about the city's colorful past as you sip, including the once-exotic ingredients shipped to the San Francisco port.
Your 3-hour walking tour concludes near where it began in the Financial District, leaving you with a much clearer idea of just how much San Francisco has changed over the years.
July 2015
This was a great tour, the cocktails were awesome, the commentary was fun- it really put you back in time during the gold rush era and the struggles San Francisco experienced. San Francisco is a beautiful city -Wear comfortable walking shoes and enjoy.
May 2015
We had a great time on this tour. We visited three pubs/bars and even went back for dinner at the first one the next night. The tour was filled with interesting history and the guides were very nice.
April 2015
We had a great time. Eric was a great guide for us, telling all of the stories of the Gold Rush times, talking about the history of SF and pointing out great architecture as we enjoyed the city on a great warm night. I would and have already recommended this tour to friends. It was a great way to spend an evening getting to know more about the beginnings of our great city
January 2015
The tour was great. Our guide was interesting and entertaining, learnt a lot and the cocktails were delicious
November 2015
In spite of following tour meeting instructions precisely, the tour guide failed to appear at the meeting place. My holiday to the U.S. was a once in a lifetime journey in which I missed an experience I was really looking forward to. Quite a disappointing result. My suggestion about this tour is to give it a miss.
Advertisement
Advertisement