On this San Francisco bike tour, you'll cycle across the Golden Gate Bridge from the city to the waterfront town of Sausalito. With a guide, ride from Fisherman's Wharf to Marina Green and Crissy Field, and stop at Fort Point and Vista Point for photo ops of the bridge and San Francisco Bay. The 3-hour guided tour ends in Sausalito, where you are free to bike more on your own and return to the city at your leisure (either bike back or purchase a ferry ticket). This tour includes use of the bike for the full day.
Highlights
3-hour guided bike tour from San Francisco to Sausalito
Follow a guide on a leisurely bike ride over the Golden Gate Bridge
Bicycle a mostly flat route along the San Francisco waterfront, including Aquatic Park Cove and Crissy Field
Explore coastal Sausalito or the Marin Headlands on your own
Includes full-day bike and equipment rental
Opt for an electric bike for an easier ride (own expense)
Why Our Insiders Chose This Tour
It's a great value for locals and visitors alike—before or after your guided bike tour through Golden Gate National Recreation Area, you can keep your bike for the whole day and explore San Francisco or the picturesque coastal towns of Marin County at your own pace.
Recent Photos of This Tour
San Francisco Golden Gate Bridge Bike Tour
What You Can Expect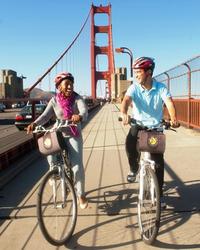 Your 3-hour Golden Gate Bridge bike tour starts at Fisherman's Wharf in San Francisco, where you'll meet your guide. Then take off along a mostly flat route that follows the waterfront of San Francisco Bay.

Pedal past sights like Aquatic Park Cove, part of San Francisco Maritime National Historic Park, and enjoy views of Alcatraz Island and the Golden Gate Bridge. Then continue past Fort Mason Center, a National Historic Landmark; Marina Green, where beautiful homes face the water; the Palace of Fine Arts, built for the 1915 Panama-Pacific Exposition; and Crissy Field, part of Golden Gate National Recreation Area.

When you arrive at Fort Point, at the base of the Golden Gate Bridge, take advantage of a great photo op of the iconic red towers before crossing the bridge's 1.7-mile (2.7-km) span, which ends at Vista Point, another panoramic viewpoint for photos of the bay and city skyline. Complete the last stretch of your bike tour into Sausalito, a small, upscale town known for its picturesque waterfront scenery.

From Sausalito, you will be on your own to continue exploring however you wish. Continue biking around the area, using your provided map to perhaps conquer the hills of the Marin Headlands or see more of San Francisco, such as the Presidio or Ocean Beach; refuel with food and drinks at one of Sausalito's many restaurants (own expense); and return to the city at your leisure, either by biking back across the bridge or taking the ferry from Sausalito with your bike (ferry tickets are at your own expense).

Your bike tour includes full-day bike rental, so you can use your bike independently before and/or after your guided tour. Select a departure time for your tour when booking.
May 2016
Well worth having a guide to take you over the Golden Gate Bridge. He took you to all the places to get the best views. The trip was a three hour ride but it was set to every bodies pace most of it was on cycle paths. There were two hills but you could walk your bike up if you wished. The ride down the hill at the end into Sausalito was brilliant. A very enjoyable day with a ferry ride back with your bike at the end.

April 2016
Out of my whole experience in San Francisco this was by far the best one! Jim our lovely guide was a cool guy who showed his true professionality when we 'lost' two people in our group of 7. He went out of his way to bike back, finding out later they had missed the coffee stop and were already waiting further along the road.
As I am a tour guide myself in Valencia, Spain Funtours Valencia I could only imagine how inconvenient this was for the rest of the group but he kept his smile and didn't make any of us feel uncomfortable about it. He was very informative and not at all telling us what we could have found out by reading a guide book.
The ride was just awesome because we had a beautiful sunny day, clear skies and great views from the Golden Gate. The ride down to Sausalito was awesome! A little steeper and therefor great to speed a little if you are experienced on a bike. You could go by your own pace anyways and the two small parts of climbing a hill were minor to me and your gears were sufficient for a steeper climb.
All in all I hoped for Jim to be our guide after all the great comments here and I was lucky to have him. The whole experience from A - Z was just perfect and even taking the ferry back was an extra to the tour. Though not included in the price the whole thing was worth every penny!
April 2016
I would highly recommend this trip. The group was small 5 people and the tour guide was very knowledgable and friendly. We stopped few times, on the way to Golden Gate and the tour guide talked us through few interesting facts about SF, Golden Gate and Alcatraz etc. There was plenty opportunities for photos, weather was great and you get to use the bike for full day if you wish.
April 2016
Great. Just great! Unfamiliar with the city, I used my map and found my way. I was a bit out of sorts when I checked in. The young man was friendly and helpful. From the start, the experience was A 1. How lucky I was, I thought later, that I clicked on this tour--rather than any other--because it just got better and better! The guys were great. they set me up with a bike and adjusted it for my height. We met Steve our guide. He asked us where we were from and proceeded to field any questions. Once we got rollin,' we stopped at our first tour-stop 5 minutes in. I was having some difficulty. Steve explained to me how to shift gears and did not at all make me feel foolish for not knowing how to work a bicycle. We were off again. At our stops, he was enthusiastic about how cool the info was I appreciated it more than others. He knew his stuff, he welcomed questions, and happily offered to take photos for us along the way. I was at the back of the line, because I was all about soaking it in. Our guide even tailored his speed and info for our group. It was perfect weather for this Bike Across the Bridge and became the highlight of my whole trip to San Francisco trip. Here's why! The pinnacle of the whole experience was the unexpected pleasure of genuine and true interaction. Let's face it or you shall soon see San Francisco reeks of all things touristy. And the city gets no awards from me on cleanliness. it was so refreshing to stumble upon an experience with helpful genuine people who are sincere in such a way that you feel as though you matter--on a human level. Oh wait! The Absolute Pinnacle was looking straight up from tower 1 in the heart of Our Golden Gate Bridge. But a real close 2nd was being presented this magnificent sight courtesy of truly surprising people. Wow! I recommend that you click on this one! And I will add that if you receive great joy, tipping is a great way to keep positive energy alive and flowing! Everyone wins! I know I won!
March 2016
Well, it rained for part of the trip but we made the most of it! And still were able to get some really good pics! Our tour guide, Mike, was very knowledgeable about the history of San Fran and the Golden Gate Bridge he was super laid back and a lot of fun! In the end, we had a private tour because everyone else cancelled so it was our lucky day even though it rained!
February 2016
Very informative guide, stopping off at numerous interesting places and photo opportunities. Actually cycling the bridge did not disappoint. Unfortunately we were not able to spend time in Sausolito due to our travel arrangements
February 2016
The tour truly was spectular and Michael was a fantastic guide. My sons and I highly recommend it.
January 2016
More hills than we were told
January 2016
Great Bike Tour. Tour Guide was knowledgeable and funny. Loved that the tour hit some not so popular but amazing sites. Tour is longer than stated, but we didn't mind. Don't plan anything immediately after to give yourself time if it runs over.
December 2015
Great Bike tour!! These guys definitely make it fun. They were honest when we asked them if we could bike back and they said that it would be rather ambitious. By the end of the 2.5 hour tour we were spent. We took a ferry back to fishermans wharf.
Advertisement
Advertisement