Discover San Francisco on your own schedule with a 1-day bike rental. Visit the crooked path of Lombard Street, North Beach, Haight-Ashbury, the Golden Gate Bridge and more. This self-guided trip gives you the opportunity to create your own itinerary as you explore the beloved City by the Bay.
Highlights
Independent bike tour of San Francisco with a full-day rental

Explore the city at your own pace, with freedom to create your own itinerary

Visit top San Francisco attractions such as the Golden Gate Bridge, Fisherman's Wharf, Lombard Street, Chinatown and Haight-Ashbury
Helmet and bike lock included
Recent Photos of This Tour
San Francisco Independent Bike Tour with Rental
What You Can Expect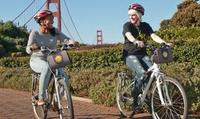 Your self-guided tour will begin at Fisherman's Wharf, where you can pick up your bike. Both options are equipped with a bell, water cage, bike rack, bungee cord and storage bag, and also include a helmet and lock. Enjoy the flexibility to customize your sightseeing to your own preferences as you wind through the city streets and along the scenic San Francisco waterfront.

Stop by top attractions like Fort Mason, North Beach, Haight-Ashbury or Union Square. For unparalleled panoramic views, cycle across the Golden Gate Bridge, admiring the sparkling city skyline and Alcatraz Island set in the middle of the Bay.

This bike tour of San Francisco is a great option for exploring at your own pace. At the end of the day you can drop off your bike at your original pickup point.
Anonymous
April 2015
This was my second time biking through the city, and this time was way better than the first! Picking up and dropping off the bike was so easy. It took only 5 minutes to grab my bike and helmet, then I was on my way! The bike was already equipped with a map, a bike lock, and a bag for my personal belongings so getting around and making pit stops was easier than I anticipated. I would definitely rent bikes here again!!

Kierra Australia
August 2014
What a fun day! We rode from the bike rental shop all the way over the bridge into Sausalito. Such a wonderful day and I am so glad I did this with some great friends. We enjoyed lunch in Sausalito. I wish however we were advised that once we got to Sausalito, if we wanted to buy tickets we needed a token to get on the ferry, otherwise it's a long wait to get onto the ferry. Also, I wouldn't recommend this full day option we did for young children. There are a number of hills and it is a lot of riding. So if your confident or happy to spend the whole day, this really is a great way to enjoy riding across the bridge and into and around Sausalito.

April 2014
Excellent, very professional and courteous!!
February 2014
Hiring the bikes was super easy and everything was explained really well at the start. It was a great day cycling over the Golden Gate Bridge to Sausalito for lunch and then we took the ferry back in the evening. Brilliant way to spend the day with the freedom to go wherever you like!

December 2013
Absolutely brilliant. This is a MUST do, a bucket list for sure. It was Thanksgiving when we did this so the ferry wasn't operating but it was a breeze riding the 23ks round trip with the electric bike. Our dad was with us at 67 years young and did not even work up a sweat. Loved it and will definitely do this again next time I'm in SFO. Thanks Vator

December 2013
Absolutely brilliant. This is a bucket list event people. We ride electric bikes now that the height of lazy he he. Did not work up a sweat over the 26k we rode. We had a 65yo in our group and he had no problems with the ride. Def do it if you can. You will love it

Blanca United Kingdom
June 2013
I loved the bike ride in San Francisco! I went with a couple of friends and we rode over the Golden Gate Bridge, which was awesome! The views were stunning! We had lunch in Sausalito before taking the ferry back. Definitely recommend it!
Retired Nomads United Kingdom
February 2013
Very close to cruise terminal and easy to find.
Very helpful staff; got us to try the hybrids to make sure we were happy. Helmets, maps and security lock provided and small storage space. Cycling THE bridge was a great success; we were really pleased we chose hybrids. Full 24h of use was available. GREAT

Bandit USA
February 2013
I live in San Francisco and decided to rent a bike for a day. Great way to get around the city and escape the chaos on a weekend. We rode over the Golden Gate Bridge and enjoyed lunch in Sausalito before taking the ferry back. Highly recommend!
October 2012
This is absolutely the best way to get around San Francisco. We had a blast riding over the Golden Gate Bridge! Biking gave us the freedom to see the sites we wanted (like the Painted Ladies!!) and skip the sites that we had already seen. Such a great time!!
Advertisement
Advertisement