15 Reviews
Location:

San Francisco, California

Duration:

3 Hours
Explore San Francisco like a pro on this GPS-guided tour aboard a classic Volkswagen convertible Bug! Drive to 40 pre-loaded top San Francisco locations like Chinatown, Haight-Ashbury, Lombard Street, Fisherman's Wharf and Coit Tower, and even cross the iconic Golden Gate Bridge! Plus, each car is equipped with a high-definition video camera, so you can capture your entire San Francisco adventure.

Highlights
Drive through San Francisco at your own pace aboard a GPS-guided classic Volkswagen Bug
Be guided to 40 pre-loaded locations like Fisherman's Wharf, Haight-Ashbury, Lombard Street, Chinatown, Coit Tower and the Presidio

Cross the iconic Golden Gate Bridge to Sausalito or the Bay Bridge to Treasure Island
Directions are available by text and voice in more than 20 languages
Each rental car is equipped with an HD video camera to capture your entire trip!

Recent Photos of This Tour
What You Can Expect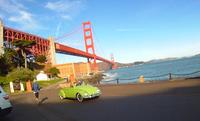 Hop in a classic Volkswagen convertible Bug at Fisherman's Wharf and embark on your GPS-guided tour of beautiful San Francisco! You'll drive a stick shift in a car that fits up to four people.

As you explore the city at your own pace, select destinations from the GPS by touch or voice. Your state-of-the-art GPS is pre-loaded with 40 of San Francisco's top locations, and has text and voice commands available in more than 20 languages. If you have any other specific sites you want to visit, you can program them into the GPS, as well.

Explore Chinatown, wind down Lombard Street, stop by the Presidio and spend time at the San Francisco Zoo. Take a movie location tour and see sites from films such as Bullitt, Vertigo and Mrs. Doubtfire. Catch sweeping views from Mission Dolores Park or Coit Tower, get your feet wet at Ocean Beach and get a peak at hippie culture at Haight-Ashbury -- you can even cross the iconic Golden Gate Bridge to Sausalito and cross the Bay Bridge to Treasure Island!

You can stop wherever you want to take photos, soak up the views or even enjoy a picnic with your provided picnic basket.

Your car is equipped with a remote-controlled high-definition video camera with a 170-degree view. The camera is portable, so you can take it with you if you'd like to walk around at any of the locations, and with the remote control, your entire group can be in the film!

At the end of your tour, you'll be given a memory card with the recording of your entire San Francisco adventure to watch at home!

Lowest price shown is per person based on the 3-hour tour with a party of four passengers.
For a full list of pre-loaded locations, see the Itinerary section below.
Itinerary
Pre-loaded San Francisco locations on your GPS:

Fisherman's Wharf
Lombard Street
Ghirardelli Square
Coit Tower
North Beach
Filbert Steps
Telegraph Hill
Fort Mason Center
Cable Car Museum
Octagon House
Chinatown
Marina District
Ferry Building
Union Square
Contemporary Jewish Museum
Yerba Buena Gardens
Painted Ladies
San Francisco Museum of Modern Art
California Academy of Sciences
Exploratorium
Palace of Fine Arts
The Fillmore
Asian Art Museum
San Francisco City Hall
49 Mile Drive
Bay Bridge
Alamo Square
Presidio
AT&T Park
Crissy Field
Haight-Ashbury
Fort Point
Golden Gate Park
Castro Theatre
Mission Dolores Park
Golden Gate Bridge
De Young Museum
Japanese Tea Garden
Lincoln Park
Sausalito
Land's End
Ocean Beach
Legion Of Honor
San Francisco Zoo
Muir Woods
Film locations
November 2015
This is a great way to explore San Francisco and the surrounding area at your own pace. I highly recommend it! The people that run this tour are super nice and very accommodating. The only negative that I would have about this tour is that the GPS sometimes does not get the best reception so make sure to have your Smart Phone with you just in case. Lastly make sure that you are very comfortable driving a car with manual transmission, especially while driving up the steep inclines of the city streets.
August 2015
Best thing I did in San Francisco. We rented the green 1961 convertible for 5 hours. Went across the Golden Gate Bridge, down Lombard Street, along the Pacific Coast, and through Golden Gate Park and Haight-Ashbury. Only issue I had was Google Maps told me the pick up was the old location, so make sure to go to the new place by the Pier. Car ran great. Very speedy and no problem on the steep hills. You will get more stares and comments than if you were driving a Ferrari. No joke.
July 2015
A great ride! Brought back great Memories before we sold out to society.
July 2014
Do it!! This was the greatest way to travel around the city. We had the vw for 5 hours, it comes equipped with a pre-programmed gps with about 40 locations on it. More than enough time to see everything you could want and more. As great as the car was, we laughed alot about the comments from people on the street. Many thumbs up, and we were even told 'You are too fly for your white wall tires, bro'. We went to Fort Point, Golden Gate bridge, North Beach, Haight-Ashbury, the Painted Ladies and more. The car also comes with a video camera to allow you to film 1 hour of your trip. You are then given the SD card to take home. So much fun.
July 2014
A once in a lifetime experience. I renteded the Bug as a surprise on my moms 60th birthday and it was the best surprise ever. The car is easy to drive and it took Lombard street without any problems!!!! Go for it!!!!!!!
June 2014
What a great time. Our first trip to San Francisco and driving a 1961 VW convertible bug around town. The next time we go we will be renting this cutie again.
March 2014
This was the best thing I have every planned for my wife. Her birthday wish was to drive a classic Bug. So I planned a whole weekend around this amazing adventure. The tour was perfect as it was created for our special interest of Old architecture. Thank you Bugster!!!
December 2013
We loved the bug! It was clean and well-kept. Made our wedding even more memorable. Stan was really nice and accommodating too. I would definitely book this trip again!
December 2013
Absolutely brilliant fun. Had the Bug for two hours and saw a lot of the city, including a trip over the Golden Gate bridge, in a very unique way. The GPS Stan provides is really easy to use and has all the major sights pre-programmed in, whilst the on-board video was also a great idea. Highly recommended!!
July 2013
We had a blast motoring in and around SFO - in 5 hours you can really see a lot with ample time for lunch, drink and photograph stops. Stan was a great help to get us on our way. Only things to remember are that the bug is a manual/stick shift and the driver wouldn't want to be too much taller than 6ft as the driving seat was a bit squishy! All in all, a great start to our SFO visit! Thanks Stan
Advertisement
Advertisement