Seeking a wine country tour with a difference? Discover there is more to the Wine Country than just great wine on this premium, interactive Wine Country Tour! You'll enjoy a sparkling wine breakfast on the way; blend, bottle and take away your own wine; taste cheeses, olive oils and chocolates and visit boutique wineries fit for a president.

You'll also feast on a superb gourmet lunch; explore the beauty of a vineyard; marvel at art galleries featuring original paintings and labels; and then sip port or moscato on the way home. All tasting fees together with a light breakfast and delicious lunch are included on this great-value wine country tour from San Francisco.

So jump into your luxury vehicle, flex your wine-blending arms and get ready for your Wine Country adventure!
Highlights
Full-day Wine Country adventure from San Francisco

Visit small, boutique wineries off-the-beaten-track

All tasting fees included

A high-end, premium experience

Blend your own wine and take the bottle home!

Taste olive oil, cheese, wine and chocolate

Sparkling wine breakfast and picnic lunch included

Accompanied by trained, professional guide

Free hotel pickup and return

Why Our Insiders Chose This Tour
An unparalled Northern California wine country experience that will make you feel like a million bucks! Start your day with mimosas, blend your own bottle of wine to take home, and indulge in premium wine, olive oil and chocolate tastings.
Recent Photos of This Tour
Semi-Private Boutique Wine Country Tour with Personal Wine Blending
What You Can Expect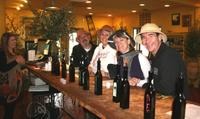 Your day in California Wine Country begins with a drive over the famous Golden Gate Bridge to reach Vista Point, where you will enjoy a light breakfast of croissants and mimosas overlooking scenic San Francisco Bay. You will then drive past lush, picturesque vineyards to reach the award-winning wineries of Northern California. At your first winery, you will become a winemaker for the day and take part in a blending seminar to find out which wine suits your palate. Once identified, you will bottle, label and seal your own 750ml bottle of wine to take away as a memento of the day! Then, enjoy a guided tasting of the winery's prized collection.

Your guide will then take you to a boutique winery which also features a collection of original paintings and labels, and you can partake in the visual delights. Here you'll sip a variety of wines, from Chardonnay to Cabernet Sauvignon to Merlot and beyond. You will then enjoy a stop in historic Sonoma Square while you revel in the breathtaking scenery.

You'll also have the opportunity to indulge in tastings of locally-produced olive oils, scrumptious cheese, and delectable chocolates. During your journey around Wine Country, your guide will point out sites that formed the backdrop of famous movies such as The Birds.

After a delicious lunch you will visit a high-end vineyard whose reputation is such that its wines frequently appear on the menu at White House functions. As well as sampling the award-winning wines and seeing these menus for yourself, you will tour the vineyard and learn about the viticulture of wine accompanied by a wine expert.

After you bid adieu to California's world-famous winemaking region, you will enjoy a premium glass of port or moscato on your journey back to San Francisco, where your driver will drop you off at your hotel or dining destination. The perfect way to immerse your senses is on this full-day premium experience in California's Wine Country!
November 2012
We had a great time and Marsha was the perfect host for a fun filled day. Benzinger winery tour exceeded our expectations and the olive oil tasting did too... Thanks Again.
June 2012
Urban Safari put together a great day. Mark was fantastic. We enjoyed the small group experience.
October 2011
WOW!
What a tour.
Seven things made this great
1. Mark, our tour guide
2. We were they only people on the tour (which had room for six)
3. The weather for the day was perfect.
4. The planned stops were fantastic.
5. The wines
6. Ravenswood Winery and Peter Griffith
7. The oil and vinegar tasting
We started our trip by crossing the Golden Gate Bridge (a first for us) and stopping on the other side for a quick breakfast of Mimosas and Fresh Pastry and a great view of San Francisco and the bridge.
Next stop was the Ravenswood Winery, where we tasted a few great wines and met Peter Griffith. Peter gave us the highlight of the tour. He showed us how they blend their great wines, then let us try our hand at blending wine. After trying several different blends, he then bottled the blend we liked best and let us cork it and bring it home. A very unique experience!
Our next stop was Imagery Winery. Another great experience. They label their wines, which were also very good tasting, with different copies of original art. Different art for each year and wine. They have the original art pieces on display in and around their tasting room. The art pieces were as interesting as the wines they label.
Mark then bought us lunch at Café Citti. What a surprise. Café Citti is just a small roadside café, but the food was great. We picked up a sandwich, side and drink, which we took to Landmark Winery, which has a great picnic area overlooking their fountain, mountains, and vineyard, where we had lunch. After lunch we got to pick grapes off the vine and taste them, then we tasted their wines and sent home some of their great 2009 Pinot Noir.
On our way to the next stop, the Figone Olive Oil Company, we stopped to get a great photo of the Chateau St. Jean Winery building and vineyard. Due to time constraints, we did not go to the tasting room, but continues on to Figone Olive Oil Shop. I love to cook, so the Figone Olive Oil stop for me was another highlight of the tour. We tasted some very unique fine olive oils and 20 year old balsamic vinegars as well as some flavored oil and vinegars. For anyone that cooks, I think this is a must do stop if you are anywhere near the area. If you can't get there, check out their web-site.
Our final stop was the Jack London Village Square in Glen Ellen, CA. We tasted some great chocolate in the Wine Country Chocolate factory, much like we tasted wines at the wineries. Mark bought us a couple of pieces, which we ate when we returned to the van with some great port wine that he have brought along to toast the end of our trip.
What a great way to spend a day. Great weather, great guide, and terrific people we met at every stop. Well worth every penny and more. Anyone that is planning a visit to San Francisco or area, should consider this tour instead of the big bus loaded ones. If you should drive yourself through the Sonoma Valley, check out these places instead of the more common stops.
August 2011
I had the most amazing time on this Wine Country Safari! Our day began with croissants and mimosas overlooking the Golden Gate Bridge and then we were off to our own blending seminar. It was so fun to discover my palate and make my own bottle of wine. Peter, the gentleman who guided our seminar, was so down to earth, friendly and knowledgeable. From the cheese tastings to fudge to olive oil and vinegar tastings -- wow! Sprinkled in there were more wine tastings at spectacular wineries. It was such a personalized experience and our tour guide, Mike, was so accommodating and attentive. I've been on many wine tours, but this one was by far the best -- more than just a tour, a true wine country experience!
August 2011
This was a great day out in wine country! It was nice to escape the city fog and enjoy the sun shining over the lush vineyards. And this was more than a wine tasting experience - we learned how to blend our own wine at Ravenswood, explored the gallery at Imagery, admired the fountain and gardens on Landmark's outdoor patio, and sampled cheese, chocolate and olive oil in and around Sonoma. The group was also just 4 people, so we got to personalize it terms of how long we wanted to stay at each place. A relaxing day out with nice people and an awesome guide - I can't wait to go back!
October 2012
This day was awesome! The vineyards, wine, hand dipped chocolates, olive oils, balsamic vinegars, fresh cheeses, oh my. Our tour guide was from Montana so we three Montana gals spent nine hours touring the countryside, laughing, exchanging stories, and tasting California's best bounty. We stopped for lunch at a quaint Italian winery that was a highlight of the day and a step back in time to an Italian bistro. Wine blending was fun and, yes - you can make that wine a little sweeter with the "secret ingredient." The only improvement to the trip would have been a "black limo" :) Mary Ellen and Amanda Stubb from Missoula, MT
January 2014
When we were picked up it was in her personal car (Sandy stated she lost the keys to the company car so we had to take hers)- 2 door and we had to climb in and out of the back seat all day. We stopped at two odd spots in morning because she had time to waste before the tastings began. We requested to go to small wineries and instead we brought to two larger wineries. Thought it was very unprofessional for her to buy items during our tour as if this her opportunity to do errands. She spend the entire day glued to our side including eating lunch with us. We had other private tours during our trip and the guides were much more professional. Very disappointed in the day and would not recommend due to subcontrator that Viator used. We have used Viator in the past and have been very happy.
Advertisement
Advertisement