Journey into the heart of the Mayan underworld at the Actun Tunichil Muknal (ATM) cave, named the top sacred cave in the world by National Geographic. Departing from San Ignacio, this guided, action-packed day trip kicks off with a 45-minute jungle hike through the Tapir Nature Reserve to the entrance of the cave. Swim, climb, and spelunk your way through astonishing caverns into the depths of the cave, where you'll get an up-close look at ancient artifacts and offerings used in ancient Mayan ceremonies. Round-trip transport and riverside lunch are included.
Note: This is a physically intense adventure and not recommended for those with a fear of the dark, enclosed spaces, or heights. You will need sturdy, closed-toed shoes with socks. Photography is not permitted inside the cave.
Highlights
San Ignacio day trip to Actun Tunichil Muknal Cave
Go spelunking with an expert guide in the cave, featured by National Geographic
Swim along water passageways in the cavern and climb up a rock ledge
Gaze in awe at rock columns, stalactites, stalagmites and other natural wonders
Witness Mayan artifacts and ritual offerings unearthed by archeological excavations
Complimentary lunch, bottled water and round-trip hotel transport included
What You Can Expect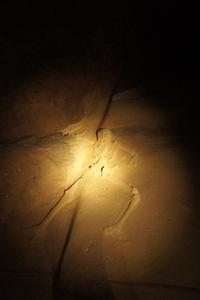 Experience the astonishing formations and incredible history of one of the top-rated caves in the world. Featured by National Geographic, the History Channel, and the Discovery Channel, Actun Tunichil Muknal was considered by the ancient Maya to be a sacred portal into their mythological underworld, Xibalba. This full-day adventure begins with a pickup at your San Ignacio hotel. From there, you'll drive 45 minutes to a turnoff at Teakettle Village, then another 30 minutes along a dirt road to reach the Tapir Nature Reserve.
During a flat, 45-minute hike through the tropical reserve, you'll encounter many native plant species and wade across the Roaring River three different times. At the entrance to the cave, you'll receive a safety briefing and gear up with hardhats and headlamps. Enjoy a picnic lunch here either before or after exploring the cave, depending on what time your tour arrives.
Your caving adventure will begin with a quick, refreshing swim across a pool of water at the hourglass-shaped cave entrance. Just a few minutes into the darkened depths, you'll approach "the Breakdown" — the most challenging part of the adventure — where you will wade, swim, and scramble through rocky passages and squeeze through some tight crevices. Your guide will instruct the group how to safely navigate challenging areas.
While passing through various chambers, stop to admire massive stalactite and stalagmite formations created by thousands of years of water passing through the cave. Light from your headlamp will illuminate shimmering columns and dripping formations that resemble waterfalls and chandeliers.
To reach the cave's highlight, you'll climb up a stone platform to an expansive chamber where archaeologists discovered a treasure trove of ceremonial Mayan pottery and the remains of more than a dozen victims of human sacrifice. Most of these artifacts remain exactly where they were discovered, allowing you to get an amazingly up-close view. You'll be asked to remove your shoes in this chamber to protect the rock formations and the priceless artifacts, which are more than 1,000 years old.
As you walk among ancient sacrificial vessels and human skeletons, your guide will explain how the ancient Maya used the cave for ceremonies designed to communicate with their gods and ancestors. For the grand finale, you'll climb a ladder into the uppermost chamber of the cavern, where you can marvel at the famous Crystal Maiden — a complete human skeleton covered in a crystalline substance caused by natural calcification.
After spelunking your way back out of the cave, you'll emerge into the sunlight and the cool water of the Roaring River, then prepare for the return hike and drive back to San Ignacio.
March 2016
Most incredible thing you'll experience in your life. Swimming thru caves, wading in ankle, knee, waist, chest deep water, climbing boulders, sliding past small cracks in the rocks, with only a headlamp to guide you. Beautiful calcified rock formations, stalactite, stalagmite, and human remains from thousands of years ago. This is the closest you'll ever be to becoming Indiana Jones. Do it!
March 2016
Wonderful adventure tour! The cave itself is fun to spelunk, and the cultural artifacts are magnificent. Highly recommended. Warning: you will have NO pictures to remember this trip by. Cameras are not allowed in the cave, for understandable reasons.
January 2016
Abraham and Eric were great guides! The caves are incredible and the trek up to the skeleton is as amazing as the skeleton itself. We had a fantastic time and recommend this tour to everyone!
December 2015
Absolutely loved this tour and anyone looking for some fun and adventure should plan on experiencing this. The guide was very knowledgeable and amazingly knew how to maneuver the cave!

October 2015
Great tour that felt like a true adventure. You will have to wade through the river three times and then swim into the entrance of the cave. Depending on how the water is you may be in water that is as high as your neck. Go into this expecting to get wet from head to toe as well as having to squeeze through tight spaces in the cave.
April 2015
Indiana Jones for a day. Physical workout but not overly demanding. Ruins are cool but visiting a sacrificial burial chamber with actual remains is one of the coolest things I've ever done. Our guide Edward was terrific, very knowledgable. Once in a lifetime activity worth every penny.
June 2015
We enjoyed this tour. Our van was no frills broken handle, etc. but the guide was friendly and knowledgable. He customized the trip and made it more adventurous for us because the group was small 6 people and we were physically fit. It was amazing to be in the cave, knowing some of its history in the Mayan culture.
Advertisement
Advertisement