Explore the hidden chambers and crystalline waters of the Mayan underworld at Actun Tunichil Muknal (ATM), featured in National Geographic! Swim into the mysterious cave, which the ancient Mayas considered to be a portal to the underworld, known as Xibalba. This day trip from San Ignacio includes a 1.5-hour round-trip hike in Tapir Nature Reserve and lunch at the cave entrance. Climb, crawl, swim and play in the water passage as you enter the caverns, and delight in the refreshing waters of the Roaring River before and after your spelunking adventure.
Highlights
San Ignacio day trip to Actun Tunichil Muknal Cave
Go spelunking with an expert guide in the cave, featured by National Geographic
Swim along water passageways in the cavern and climb up a rock ledge
Gaze in awe at rock columns, stalactites, stalagmites and other natural wonders
Witness Mayan artifacts and ritual offerings unearthed by archeological excavations
Complimentary lunch, bottled water and round-trip hotel transport included
What You Can Expect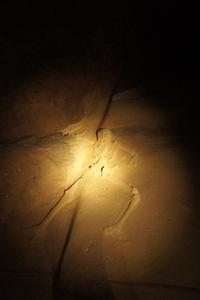 Considered one of the best caves of Central America, Actun Tunichil Muknal has been feature by National Geographic, the Discovery Channel and the History Channel. Your guide will pick you up at your hotel in San Ignacio for the drive to ATM — a place where only Mayan priests and shamans could venture 1,000 years ago. Travel for 45 minutes along the Western Highway of Belize to Teakettle Village. It's another 30-minute drive on a bumpy road south of the village to the Tapir Nature Reserve—a subtropical rainforest that receives at least 8 feet (2.4 meters) of rain per year.
Here, your experienced guide leads your group on an easy 45-minute hike to the cave. Walk along the bank of the Roaring River, which you'll cross three times before arriving at the cave entrance, where a lovely pool awaits — especially refreshing on a sunny day. Depending on the time of arrival, you'll eat lunch before or after your caving adventure.
To prepare your group to enter the cave, your guide provides a historical overview and safety briefing. After you've been outfitted with equipment and taught a variety of spelunking techniques, the real fun begins! The water passage allows you to splash and play as you wade through the water, which may come up to your ankles, knees, waist and even neck — sometimes requiring you to swim.
About five minutes into the cave, you'll find your biggest challenge at the 'breakdown' — where slabs of rock form the passageway. Your guide will show your group how to go from one rock to the other and slide in between a couple of boulders. At one point, you'll climb up to a ledge to enter one of the most attractive parts of the cave, where archeologists have recorded more than 1,000 pieces of pottery and 14 human sacrifices.
To explore this chamber, you'll be required to remove your shoes (socks or bare feet are an option) in order to protect the natural surroundings, including impressive formations like rock columns, stalactites, stalagmites, citrines and flowstones. While exploring this living museum, your guide will share fascinating details about ancient Mayan rituals and ceremonies that once took place deep under the earth. You'll learn how the Mayan priests took human offerings into the caves, displayed pots in symbolic ways and communicated with their gods.
After your spelunking adventure, your guide will transport you back to your hotel in San Ignacio.
October 2015
Great tour that felt like a true adventure. You will have to wade through the river three times and then swim into the entrance of the cave. Depending on how the water is you may be in water that is as high as your neck. Go into this expecting to get wet from head to toe as well as having to squeeze through tight spaces in the cave.
April 2015
Indiana Jones for a day. Physical workout but not overly demanding. Ruins are cool but visiting a sacrificial burial chamber with actual remains is one of the coolest things I've ever done. Our guide Edward was terrific, very knowledgable. Once in a lifetime activity worth every penny.
June 2015
We enjoyed this tour. Our van was no frills broken handle, etc. but the guide was friendly and knowledgable. He customized the trip and made it more adventurous for us because the group was small 6 people and we were physically fit. It was amazing to be in the cave, knowing some of its history in the Mayan culture.
Advertisement
Advertisement