10 Reviews
Location:

San Jose, Costa Rica

Duration:

5 hours

(approx.)
Special Offer
Book by January 16, 2016 and travel by May 31, 2016 and save 30% compared to the local supplier's prices!
Ready for a change of scenery from the hustle and bustle of San Jose? Ride the rails to nearby Cartago and enjoy a bike tour of the historical town! After a guided morning stroll, a 45-minute train trip takes you through the mountains to this sleepy oasis, where you'll bicycle to its Central Market for some tasty bites. Enjoy the fresh air and friendly locals on this half-day tour, with transport by bus back to the capital. Numbers limited to 12 people, ensuring an intimate experience with a small group.
Highlights
5-hour Cartago day trip by train from San Jose
Travel by rail through the mountains past coffee plantations outside the capital
Bicycle through the historical streets of Cartago with an informative local guide
Discover Costa Rica's colonial history and learn about daily life in town
Sample local cuisine at Cartago's Central Market
Small-group tour with a maximum of 12 people ensures a personalized experience
What You Can Expect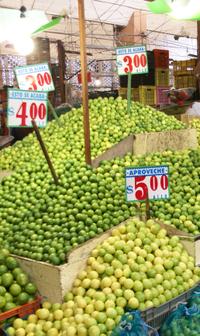 Meet your local guide and small group at a central location near Parque de Español (Spain Park), one of the oldest parks in the city. Learn a bit of history about the area, crossing the street for a close-up view of the Yellow House — the Ministry of Foreign Affairs — before continuing on foot to the National Liquor Factory. Your guide shares snippets about these 19th-century landmarks before you make your trip out of town.
Follow your guide on a 10-minute hike up into the hills of San Jose until arriving at the Atlantic Railroad, where you'll hop on a train to Cartago. This scenic 45-minute journey takes you past the university campus and further into the mountains through local coffee plantations.
When you reach Cartago, hop on your bike and coast through the streets of this beautiful city, learning all about its history along the way. Your guide makes regular stops at colonial landmarks to fill you in on the background of this historical Costa Rican town, where you'll be among many locals who get around by bicycle.
Finish up at the Central Market, where you can brush shoulders with the locals and sample the cuisine, gaining plenty of insight from your guide on regional foods and flavors. Afterward, hop on a local bus and return to San Jose, where your guide will happily point you in the direction of your accommodation or offer tips on exploring the city.
November 2015
Our tour guide was very knowledgeable about the history and culture of San Jose and Cartago. He was an excellent guide and made sure that we took full advantage of the rich history of the people of Costa Rica and explored all of the wonderful sights. I would recommend this tour to anyone who is visiting San Jose, Costa Rica.
August 2015
This is an awesome immersion experience. I learned a lot about Costa Rica's history, heritage, exports and imports. The train ride to Cartago was very nice. I didn't feel so much like a tourist on one of those buses with the yellow stickers on the side, front and back. The Básilica de Nuestra Señora de los Ángeles was very beautiful and it was great to be given the chance to drink some of the Holy water that flows beneath the Basillica. Hearing the history of the Black Madonna and of the yearly pilgrimage that is made by people from all over to this Basillica was just awesome.The bike ride to me was very manageable, just make sure you are used to the altitude. I slept like a baby later that night after the bike ride.The Market was very cool. Eric recommended an Empanada from a vendor who's family has been making them in that very market for many many years. It was delicious. The hand made cheese quesadillia and the Dulce de leche I think that's what it was drink from the same vendor was also very tasty and inexpensive. I recommend this to anyone who is staying in the area. Eric is a great and knowledgeable tour guide. While I'm still here I plan to take another day trip with them.
June 2015
We found this half day trip very relaxing after three conseciative full day tours. The train trip was a nice experience to Cartago. The guide did a great job showing us points of interest on the trip to Cartago. Bikeing through the city gave us an appreciation of what the locals experience on their daily routine. We enjoyed the stops at the historical points of interest along the way.
Looking for a real local experience this is it.
June 2015
This was a wonderful tour that starts early in the morning at Espania Park. After a short walk to the station we rode a train to Cartaga, where we walked through various locations in central Cartaga, including the market place. We then picked up bicycles, that were provided, and rode to other interesting locations around the city. After that we had a wonderful lunch at one of the Sodas in the Market. The tour ended with a comfortable ride back to San Jose on a public bus. I was fortunate to be the only one on the tour that day, but later found out that they prefer to keep the groups small. The guide, Myanna, was very knowledgeable and enthusiastic... a real people person. She made the tour both enjoyable, and educational. I highly recommend this tour.
March 2015
What an incredible adventure to top off our week in Costa Rica! Our tour guide, Eric, is an incredible guide. He is knowledgeable of the area and took great pride showing us a part of Costa Rica that most tourists don't visit. Cartago is a beautiful town and is easy to navigate on a bicycle. Don't miss this tour!
September 2014
An enjoyable cycling tour around an interesting and pretty city just a train ride away from san jose. a well run tour with lots of information and set at an easy pace with many local sights explained so you get to see another side to life in costa rica. The major attraction is the beautifully decorated church wth an interesting story of its founding and an equally interesting local tradition associated with pilgrims seeking divine intervention for sickness or ailments. highly recommend this easy tour for those who enjoy cycling and want to see another aspect to life in costa rica.
June 2014
The tour guide Eric was phenomenal and very informative. We have learned so much that we may consider being future residents of Cartago. The combination of the train and bike tour was much fun! Awesome tour!
June 2014
Our guide was punctual, courteous and extremely informative. The train ride was great as the scenery was viewed from a different perspective other than car or bus. Cartago is a beautiful city and well worth the trip of exploration as it was the original capitol of the county. The market was as authentic as it gets and the bike ride challenging as we rode up and down the hills. A good workout with a good guide. Thanks for the experience! Joe and Donna from Florida.
June 2014
This tour was great! Biking around the scenic town of Cartago with Eric was not only a work out but very informative and fun. We stopped at the local feria for lunch and bought exotic fruits and veggies. I highly recommend this tour if you are looking to explore the beautiful Central Valley!
May 2014
Tour guides were awesome !!! I had the best day. The history lessons given with the tour was interesting and in depth . I had a wonderful day. Thanks to Carlos and Eric
Special Offer
$66.99 Save $20.00
Advertisement
Advertisement