Make the most of your Costa Rican vacation with a packed day exploring the country's natural and cultural treasures! On this full-day tour from San Jose, you'll sample Costa Rica's favorite drink during a tour of the Doka Estate coffee plantation and see the incredible blue lagoon that fills the crater of Poás Volcano. Enjoy a hike through the rain forest, and immerse yourself in the world of butterflies and hummingbirds at La Paz Waterfall Gardens. Savor a tasty breakfast and lunch along the way.
Highlights
Full-day trip to various locations in Costa Rica from San Jose

Visit the impressive Poás Volcano

Explore one the world's largest butterfly observatories at La Paz Waterfall Gardens
Tour Doka Estate's coffee plantation and sample quality Costa Rican coffee
Breakfast, lunch and hotel pickup and drop-off included
Recent Photos of This Tour
Combo Tour - Best of Costa Rica from San Jose
What You Can Expect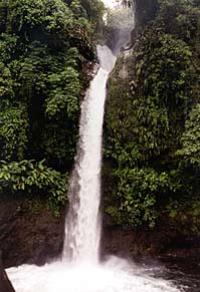 If you have limited time for sightseeing in Costa Rica, get a diverse taste of the country's natural beauty with this packed full-day tour. After early morning pickup at your San Jose hotel in a luxury air-conditioned coach, enjoy an on-board breakfast and steaming cup of Costa Rican coffee. Stop for a guided nature hike among the mountains outside of San Jose, where you can enjoy the lush scenery and try to spot local wildlife.
Continue on to the Doka Estate coffee plantation, where the same family has been growing and roasting coffee beans for generations. Tour the beautiful, 350-acre (141-hectare) estate, where rich volcanic soil makes an ideal growing coffee-growing climate. Learn how beans are cultivated, harvested and roasted, and sample an aromatic cup of Doka's signature brew.
Your next stop is Poás Volcano National Park, home to the still-active Poás Volcano that reaches an impressive 8,884 feet (2,708 meters) above sea level. Take a short hike to the edge of the volcanic crater for breathtaking views into the smoking cauldron below, and admire the sky-blue Botos Lake that fills a neighboring, dormant crater.
After descending from the volcanoes, head to the lovely La Paz Waterfall Gardens, a private nature reserve that boasts miles of scenic hiking trails and more than 100 species of native wildlife housed in various habitats. Meet some of Costa Rica's tiniest winged creatures at the Hummingbird Garden and Butterfly Observatory, and get an up-close encounter with reptilian residents at the frog exhibit and serpentarium. Soak up the lush tropical scenery with a riverside hike, stopping to admire one of the many cascading waterfalls along the way.
Indulge in a tasty lunch of traditional Costa Rican cuisine, and then relax on the beautiful drive back to San Jose, where you'll be dropped off back at your hotel in the afternoon.
June 2016
Excellent tour guide. Wonderful tour companions from different countries. Beautiful tour stops with amazing information from a guide knowledgeable in the history and current cultural setting of Costa Rica. Comfortable tour bus. Amazing tour pricing. A genuine concern for the benefit of the local community and economy.
June 2016
If you are in San Jose and have just limited time to get the flavor and soul of Costa Rica, this is the tour to take. From coffee, to the volcano edge, to the amazing walk though the La Paz Waterfall Garden/Peace House, this definitely worth the fee and time.

June 2016
Tour was great!! Our tour guide was very knowledgeable about everything. Doka Coffee fields were very interesting, beautiful scenery while driving to poas volcano, which was the only disappointing thing, because we were not able to see the crater due to clouds. Only 30% of people get to see it!
June 2016
This tour was awesome! It was very well planned. We had plenty of time at each activity. I totally recommend it.
June 2016
This was our favorite tour while in Costa Rica. We visited Doka Coffee Estate and were fed breakfast, which was great. We toured the estate, tasted coffee, and saw where all the magic happens. Then we went to the Poas Volcano and it was awesome! It was foggy when we arrived, but maybe two minutes later the fog moved and we were able to get some great pictures. After that, we went to the La Paz Waterfall Gardens and ate lunch a-MAZ-ing, by the way- lots of variety. The views of the waterfalls were breathtaking and the tour of the wildlife and plants was awesome as well. Our tour guide, Chewy can't think of his real name, was outstanding! We wanted to keep him for our whole vacation. You must do this tour!

June 2016
We got to see so many more things on this tour than we would have just traveling on our own. Everything was so beautiful and our guide had so many interesting facts for us. The food was great as well.
June 2016
Worth every penny! The best tour I have been on. You get to see/do a little of everything. It helped that I had an awesome guide (Eugenio) and driver. Be prepared for a long day but it and #39;s all well timed and organized. Easy flow from one activity to the next. My favorite was La Paz Waterfall Gardens!

June 2016
Good way to see a few highlights in one day.
June 2016
My wife and I went on this tour yesterday and highly recommend it. The only concerm prior to our trip is one shared by another member of our tour group. We both had read an earlier review that the tigers were kept in too small of an enclosure. We imagined that they were being kept in small cages reminiscent of the early 1900's and were relieved to see them housed in beautiful large areas complete with waterfalls. We both expressed our disgust that anyone would suggest anything negative about their housing conditions.
Eugene was our tour guide and we thoroughly enjoyed our tour. One note of encouragement. Step outside of your comfort zone if needed and take the initiative to get to know the members on the tour with you. We did on this and our Viator tour the day prior which made the tours much more enjoyable. We got to know a wonderfully eclectic group of people on both tours and reallt enjoyed our few hours of shared time and experiences together!

May 2016
I have been on this tour twice. I loved it both times. I recommend it to anyone coming to Costa Rica.
Advertisement
Advertisement