18 Reviews
Location:

San Jose, Costa Rica

Duration:

5 hours

(approx.)
Combine art, beauty, coffee and nature on this popular cultural half-day guided tour. You will drive through the stunning scenery of Costa Rica as you travel to Doka coffee plantation, followed by Grecia and Sarchi, two of the country's most special towns.
Highlights
Half day trip to architectural Grecia and artistic Sarchi
Tour Doka Coffee plantation with buffet lunch

Metal church of Grecia
Oxcarts of Sarchi
Hotel pickup and dropoff
What You Can Expect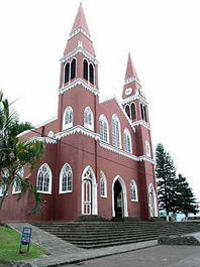 Immerse yourself in authentic Costa Rican culture on a guided tour through Doka coffee plantation. Witness the professionals at work as they cultivate, harvest and roast coffee beans to perfection, before enjoying your aromatic coffee and buffet lunch.
After lunch, admire the tropical landscape and sugar cane plantations as you arrive in the town of Grecia. Renowned for its famous steel church of the Lady of Mercy, Grecia is rich in architectural beauty. The church is made entirely of pre-fabricated metal plates which have been painted red. A rare sight, and a must-see while in Costa Rica.

The magic of this tour continues with a visit to the country's artisan town of Sarchi, where the famous oxcarts are built. You will have the opportunity to tour the fascinating factories and watch how the carts are constructed. Splendidly decorated in various sizes, these oxcarts are treasured for their unique beauty. The carts were once used to transport coffee beans over the mountains to the coast, and you won't want to leave Costa Rica without one!
March 2015
March 2015
We had a wonderful time on this tour. Jose and Guillermo were amazing. So very nice and helpful. The stops were perfect and not drawn out. I would highly recommend this tour to anyone.
December 2013
Did not expect it to be this interesting or educational. LOVED IT. The coffee tour was interesting and Grecia is a beautiful town (we even saw a wedding at the church). Sarchi was an eye opener. A water powered business, talented artists. I intend to come back and purchase the furniture for my new house in a couple of years. The guide was very informative. THANK YOU!
May 2011
Guide was very informative about coffee. I felt that we had ample time to ask questions and explore Grecia and Sarchi.
October 2010
Very good tour. The guide (Paula) was excellent.
November 2015
The tour and the guides were really good. I would recommend. Some things for people to remember is that this is Costa Rica and getting to where you are going to visit and coming back is going to involved traffic, road construction, and lots of crazy drivers. I booked the tour because it was a 4 1/2 hour tour and I was suppose to go back to work when it was over. I had hotel pick-up at 10:30am and thought I would be back to hotel by, at the latest, 4pm considering traffic and dropping off other tourists. After I was picked up at 10:30am we drove around and picked up the other passengers. What I didn't know was that I was going to be meeting up with people that were on the full day tour and that didn't happen until 1:30pm which started with a lunch. That means I had to wait 3 hours before the tour even started which wasn't mentioned anywhere in the itinerary. Instead of getting back around 4pm I finally got back to the hotel, after dropping off the other passengers a little after 7pm so I missing my work at night. If I knew that I would be ending with the full day tour group I would have taken the full day tour which included the Poas volcano.
August 2015
Doka was interesting and made for a slightly shorter trip than my other tours. The guide was just ok as he chose to give us minimal informally while driving from Doka to Grecian, whereas I noticed that other tour guides were very knowledgeable and quick to point out local landmarks, flowers, etc. I'm giving the tour 4 stars based on the tour itself and not the guide.
February 2015
This was a really fun tour. Not an action packed tour but informative and worth the money for the sight seeing. The stops in Grecia and Sarchi were ok if youre interested in donkey carts and old buildings but the donkey cart factory in Sarchi was interesting and to buy honestly local made souvenirs and support the real Costa Ricans was a plus. The coffee tour was the best, such a beautiful place and were able to see every aspect of the coffee making process was unique. The lunch at the coffee plantation was the only drawback, just not very good. The unlimited coffee samples were very good. We had the best guide during our entire CR trip on this day trip and he made it worthwhile. Very good experience all in all.
April 2013
No problems at all with this tour, the hardest part was the traffic in the return trip back to the hotel.
May 2012
I really enjoyed our tour guide and I liked being able to see different parts of the country - especially Grecia -a great little town. However, I thought that the coffee plantation tour would be more in depth which is the only reason that I did not give it a 5. However, it was raining so maybe they cut it short because of that.
Also the Sarchi trip to artisan area is not like a mercado in other areas. It is a woodshop with really cool stuff, but is just one vendor and everything in Costa Rica (and this place) is very pricey. I loved our tour guide - he was super friendly. Spoke clear spanish and english!
Advertisement
Advertisement