Enjoy a festive evening of traditional Costa Rican dance and scrumptious dinner. Admire panoramic views of the Central Valley and the glittering lights of San Jose from a renowned hilltop restaurant. Savor a buffet dinner of authentic Costa Rican cuisine and watch dancers in traditional costume perform to live music. A celebratory fireworks show will cap off an unforgettable night.
Highlights
Traditional Costa Rican dinner and dance performance, from San Jose

Sample a variety of typical Costa Rican dishes from the buffet

Enjoy the show as colorfully costumed dancers perform

Take in stunning views over San Jose and the neighboring towns of Heredia and Alajuela
Learn about Costa Rica's past from photographs and memorabilia that decorate the restaurant
Watch the fireworks show that wraps up a magical evening in the hills outside of San Jose
What You Can Expect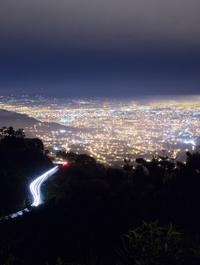 Head to the hills for an evening of traditional Costa Rican dancing and dining! A driver will pick you up at your hotel and take you to into the hills above San Jose to a restaurant popular for special occasions. An open-air deck and huge windows allow for sweeping panoramic views of the sparkling city lights below. Handmade crafts and historic artifacts decorate the restaurant and picturesque grounds, and you'll have a chance to purchase a souvenir from local artisan displays on site.

You'll be treated to an elaborate buffet dinner of Costa Rican specialties with a wide selection of meats, sides, and salads. Prepare your taste buds for authentic eats like chifrijo, a layered dish of rice, red beans, meat, and tomato salsa; olla de carne, a savory meat stew; and chicharones, a deep-fried pork entree. Accompaniments might include empanaditas de queso (cheese turnovers) or the Andean root vegetable salad picadillo de arracache. Be sure to save room for dessert, such as honey plantains, popular rice pudding or bananas with a sweet caramel sauce.
While you dine, watch a traditional Costa Rican dance performance. With live folk music, twirling skirts and dancers decked out in brightly colored costumes, it's a feast for all the senses! A fireworks show provides a celebratory finish to the evening. A driver will then take you back to the door of your hotel in San Jose.
February 2016
We had a great time. The view is marvelous and the dancers very exciting and colorful. The buffet, drinks and restaurant décor were awesome. The staff very friendly and accommodating. A fun time.
September 2015
Nice bus ride from hotel. Great food and entertainment. Recommend it for all those that are traveling to San Jose Costa Rica

January 2015
THIS WAS AN INCREDIBLE EXPERIENCE! A VERY NICE BUFFET MEAL WITH OUTSTANDING SERVICE. OPEN BAR FOR BEER, WINE, AND SODA. THE PERFORMERS WER FIRST RATE AND I HIGHLY RECOMMEND ANYONE VISITING SAN JOSE TO GO SEE THIS.
November 2014
This evening was very pleasant with good food and excellent entertainment. The view of the city from the restaurant is spectacular.
Elisabeth L USA
August 2008
This was a very good tour.
April 2016
We really enjoyed the food and the entertainment.
Everyone in our group were expecting fireworks to top off the night per the description in Viator. I would recommend that they change the wording to say that the fireworks are an extra that is not guaranteed or not mention them at all then if they do have them its a nice surprise. I'm not sure how they should word it, but the way it states it on the site right now you expect a firework show to top off the evening and they did not have any which was a disappointment to the group I was with.
Signed: Jim and Dianne Sproull
February 2016
January 2015
The restaurant is located on the hill with a great view. The food is great and the show host was funny. It was a great place to dine.

December 2014
Beautiful view, great entertainment, food could be better but plenty of drinks!
Lynn G USA
August 2008
I really enjoyed the show, which gave good insight into the historical background of the country in an entertaining way. It was a very good tour for all ages. However, I experienced difficulty and confusion over the fact that Viator issued me a ticket voucher for this tour on a day when it was not offered--Thursday. This created confusion and stress. It was difficult communicating with the tour company in Costa Rica to get this rectified, and it took a lot of valuable time that I could have spent doing something else. When I finally was able to get through to the tour company, they promised to fax and e-mail me a replacement voucher, which they never did. Therefore, I was left wondering up to the last minute whether I was confirmed for this tour for Saturday night. I would definitely recommend doing this tour, but Viator needs to ensure that it is booked for one of the actual days that the show runs.
Advertisement
Advertisement