24 Reviews
Location:

San Jose, Costa Rica

Duration:

10 hours

(approx.)
Special Offer
Book by October 3, 2015 and travel by December 31, 2015 to save 30% off our previously offered price!
What could be better than a chocolate tour and wildlife encounter in a Costa Rican tropical rainforest! Meet the monkeys, parrots and other tropical birds that call La Selva Biological Reserve home. Hear about the reserves status as a UNESCO Biosphere Reserve from your guide before visiting Tirimbina Rainforest Center, where you'll learn more about cacao and enjoy a chocolate tasting.
Highlights
Tropical rainforest walk and chocolate tasting from San Jose
Spot rare tropical birds at La Virgen del Socorro
Enjoy lunch at a local restaurant
Take a guided hike through La Selva Biological Reserve, home to 400 species of birds
Learn about how La Selva and the Braulio Carrillo National Park are part of a UNESCO Biosphere Reserve at the La Selva Organization for Tropical Studies
Visit Tirimbina Rainforest Center and learn about cacao and enjoy a chocolate tasting
Get a closer look at the home of leafcutter ants

Recent Photos of This Tour
San Jose Tropical Rainforest Adventure including Chocolate Tasting
What You Can Expect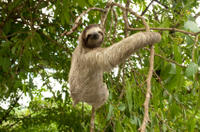 Join your tour in central San Jose, then relax on the drive to La Virgen del Socorro, a private reserve with wonderful birdlife, including rare hawks, kites and hummingbirds.

After lunch at a local restaurant, continue to the Braulio Carrillo National Park in Costa Rica's Sarapiqui lowlands region. Stop to take a walk across the mighty Tirimbina Suspension Bridge over the Sarapiqui River, then join your expert naturalist guide on a walk through tropical rainforest in La Selva Biological Reserve, one of the country's best spots for wildlife and birdwatching.

There's the chance to spot 400 bird species on your guided highlands walk, which takes you to La Selva Organization for Tropical Studies. Learn about the reserve's status as a UNESCO Biosphere Reserve, hear about the groundbreaking research, conservation and ecotourism being carried out here, and enjoy more birdwatching and photography at La Selva.

After your encounter with nature in the tropical rainforest, learn the secrets behind the history and art of chocolate-making on a visit to Tirimbna Rainforest Center. Learn how the cacao tree originated in Mesoamerica, see forest and wild species of the plant, and hear how chocolate is produced.

At the end of your visit, enjoy a tasting of organic chocolate and other cacao products made by the local Association of Women Amazilia del Caribe before visiting a leafcutter ant farm and learn all about these intriguing insects. Then, enjoy a relaxing drive back to San Jose.
September 2015
Going through the forests with a trained guide Mainor was nice. He was able to use his expertise to show me things that otherwise I would have not been able to do. The Chocolate teating was also excellent in that you got to learn the history behind chocolate and to actually see step by step the process of making cacao.
July 2015
I loved it! I wanted to be in the middle of a rainforest, and that is where I found myself. I could easily do the hike, which was good because I had bruises on my left leg from another activity done elsewhere, so I couldn't have done a strenuous hike, and even managed to cross the suspension bridge despite a fear of heights! Manuel was a great guide and very knowledgeable, and my only regret is that we never did finish our last conversation because suddenly we were back in San Jose and the tour was done. The rainforest was quiet that day but I did see a sloth and three iguanas and many insects and a huge ceiba tree and lianas and walking palms...honestly just being there in the middle of the rainforest was wonderful! I also enjoyed the chocolate explanation and demonstration. Next time I'm in Costa Rica I will definitely use Viator when looking at tours - do you do anything else in the Caribbean region?
June 2015
This tour was great! I would highly recommend it to anyone. I was picked up at my hotel and realized that since I was the only one to book it that day, it would be a private tour. We had an exciting drive through a beautiful rainforest, through pouring rain with many waterfalls falling off the hill sides, dodging landslides. It was a bit crazy, but I never fled unsafe. My guide was very knowledgable about the rainforest preserve, showing me frogs, millipedes, a snake, toucans, and a troop of howler monkeys. He obviously loves the rainforest and wants to share its beauty with others. The chocolate demonstration was very interesting and well done, and of course delicious. After a great lunch of typical Costa Rican food and a neat roadside restaurant, we had a much calmer drive back to the city with the rain gone. It was a day well spent!
June 2015
This is more like a private tour guide for us. We were transported in a SUV by Urban Adventures Tour Agent hosted by Eric Gomez to Caribbean side of CR. There were a lot of information regarding rainforest and cocoa tasting. The hanging bridge was awesome if you hold your breath and look down the river. Bullet ant is about an inch and half, don't touch them with your finger. They are poisonous insect. We had local food for lunch next to the forest and after that it was pouring. May- November is rainy season however we love tropical rain.
March 2015
The chocolate tasting was nothing I expected but better. I was truly impressed with all the information they gave us. I got to taste chocolate from the very beginning the fruit to the last step of the process. Timbirina rainforest was also very impressive. If you are into hiking and seeing the forest, you should do this tour. I really want it to try one of Costa Rica hanging bridges and they have a very long and impressive one or maybe I am easily impresses. Our guide Eric was very nice and knew a lot about the area and San Jose in general. During lunch we got to try Costa Rica typical food, very delicious.
February 2015
Our initial guide/driver was Carlos who drove us to the Tirembina Rainforest Centre and later for an excellent lunch at a local restaurant. Our guide at the Centre was Willy Willie?. He was excellent, extremely knowledgeable. This was the best part of the day. Willy pointed out and clearly explained everything around us. He helped us to develop our observational skills in looking for wildlife. As this is rain forest and not a zoo, you wont see everything - its best to enjoy the ones you do. After lunch we returned for the Chocolate tour, which involved a short walk through the rain forest to a covered seated area. Here Mariella gave a history of chocolate and showed us how it was extracted/processed with help from Giovanni and participants. It was interesting and entertaining, but maybe not worth an afternoon.
December 2014
This was a fantastic tour! My friend and I were the only ones on the tour which made the overall experience very personable and enjoyable.
Both our driver (Carlos) and guide (Manuel) were professional, friendly, and knowledgeable. Manuel was a great guide and taught us so much about the rainforest. It was raining quite heavily for half the tour so we may not have seen as much wildlife as we would have liked, but Manuel was very patient and pointed out many insects, plants, frogs, toucans, and a sloth when the rain finally subsided. (He was kind enough to provide us with an umbrella as we were not prepared and we also bought ponchos from the gift shop).
The chocolate tasting almost deserves another review on it's own- I loved it! They provided an in depth account of how chocolate is harvested and processed, and they gave out so many samples. It was honestly some the best chocolate I've ever tasted.
Before driving back to San Jose, we stopped at a small local restaurant and had a delicious and traditional Costa Rican meal. Not only was the meal fantastic, but Manuel and Carlos were great company, and it felt like we were having lunch with new friends rather than taking part in a tour.
December 2014
Excellent tour! The guide Eric was very nice and knowledgable. He picked me up from my hotel in the morning, and took me to the Tirimbina biologic reserve. He was very good in spoting birds and animals. I had a great time. The lunch was excellent tradition Costa Rica food.
December 2014
Eric Gomez who organized the tour was excellent - he picked me up at my hotel, was very informative and personable - I felt at ease the moment we met. I was only in Costa Rica for a few days and this tour was the main event of my visit - I am glad I chose Eric's trip - he made the visit worthwhile and I really enjoyed both the rainforest adventure and the chocolate tasting. I highly recommend this trip with Eric and appreciate his effort to make this a memorable and comfortable adventure in Costa Rica.
September 2014
From start to finish, this experience was absolutely fabulous! My guide, Eric, picked me up in front of the National Theatre at the scheduled time. Because I chose to travel during their "slow season," I actually got to enjoy a private tour, which was an unexpected and pleasant surprise. Eric is an incredibly genuine, friendly person! He made me very comfortable and I can easily say that our conversation was one of my favorite aspects of the day. From the moment we got on the road, headed for the rainforest, he began informing me of little facts and history about Costa Rica and the different areas we were driving through, which was really interesting. We stopped to get some coffee, then headed off into the forest, where the learning continued. He is great at spotting different animals and wildlife, and stopped several times throughout the day to show me things. We saw plenty of birds, lizards, and frogs, and even "spoke" with some Howler monkeys. And the chocolate was AMAZING! I learned how the indigenous peoples actually made it, as we went through the history and different processes required to achieve that familiar and delicious flavor. I had a great time and walked away with some wonderful photos! Worth the money - best day in Costa Rica!
Advertisement
Advertisement