This tour combines the Costa Rican delights of chocolate tasting and wildlife encounters all in a single, fun-filled day! Visit La Selva Biological Reserve, which claims UNESCO Biosphere Reserve status and provides great opportunities to observe animals and birds in their natural habitat. Get your chocolate fix at a tasting of locally made cacao products while learning about the fascinating history and cultivation of the cacao bean in Central America.
Highlights
Tropical rainforest walk and chocolate tasting from San Jose
Spot rare tropical birds at La Virgen del Socorro
Enjoy lunch at a local restaurant
Take a guided hike through La Selva Biological Reserve, home to 400 species of birds
Learn about how La Selva and the Braulio Carrillo National Park are part of a UNESCO Biosphere Reserve at the La Selva Organization for Tropical Studies
Visit Tirimbina Rainforest Center and learn about cacao and enjoy a chocolate tasting
Get a closer look at the home of leafcutter ants

Recent Photos of This Tour
San Jose Tropical Rainforest Adventure including Chocolate Tasting
What You Can Expect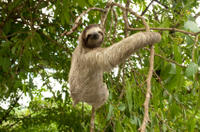 Discover the wild and flavorful treasures of Costa Rica's rain forest on a full-day combo tour. Meet up with your tour guide in downtown San Jose for the approximately 2-hour drive north. Your first stop is the private reserve at La Virgen del Socorro, where you can birdwatch for hummingbirds and hawks.
Enjoy a typical Costa Rican lunch before journeying on to the beautiful Sarapiquí region and Braulio Carrillo National Park. Walk across the gentle Sarapiquí River on a suspension bridge, and then continue to your next stop — the renowned La Selva Biological Reserve. This popular ecotourism destination is distinguished as a UNESCO Biosphere Reserve and is the site of important conservation work to preserve Costa Rica's natural bounty. Take a guided nature walk through the rain forest and keep an eye out for some of the 400 bird species found in the area.
Next, stop at the Tirimbina Rain forest Center to discover the ancient history of cacao in Central America. Learn how the beans are grown and harvested before being turned into a variety of delicious chocolate products. Enjoy a selection of tasty cacao-based treats
locally made by the Association of Women Amazilia del Caribe.
Wrap up the afternoon with a visit to a leafcutter ant farm, where you can watch these amazing insects hard at work within their complex colonies. After a full day of adventure, sit back and relax on the scenic return drive to San Jose.
January 2016
Great tour guide and great way to spend my first day of travelling alone. Couldn't recommend this tour highly enough.
January 2016
It was a great tour with great tour guides. Manuel was very knowledgeable throughout the trip and answered all of my questions. The hike through the rainforest was nice and walking over the suspension bridge was pretty cool as well. The guide that led the chocolate tour was great in introducing the history behind chocolate and we were able to taste it in many different forms, from the cocoa plant to an actual piece of chocolate.
December 2015
GREAT TOUR AND WE HAD A GREAT TOUR GUIDE.
November 2015
This was a very enjoyable and interesting tour. Our guide was knowledgeable and attentive the walk in the forest was great - we saw monkeys, toucans and a red frog and the chocolate tasting with explanations was great. Not only was it tasty, but we actually learned a lot about both ancient and modern chocolate production.

October 2015

October 2015
Highlight of our trip!! Wish we had done this one first, and booked all day trips with Viator.
Beautiful drive, knowledgeable guides, easy walking tour but truly through a rainforest! We ate in a small local place that was the best meal of the trip. Do this!
September 2015
Going through the forests with a trained guide Mainor was nice. He was able to use his expertise to show me things that otherwise I would have not been able to do. The Chocolate teating was also excellent in that you got to learn the history behind chocolate and to actually see step by step the process of making cacao.

July 2015
I loved it! I wanted to be in the middle of a rainforest, and that is where I found myself. I could easily do the hike, which was good because I had bruises on my left leg from another activity done elsewhere, so I couldn't have done a strenuous hike, and even managed to cross the suspension bridge despite a fear of heights! Manuel was a great guide and very knowledgeable, and my only regret is that we never did finish our last conversation because suddenly we were back in San Jose and the tour was done. The rainforest was quiet that day but I did see a sloth and three iguanas and many insects and a huge ceiba tree and lianas and walking palms...honestly just being there in the middle of the rainforest was wonderful! I also enjoyed the chocolate explanation and demonstration. Next time I'm in Costa Rica I will definitely use Viator when looking at tours - do you do anything else in the Caribbean region?
June 2015
This tour was great! I would highly recommend it to anyone. I was picked up at my hotel and realized that since I was the only one to book it that day, it would be a private tour. We had an exciting drive through a beautiful rainforest, through pouring rain with many waterfalls falling off the hill sides, dodging landslides. It was a bit crazy, but I never fled unsafe. My guide was very knowledgable about the rainforest preserve, showing me frogs, millipedes, a snake, toucans, and a troop of howler monkeys. He obviously loves the rainforest and wants to share its beauty with others. The chocolate demonstration was very interesting and well done, and of course delicious. After a great lunch of typical Costa Rican food and a neat roadside restaurant, we had a much calmer drive back to the city with the rain gone. It was a day well spent!
June 2015
This is more like a private tour guide for us. We were transported in a SUV by Urban Adventures Tour Agent hosted by Eric Gomez to Caribbean side of CR. There were a lot of information regarding rainforest and cocoa tasting. The hanging bridge was awesome if you hold your breath and look down the river. Bullet ant is about an inch and half, don't touch them with your finger. They are poisonous insect. We had local food for lunch next to the forest and after that it was pouring. May- November is rainy season however we love tropical rain.
Advertisement
Advertisement