Enjoy an insider's perspective of San Jose on this half-day city walking tour. Accompanied by an expert guide, you'll get a sense of daily life in the Costa Rican capital as you ride public transportation, stop by a beautiful local park and visit the artisan workshop of a third-generation craftsman. Taste local flavors while you browse stalls at the historic Central Market, savor a traditional lunch at an 80-year-old inn and learn to make tortillas.
Highlights
Walking tour in San Jose
Explore España Park on a guided stroll
Pass by the Costa Rica National Museum
Meet an artisan mask maker in his home
Enjoy a typical local meal at a historic restaurant
Professional English-speaking guide and public transportation fares included
Recent Photos of This Tour
What You Can Expect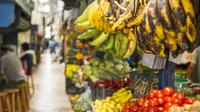 Discover the hidden urban treasures of San Jose with a knowledgeable local guide. Kick off your walking tour at España Park, a popular urban refuge with lovely, tree-shaded pathways. After walking by the Costa Rican National Museum, hop aboard a local city bus and head to the historic Central Market. Learn about local produce and agriculture as you explore the labyrinth of stalls and enjoy an aromatic cup of Costa Rican coffee.

Your next stop is the old city of Escazu, home to the beautiful La Sabana Metropolitan Park. Enjoy traditional Costa Rican cuisine and take in the daily lunch scene at an 80-year-old inn. Top off your meal with a glass of chicha, a popular local drink.

After lunch, take a peek into the traditional artisan scene at the home and workshop of a renowned mask-making family. Colorful masks are an important part of Costa Rican festivities, and you'll get to hear about their history and handmade creation when you meet a third-generation craftsman.
Finally, tour a local bakery that's been churning out delicious, fresh-baked goods for almost a century. Learn how to make traditional tortillas and wash down a sampling of house-made bread with another cup of fresh-brewed coffee. Your tour will wrap up in front of the ornate Costa Rica National Theatre back in central San Jose.
May 2016
This was a great way to see the city! Our guide, Carlos was very knowledgeble and fun. The weather was great to visit the city. The lunch at a private home was lovely, although, the tour info said we were to dine in a historical Inn.
April 2016
We had a pleasant walking tour with Brenda. After showing us some of the landmarks of San Jose, we had a typical lunch. In the afternoon, we visited a local figure making masks in a traditional way. Brenda's boss drove us while we were supposed to be using public transport for the tour. This was our first contact with Costa Rica and Costa Ricans. The tour constitutes an excellent introduction to the country
April 2016
We arrived in San Jose on 7th March and had pre-booked this trip for the next day. Our guide Carlos went out of his way to make sure that we really enjoyed the tour. His English was excellent. This Tour gave us a lovely flavor of the sights and sounds of the capital. We had been told by other people that San Jose is dirty and not worth looking around...We definitely did not find this to be true attall. We enjoyed looking around the Central Market stalls and spotting things that are not on sale in the UK in our markets. We saw several beautiful buildings, statues and monuments and Carlos told us a bit about their history as we walked around San Jose. We thought it was a great idea to get onto a local bus to transfer to the suburbs for lunch at a traditional Tico home. We also enjoyed meeting the patriarch of the family who had made traditional masks for festivals for many generations. This tour gives you a great flavour of San Jose with a lovely variety of experiences. We felt it was great value for money.
February 2016
Eric was an excellent tour guide! He cared deeply about giving us a good experience, and his knowledge about San Jose is very extensive. I'm glad we did this tour the day after we arrived in San Jose so we could get to know the city better and have more confidence exploring on our own. The tour was kept to 6 people, which made it easy to get around and ask more questions.
January 2016
Absolutely wonderful and informative daytrip! Our guide, Randall, could not have been better than he was. Both his English and knowledge of the area were impressive. Thank-you Randall for a terrific day,
January 2016
Our tour guide, Eric, did a great job showing us every day life in San Jose! He handled two couples with language differences with ease. He also handled a transportation return to our hotel by the airport issue for me and my wife at the end of the tour in a very professional manner. We would highly recommend this tour to future Viator customers!
April 2015
Overall, I had a great experience with this tour. Our tour group was very small, which allowed us to ask lots of questions and get everywhere easily. We enjoyed learning cultural and historical details from our guide who was very helpful and nice. We ate lunch at a small local restaurant where we were the only non-locals. The value of the tour is very worthwhile for the cost. I definitely recommend it for anyone who wants to learn about the city and see a variety of places!
March 2015
The tour was great and so was the weather. The guide was knowledgeable and informative. We really enjoyed the trip to the artisan mask maker!
March 2015
I was the only one who showed up and my guide Eric was a wonderful tour guide! He had excellent knowledge of San Jose and I soaked up all the historical and cultural details and stories! He was very patient when had to translate for I have to say this one probably one of the more relaxed and fun days I've had in a long time!
May 2014
Excellent tour! We had an informative walk through the city seeing markets, the Cathedral, government buildings and learned some information about Costa Rica. After the tour we were brought to an authentic restaurant for lunch. It was great to try local food with someone who knew what to order. The highlight of the day was to visit a mask maker. He had local teenagers show us how they danced in the costumes and our son got a chance to try one out too! - quite an unexpected experience! Thanks, Eric!
Advertisement
Advertisement