Sail away to the tropical paradise of Tortuga Island! On this full-day trip from San Jose, enjoy a cruise across the Gulf of Nicoya to the white sandy beaches and aquamarine waters of this postcard-perfect island. Soak up the sun on the beach, snorkel among tropical fish, or explore the island's forested trails for a memorable escape. Savor a tasty beachside lunch buffet and relax on the round-trip ride from your San Jose hotel.
Highlights
Full-day trip to Tortuga Island with local guide, from San Jose
Look for dolphins, seabirds, and other marine life during the boat cruise through the Gulf of Nicoya

Enjoy several hours at your leisure to soak up the island beauty
Explore the hiking trails or swim in the calm sea surrounding Tortuga Island
Snorkel, share a banana boat ride or hop into a kayak to paddle along the coast (each at additional expense)
Savor a tasty buffet lunch served on the beach
Includes round-trip transport from your central San Jose hotel
Recent Photos of This Tour
Tortuga Island Cruise from San Jose
What You Can Expect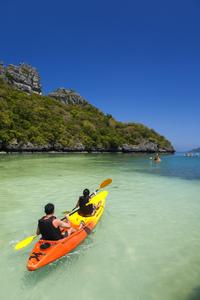 Create your own day in paradise on a full-day escape to Tortuga Island. Be ready for an early morning pickup at your San Jose hotel in order to maximize the day's adventures. Relax on the scenic 1.5-hour drive to the Pacific coast, and satisfy your breakfast cravings with an on-board snack. At the coastal town of Puntarenas, hop aboard a boat and relax on the spacious deck for the 2-hour ride to Tortuga. Feel the cool tropical breeze on your face and admire the verdant passing shoreline and aquamarine waters of the Gulf of Nicoya. Keep an eye out for dolphins and other marine life along the way.

Jungle-covered, gently sloping cliffs and white sandy beaches will welcome you to Tortuga Island. Once you step ashore, the day is yours to spend however you please. Relax and catch some rays on the island's pristine beaches, or venture out into the crystal-clear waters for a swim. Snorkeling equipment, kayaks and banana boats are all available to rent for a small fee. You can also head inland to explore Tortuga's tree-shaded nature trails and try your luck at spotting native wildlife.

When you're ready for lunch, enjoy a gourmet beachside buffet prepared by your guide. Savor a selection of fresh salads, grilled fish and chicken, and sides of rice, sautéed vegetables and fresh fruit. Quench your thirst with water, wine or aromatic Costa Rican coffee. Get into the spirit of the tropics as local musicians provide upbeat island tunes.
After about 5 hours on the island, return to the boat and continue relaxing on the ride back to Puntarenas. You'll be taken by coach back to San Jose and dropped off at the door of your hotel in the evening.
June 2016
Great tour! There was so much to do and everyone was so friendly. The food was good and so was the service and entertainment. Overall it was a great experience, definitely would return
March 2016
This was a great trip. It was a long trip and I feel like I got more than my money's worth. The boat ride was nice because you can move around and enjoy the entertainment. They go all out to make you confortable even when you are on the island. Of course anything you plan on doing on the island will cost extra but that's expected. The lunch on the beach was good. it was cooke fresh right on the island. They bring all the raw food on boad and take everything back at the end of the day. it was neat to see how much work they put in to make your trip enjoyable. I will not forget this tour...

August 2015
Overall this turned out to be a very nice trip for me. I don't care too much for the beach but needed to go to at least one while in CR. I was picked up at the Real Intercontinental Hotel in Escazu. And taken to a drop off point to get on a tour bus. This is the part of the trip I had a issue with. That was the most compact tour bus I had ever been on. I felt that for as much as I paid for the trip I could have a little more room. I know I know, it's just how I felt. Moving on, we were given a little sack meal for breakfast. It was a ham and cheese sandwich, juice box and an apple. I have seen other reviews where people didn't appreciate that. To me it was fine, it hit the spot. I believe we drove for an hour and a half or so to the docks to get on the catamaran. It was nice it had a bar and we were served snacks for the ride to Tortuga Island. I believe it was an hour and a half cruise to the island. Very picturesque island. Clean and neat. There were a few activities to do, banana boat ride, jet ski, eco-tour of the island and just chilling. We were served lunch after about an hour of being there. It was pretty good. There was a guy singing karaoke. I love karaoke so this was great. If I had drank just one more Imperial I would have gone up to sing with him. After lunch we had about 3 or 4 more hours to do whatever.There is a gift shop that sells a little bit of everything and they rent lockers so you can store your things. Please do this if you decide to ride the Banana boats, they get flipped pretty regularly. The most awesome part of this trip was meeting the local friendly Peccary. I had never seen one before and it came right up to my beach chair and wanted me to cover it in sand. I obliged him. There were also tropical parrots and some chickens roaming around. On the cruise back they gave us fresh pineapple and watermelon as well as some delicious carrot cake and drinks. It was a nice experience.
June 2015
Excellent tour, food was okay. Boat ride was long but lots to look at!
June 2015
Very nice tour and tour guide. Recommend highly.

M G Parry United Kingdom
April 2015
This was a delightful experience and our guide was most helpful. The crew were very efficient and caring. The catermarran was in excellent condition and very clean. The music was too intrusive. I do think that the musician should be more attentive to his audience for each sailing. If no one is dancing why keep up the blaring music? To experience the peace of fantastic scenery during the sailings was totally out of reach...as he played and sang loudly and consistently!!! One could not escape the musical intrusion.
The island setting ,food and staff were all satisfactory...a lovely special experience.. The coach trips were pleasant and with helpful informative commentaries. Thank you to guide, crew and island staff.
August 2014
Great day tour priced right. Tour guide and boat crew were all you could ask for. On time-food and beverage wonderful. delivered as promised.
April 2016
I was disappointed with the garbage that was washed up on the beach. I pictured being on a beautiful island with white sand and clean beaches but as we explored the coastline I saw a lot of trash which included diapers washed up on the beach. Not very appealing when you just came out of the water. The staff however was very nice and accommodating and the food was wonderful. Over all I did enjoy relaxing on the lounge chair and having drinks. Just wish the beach was clean.
October 2015
This was an interesting trip. It was good and everything it was advertised to be It was just long. long bus ride long boat ride long time on the island. I was picked up at 6 Am and didn't get back until 9 pm.
June 2015
This tour was great! The guides spoke clear English, and they were very informative! We had Rafael and he was very patient and understanding with our group. The ride from the hotel to the port was smooth beautiful views of the country. The cruise and island wwee so much fun! Worth the money!
Advertisement
Advertisement