The sun is down, but your adventure is just beginning as you paddle through the glowing waters near San Juan on this 4-hour bioluminescent bay kayak tour. Explore this legendary natural phenomenon by boat, observing as the water beneath you glows and sparkles, thanks to simple movements of your hand or paddle. It's a once-in-a-lifetime experience that's not to be missed. Your tour includes round-trip transportation from your San Juan hotel, plus a guide.
Highlights
Kayak adventure on the bioluminescent bay

Enjoy spectacular sunset and nighttime views of the Fajardo area

Swim in the waters as they glisten around you

Hotel pickup and drop off included

Recent Photos of This Tour
Bioluminescent Kayak Adventure from San Juan
What You Can Expect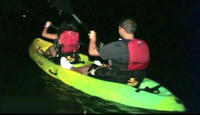 Explore the eerie glowing waters of one of the world's only bioluminescent bays on this magical 4-hour nighttime kayak trip. Few experiences compare to a boat ride on this sublime body of water, where you can simultaneously admire the surreal glow of tiny plankton below and a dramatic sky blanketed with stars above.
Start your evening with a pickup at your hotel in San Juan between 4 and 6pm for the quick ride to the bay. Once you arrive, your kayaking adventure begins at sunset, the historic lighthouse of Fajardo visible in the distance. Soon you reach the Las Cabezas de San Juan Reserve, site of this amazing natural light show and one of only five such sites in the world. Gaze in wonder as your paddle and hand movements stir the water, setting off the glowing displays of tiny plankton that cause the phenomenon.
At the end of your boat trip, you return to your transportation for the ride back to your San Juan hotel, still exhilarated from your fun nocturnal adventure.
Important note: Unfortunately due to natural causes the bioluminescence is glowing very inconsistent at this time. Natural debris carried by the current may affect visibility. When there is a Full Moon the glow effect is also affected. In order to improve the visibility, guides may use black tarps to cover the kayaks and riders; this promotes darkness and provides a greater appreciation of the microorganisms. Guests will still be able to enjoy the rest of the experience including the paddling lesson, kayaking through the mangrove channel and the observation at Laguna Grande, which is a wonderful experience, but expectations need to be clear as the glow may be very low and we want to avoid any claims. This is a natural reserve and some conditions caused by nature can't be controlled

haagc69 Canada
December 2015
Great staff, great excursion, unfortunately the bioluminescence was not as vivid as I had hoped.
November 2015
Could you please send me the Facebook page name to check my pictures
August 2015
Wonderful experience with the best guides
March 2015
Great team building excerise! For anyone like siblings couples co workers even friends it's not only beautiful , amazing and a hard workout but great to work together. After check out the f
March 2015
Wonderful experience and do recommend it. GREAT STAFF!!!!!! Very helpful and enjoyable!!
March 2015
Amazing trip! We got poured on the last five minutes while we were trying to dock which made for quite the exciting end! I would definitely do this again!
December 2014
Seeing the water light up at night with each stroke of the oar was great. We were happy that the tour picked us up because we would have never found it on our own.
The canal from the bay was crowded but because everyone wants to go. Guides were okay.

SaraG United States of ...
November 2014
Absolutely a MUST DO in PR! Impossible to capture the beauty of this experience on camera, you must do it yourself.
Yes, it's dark on the way back, but absolutely worth the trip.
August 2014
A truly amazing experience. Seeing the water glow a neon blue when disturbed was just amazing. My wife and I got out a little bit from the group and saw a school of fish underwater...that was really cool. Looked like 40 or 50 little blue blurs darting in the water. Also saw a really big fish that left a big blue streak across the water. Very highly recommend this to anyone who goes to Puerto Rico!
The paddle wasn't too bad - just be ready for a little frustration because rarely in my life have I experienced dark (like the complete absence of any light at all!) like that. Couple that with some of the kayaks not having lights on the back made for an interesting trip back. Would this stop me from going back? Heck no! It was amazing! Best part of the trip!
July 2014
Had a great time! Definitely one of the best things we did in Puerto Rico. The driver was on time and friendly, and the staff was knowledgeable and fun. We loved the kayaking, and having to do it in the dark was part of the adventure. You dont need to be an expert kayaker, but be prepared to get a bit of a workout, especially crossing the slightly choppy bay to the mangrove forest. The staff supplies bugspray, but the bugs werent all that bad. They are right that the bioluminescence (although very pretty!) does not show up on camera. Overall a very unique experience.
Advertisement
Advertisement