Immerse yourself in the cultural history of Puerto Rico during this 6-hour day trip to historic Caguas with lunch and visits to its major attractions. Situated just 20 miles (32km) south of San Juan, Caguas is home to a number of intriguing sights, including its Botanical and Cultural Garden, along with its restored sugar mill. Listen as your guide teaches you about Puerto Rico's indigenous Taíno people, and take a walking tour on the Route of the Creole Heart. The day also includes all entrance fees, lunch and round-trip transportation from San Juan hotels.
Highlights
Day trip from San Juan to Caguas
Visit the Caguas Botanical and Cultural Garden to see native flowers and other plantlife
Learn about Puerto Rico's sugar cane industry and its Taino indigenous group through fascinating re-creations and displays
Enjoy an alfresco Puerto Rican lunch at the garden
Follow your guide along the Route of the Creole Heart in central Caguas
Pass by landmarks like City Hall and Sweet Name of Jesus Cathedral
Visit three small museums dedicated to history, popular arts and tobacco

Recent Photos of This Tour
What You Can Expect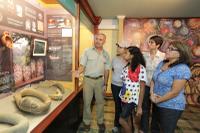 Take a deep dive into the culture and history of Puerto Rico on this educational and fun 6-hour day trip to Caguas, home to numerous museums and landmarks that will give you the perfect overview of the diverse groups that populate this island nation.
Begin your day with a pickup in San Juan between 9 and 9:30am, proceeding onwards by van or minibus to Caguas, about 30 minutes south. Your first stop of the day is the Botanical and Cultural Garden, home to a variety of exhibits not only on the island's lush plant life, but also Puerto Rico's cultural heritage. You'll also visit a historic sugar mill on site, providing an overview of one of the area's most important industries, and then see the Taíno Ancestral Grove, with art and memorabilia detailing the group's heritage.
Finish your visit to the garden with lunch at El Guaraquitén, where you'll enjoy a traditional meal of rice, beans and meat prepared over a wood stove. Grab a seat at one of the nearby picnic tables to enjoy your meal, then head back to the vehicle for the next stop.
Proceed next to Palmer Plaza, the main square of Caguas, to start walking the Route of the Creole Heart (Ruta del Corazón Criollo) which continues past the most important monuments in town and provides an overview of its recent history and current culture. See the City Hall, constructed in 1887, and Sweet Name of Jesus Cathedral, from 1930, before checking out three museums, including the Tobacco Museum, Popular Arts Museum and History Museum.
Your tour concludes with a return trip to your San Juan hotel.
January 2015
This tour included a tobacco museum, a music museum, and a toy museum. It was more than we expected!
November 2014
Loved this tour! Took my Spanish students and they enjoyed it as well. They enjoyed the museums because the tour was done in Spanish and English. Lunch at the Botanical gardens was very authentic. They cooked chicken, rices, beans, and fried plantains over fire. The kids really enjoyed watching the iguanas walking around as they were eating lunch. We were able to tour the botanical gardens on golf carts. You have to get coffee from the vendor in the plaza beside the merry go round.
July 2014
If you can't get to Caguas on your own, then this tour is perfect for exploring some of the museums in Caguas. I would have preferred more time in the Botanical Garden, and, as vegans, we were promised there would be plantains along with the rice and beans for our lunch, but they ran out of patacones before we got there. Our guide was excellent.
March 2015
We were really looking forward to the botanical garden portion of the trip.
However, we wound up going through 4 historical museums, including a museum on cigar making, where one of our party sampled a cigar and then bought a box. The group smelled like cigars for the next few hours and during a bus ride to the botanical garden. The other museums were on the eaarly history and indigenous natives of the island. Not really that interesting to us and we feel that it wasted several hous of our vacation.
The botanical garden itself is a misnomer. It is strictly an arboretum and archaelogical dig site. The "garden" is focused on trees of the island. We thought a botanical garden should have a lot of flowering plants. but there were almost none of those. It would have been nice to see some of the island's flowers and orchids.
Advertisement
Advertisement