If you're interested in learning about Puerto Rico's cultural history, this day trip to the city of Caguas will delight you! Just 20 miles (32 km) south of San Juan, Caguas is home to two unique cultural activities that you'll experience with a guide. At the Caguas Botanical and Cultural Garden, learn about Puerto Rican industry and indigenous culture with a walking tour of a sugar mill and an exhibit on the Taino people. Then walk the Route of the Creole Heart in the center of town to see several historical landmarks and visit three small cultural museums.
Highlights
Day trip from San Juan to Caguas
Visit the Caguas Botanical and Cultural Garden to see native flowers and other plantlife
Learn about Puerto Rico's sugar cane industry and its Taino indigenous group through fascinating re-creations and displays
Enjoy an alfresco Puerto Rican lunch at the garden
Follow your guide along the Route of the Creole Heart in central Caguas
Pass by landmarks like City Hall and Sweet Name of Jesus Cathedral
Visit three small museums dedicated to history, popular arts and tobacco

Recent Photos of This Tour
What You Can Expect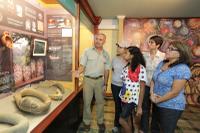 After pickup in San Juan, your day trip starts with the 30-minute drive south to Caguas by comfortable van or minibus. Head straight to the Caguas Botanical and Cultural Garden (Jardín Botánico y Cultural de Caguas), your first stop of the day.

More than just a space for flowers and other vegetation, the garden is home to an array of displays and exhibits that promote Puerto Rico's natural and cultural history. With your guide, take a walking tour of an old sugar mill and re-created hacienda to learn about one of the Caribbean's most important industries, and explore the Taino Ancestral Grove, which depicts the life of Puerto Rico's indigenous group through art and artifacts. Plus, as this is a garden, you will admire the many varieties of native flora that make up the lush property.

Stay at the garden to enjoy lunch at El Guariquitén, an on-site restaurant where your food — a typical Puerto Rican meal of rice, beans and meat — is cooked on an open-air wood stove. Sit down at one of the picnic tables to enjoy your lunch alfresco, and then head to your vehicle with your guide to continue your day trip.

Your next stop is Caguas' main square, known as Palmer Plaza, where you begin walking the Route of the Creole Heart (Ruta del Corazón Criollo), a route through central Caguas that takes you past several cultural and historical attractions, introducing you to the city's historical and present-day culture. Pass by landmarks like City Hall (built in 1887) and Sweet Name of Jesus Cathedral (built in 1930), and visit three small museums along the way — the History Museum, Popular Arts Museum and Tobacco Museum.

Your day trip ends with return to your original pickup location.
January 2015
This tour included a tobacco museum, a music museum, and a toy museum. It was more than we expected!
November 2014
Loved this tour! Took my Spanish students and they enjoyed it as well. They enjoyed the museums because the tour was done in Spanish and English. Lunch at the Botanical gardens was very authentic. They cooked chicken, rices, beans, and fried plantains over fire. The kids really enjoyed watching the iguanas walking around as they were eating lunch. We were able to tour the botanical gardens on golf carts. You have to get coffee from the vendor in the plaza beside the merry go round.
July 2014
If you can't get to Caguas on your own, then this tour is perfect for exploring some of the museums in Caguas. I would have preferred more time in the Botanical Garden, and, as vegans, we were promised there would be plantains along with the rice and beans for our lunch, but they ran out of patacones before we got there. Our guide was excellent.
March 2015
We were really looking forward to the botanical garden portion of the trip.
However, we wound up going through 4 historical museums, including a museum on cigar making, where one of our party sampled a cigar and then bought a box. The group smelled like cigars for the next few hours and during a bus ride to the botanical garden. The other museums were on the eaarly history and indigenous natives of the island. Not really that interesting to us and we feel that it wasted several hous of our vacation.
The botanical garden itself is a misnomer. It is strictly an arboretum and archaelogical dig site. The "garden" is focused on trees of the island. We thought a botanical garden should have a lot of flowering plants. but there were almost none of those. It would have been nice to see some of the island's flowers and orchids.
Advertisement
Advertisement