Cruise by high-speed catamaran to Culebra from Fajardo for a fun-filled day trip snorkeling, beach combing and sunbathing on this island paradise. Spend your morning exploring the fascinating undersea creatures that populate the island's coral reefs before enjoying a buffet lunch complete with rum punch and piña colada refreshments. Then take the afternoon to relax and swim on the area's perfect sugar-sand beaches, including Playa Flamenco and nearby Culebrita. Your excursion also includes snorkel equipment and offers optional round-trip transportation from hotels in Old San Juan, Condado or Isla Verde.
Highlights
Catamaran cruise and snorkel to Culebra from Fajardo
Ride a power catamaran to a gorgeous reef and nature preserve
Spend the afternoon at a deserted Caribbean island beach: Flamenco or Culebrita Island
Snorkel in crystal-clear waters and relax on a white sand beach
Enjoy complimentary drinks and a scrumptious buffet lunch!
Recent Photos of This Tour
Culebra Day Trip by Catamaran from Fajardo
What You Can Expect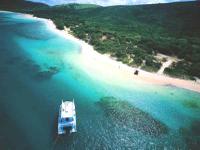 Experience a true tropical paradise on this high-speed catamaran adventure to one of the most secluded and unspoiled spots in the Caribbean. This Culebra tour is the perfect mix of adventure and relaxation, offering snorkeling among the area's amazing reefs, good food and drinks and a laid-back afternoon sunbathing and swimming on some of the world's most pristine beaches.
Start your day trip with optional pickup from select hotels in San Juan, and head for your 9:30am catamaran cruise leaving from Puerto del Rey ferry terminal in Fajardo. Soak up the sun on the short 50-minute ride on your speedy vessel, refreshment already in hand, and take in the amazing views of the nearby Cordillera Islands Nature Reserve along the way.
The first stop of the day takes you to the pristine Carlos Rosario or Luis Peña underwater nature reserve, just off the western shore of Culebra, for 1.5 hours of fantastic snorkeling among the area's beautiful aquatic environment.
Once you've worked up an appetite, lunch is served around 11:30am, featuring a delicious buffet spread including tropical cocktails, soda, juice, iced tea, fresh fruit, gourmet pasta salad, coleslaw or bean salad, freshly baked bread, sliced meats (turkey, ham, pastrami or salami), seafood or chicken salad, sliced cheese, chips and cookies.
From there, take a short 20-minute sail to one of Culebra's unspoiled beaches for an afternoon of sunbathing, swimming and beach combing. Depending on weather conditions, your captain will take you to one of two choices: the stunning Flamenco Beach, situated on Culebra's main island, or the half-mile long beach at Culebrita, a small islet that offers beautiful views of nearby Saint Thomas.
Finish your day around 3pm with a return cruise to Fajardo, arriving back at the marina around 3:45pm to make your own way home or via optional hotel transport.

April 2016
The bus service, catamaran crew were all very pleasant and we couldn't have asked for better people to take care of us that day. I absolutely LOVED the snorkeling! Everyone in my group really had a great time. I would recommend and I already have this day trip to anyone. Thanks for providing such a nice time!
April 2016
A fabulous day with a fabulous crew!!! We enjoyed the day from beginning to end. We couldn't have asked for a better way to enjoy snorkeling, swimming, lunch and drinks.
April 2016
It was fun! Alexis and Willie were great and made sure we had a great time.
April 2016
It was a wonderful way to end our week in Puerto Rico. The snorkeling was great and the 2nd stop at the beach was heaven - the water was velvet! The crew was wonderful.
April 2016
This trip is a must do!! The boat ride out was awesome! The 2 island stops for snorkeling were amazing!! We even got to see some sea turtles! The weather was perfect and the water was clear!
The buffet lunch and rum drinks were delicious!! Would recommend medication for those who get motion sick...and several people did. The bus ride is a long one from San Juan...at least an hour plus stops at hotels. There was no bathroom on the bus. Our bus driver, Tito was so nice to stop for a restroom break for us. Would do this one again in a heartbeat!!
April 2016
The trip was great!! The crew was great and friendly and knowledgeable. Very helpful in every way. The snorkeling was great and so was Culebra. I recommend .

March 2016
As a family of 3 we had so much fun!
March 2016
This excursion is perfect. About 40 minutes to Culebra - snorkeling is awesome! The lunch is awesome! Flamenco Beach is awesome! We had four adults and five high schoolers and it was a consensus - perfect!
March 2016
I loved the Culebra Day Trip, I went alone and the staff and guest were all great. It is well worth the price. I love the Catamaran so clean. Bathroom was super clean and big enough to change clothes in. Boat ride fun and snorkeling was fabulous. Food was excellent. Swimming and walking the beach at Island was fun. I'll take family and do it again. Thanks to All
March 2016
This was an absolute blast! My 3 girl friends and I went on this cruise with high hopes and every single one of us were blown away! The boat we got on was incredible and so spacious. From the moment we stepped foot on the boat the crew had us smiling and enjoying our time. The crew is very considerate of those who get seasick. They are also very considerate if you need a tasty beverage as well, to get you feeling into full vacation paradise mode!
There were very incredible views from the start to the finish of this cruise. They take you out to two of the most incredible spots you will ever see! Breathtaking. I will never forget those views. Snorkel gear is provided along with instructions to not disturb the reef or the habitat. The water was so clear. We got to swim out and actually walk along the beautiful sand beach of Flamenco. This might've been my favorite moment of my entire trip to Puerto Rico. There truly are no words.
My friends came with me to celebrate my 30th birthday in Puerto Rico and this might've been the best moment of the entire trip. From start to finish we had an amazing time. To Efrain, Alexis, Abraham, Gary, Manny, and Gabriel... thank you for your kindness, your charm, and making sure we had one of the best trips of our lives!
Advertisement
Advertisement