Get an insider's look at two of Puerto Rico's most massive attractions, the Arecibo Observatory and Rio Camuy Caves Park, on this 9-hour day trip from San Juan. Descend inside a million-year-old cavern (one of the three largest underground river systems in the world) on your Camuy cave tour. Then prepare for an out-of-this-world visit to the world's largest radio telescope at Arecibo, a giant concrete bowl wedged in the hills of Puerto Rico's northern coast. Your tour also includes a guide and pickup and drop-off at most San Juan hotels.
Highlights
Day trip to the Rio Camuy Cave Park and Arecibo Observatory from San Juan
Descend into the depths of a million year old cave
Enjoy a guided tour of the third largests underground river cavern in the world
Visit the world's largest radar/radio telescope
Complimentary pickup and drop off from most San Juan hotels
Recent Photos of This Tour
Rio Camuy Cave Park and Arecibo Observatory from San Juan
What You Can Expect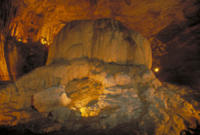 Discover two of the biggest attractions that Puerto Rico has to offer on this combination Camuy Caves and Arecibo Observatory day trip from San Juan. If you're hoping to check out Puerto Rico's natural wonders and more unusual sights, this is the perfect tour to get deep inside (literally) two of the island's more unexpected landmarks.
Start your day with a pickup between 7am and 8am at your San Juan hotel, continuing on to the incredible Camuy Caves system in the northwest part of the island. Step inside the subterranean world of this underground complex for a safe guided tour of its soaring interiors, strange sinkholes and eons-old stalactites and stalagmites. Close your eyes and listen to the echoes of the thunderous tropical river that still flows through the cave's many chambers and channels, continuing the slow expansion that started millions of years ago.
Continue on to the Arecibo Observatory, a monster-size concrete bowl that looks as if giant dropped it between the foothills along Puerto Rico's craggy northern coast. Learn about the scientists from all over the world that journey to this famous 1000-foot (305m) diameter dish to listen to the sounds of the universe, studying the radio emissions from distant galaxies and quasars. Then head to the observation platform, where you can view this enormous scientific instrument up close, its metallic surface glinting against the earthy green foliage that surrounds its rim.
Finish your day with a return trip to San Juan, arriving back at your hotel around 4:30pm.
This tour does include lunch or entrance fees at the attractions.
November 2015

July 2015
The whole family had a great time. Thanks!!
May 2015
This tour was well worth the money spent for our family of three. We were picked up at the hotel on time though it would be nice if the vans/busses themselves also has the company logo... even if a magnet... on the outside because the number of tour busses that passed through our hotel made it difficult to tell which bus was what and we had to rely on the guide's shirt logo. As we drove to the cave, Ricky our tour guide provided us with a running commentary about San Juan and the different areas of Puerto Rico we were passing through.
At the caves, park officials take over. You're given a number for the tram and told where to purchase your admission ticket. You will likely have to wait 20-60 minutes for the tram down to the caves. It's OK because there are some vendors in the waiting area and you can get food and drink while looking at small souvenirs. However, be ready to go when they call you. The caves are very open, so claustrophobia isn't an issue. Once we were done with our tour, we were given the chance to use the restroom again before boarding our bus.
Our bus driver took us to a nearby restaurant where we were able to dine cafeteria-style cost is 8 for a main dish, two sides and a soda... not included in your ticket price. Though the food was decent, it wasn't great. Still, it was a quick stop and we were on our way.
Arecibo Observatory is located in the mountains and you have to pass through some pretty narrow and twisty roads to get there. For this reason alone, we were glad we booked a tour versus renting a car and navigating there ourselves. Once at Arecibo, the bus parks and you have to walk 5-10 minutes up a hill to get to the observatory. You will pay for admission at the top of the hill. There's a small museum with lots of activities suited for elementary aged kids, but the unquestionable highlight is the radiotelescope. Take time to listen to the movie and then enjoy the views. Don't miss Taylor's Nobel Prize which is on display on the second floor of the museum.
Once you are done, you will board the bus and be returned to your pick-up point.
May 2015
May 2015
Great places to see outside San Juan. It was my first time to go in a cave . It was scary at first but I enjoyed it anyway. The Observatory is one of a kind and a must see since it's one of its kind in the world. Our driver/ guide was amazing!
April 2015
February 2015
This tour was amazing! Our tour guide was great he answered every question and was very enthusiastic about his job and culure. He directed us to some amazing shops and restaurants in old San Juan.
February 2015
January 2015
Joshua, the tour guide, was knowledgable, engaging, and resourceful. I highly recommend the tour as an overview of Old San Juan.
September 2014
We had a wonderful time! Your driver was very friendly and informative, even finding a wonderful "local" place for lunch.
Advertisement
Advertisement