Get a taste of island life during this full-day catamaran cruise and snorkeling trip to a nearby nature reserve, where you'll explore the tropical isle of Icacos. Pretend you're Jacques Cousteau as you snorkel among the area's fantastic marine life, then stroll the deserted beaches of a protected island for some shell hunting and sunbathing. Along the way enjoy a buffet lunch, with included rum punch or piña coladas, plus optional hotel pickup and drop-off from select properties in San Juan.
Highlights
Snorkel and picnic cruise from San Juan

Relax on the deserted island Icacos

Enjoy a delicious picnic lunch with complimentary pina coladas and rum punch

Recent Photos of This Tour
San Juan Snorkel and Picnic Cruise
What You Can Expect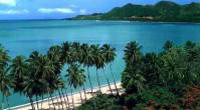 Whether you're a beach bum in search of that perfect stretch of sand, or a snorkel lover looking for the perfect reef adventure, this Puerto Rico snorkeling excursion is sure to delight. Indulge yourself with a fun catamaran cruise to serene Icacos island for a day of swimming, underwater exploration and relaxation.
Make your own way or add an optional hotel transfer from San Juan to the catamaran's departure point, leaving around 10am from Fajardo. From there, the catamaran proceeds east for around 20 to 45 minutes to the idyllic island of Icacos. Once anchored, spend the rest of your morning on the island as you wish, strolling the beach, exploring the interior, searching for shells, swimming or snorkeling in the aquamarine waters just offshore. If you're new to snorkeling, receive help from one of the tour's experienced guides.
Head back to the catamaran for a midday lunch break. Lunch consists of ham, turkey, salami, cheese and fresh local bread for sandwiches, plus salad, fruit, snacks and your choice of rum punch or piña colada cocktails.
Spend the second half of the day with more snorkeling, as the boat moves to a second secluded coral reef. Check out more of the reserve's amazing sea creatures, or simply relax on deck before returning to the dock in Fajardo around 4:30pm and for an optional hotel drop-off.
May 2016
Crew was fantastic, lunch was superb and drinks hit the spot!
May 2016
We had so much fun. Crew was very professional and attentive. Would highly recommend this tour!
May 2016
Very well worth the money , We had a great time, one of the highlights of our trip. Crew was very friendly and VERY helpful , even if you never snorkeled before they help in every way.
May 2016
Wonderful guides, fantastic drinks, beautiful boat on a beautiful day! Loved snorkeling. Had fantastic company. Would definitely recommend!
May 2016
Boat was clean and easy to move around. Crew was courteous, informative, and made the day enjoyable. Plenty of fish to view at each of the two snorkeling stops.
May 2016
This was the best part of our trip. The crew was enjoyable along with the beautiful weather. We will rake this tour again
April 2016
This snorkel and picnic cruise was wonderful!! The crew was fun, friendly, and provided a great experience. The two areas we visited to snorkel in were beautiful and the fish and coral were plentiful. I would happily go again!
April 2016
The crew was great! The hostess was the hostess with the mostest! All were very set on ensuring that we had a good time. We were picked up at our hotel and escort to the port where the boat docked. We boarded and the rest of the day was fantastic!!! Snorkeling at some excellent spots with live reefs and plenty of fish to play with. A great lunch and drinks, with or without rum, were made fresh for our group. Our hostess sat with us and chatted for a good long time as others were playing in the water. She was easy and friendly and we had a great chat. The captain made up a fruit platter for the cruise back to the dock that was truly a work of art. Everyone of the crew was helpful and very friendly. As experienced snorkelers we found the second reef a wonderful place to explore and dive. I can't say enough about the crew. We felt completely safe at all times and wonderfully pampered! Thank you Jelexia!!!
April 2016
The crew was amazing. Everyone was so sweet and helpful. To the point that when I was scared to jump into the dark blue ocean, One of the men removed his glasses, watch, and shirt, held my hand and jumped with me. The served a delicious lunch, played great music including the captain singing and great drinks. I would definitely use this group again. They were great. Oh and the boat was spotless and amazing too.
April 2016
The crew, the food, the drinks and most importantly, the scenery and experience...amazing! Thank you!
Advertisement
Advertisement