10 Reviews
Location:

San Sebastian, Spain

Duration:

1 day

(approx.)
Enhance your sightseeing in San Sebastián with a hop-on hop-off bus tour. Travel with ease between Playa de la Concha beach, Miramar Palace and other top attractions, and hop on and off at any of the city-wide stops. Alternatively, choose to stay on for the full 1-hour loop and listen to the audio commentary to find out more about the Basque city.
Highlights
Hop-on hop-off sightseeing tour of San Sebastián
Create your personalized sightseeing itinerary and explore San Sebastián with a complimentary map

See top city attractions such as Miramar Palace and Playa de la Concha
Hop on and off as many times as you wish at any of the 29 stops around the city
Enjoy informative audio commentary in eight different languages
What You Can Expect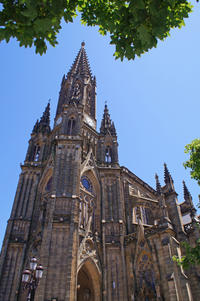 Known locally as Donotia, San Sebastián is every bit as handsome as its Basque name suggests. With its sunny coastal location, the city has world-class beaches, smart 19th-century architecture and culture by the bucket load. Sightseeing opportunities abound around every twist and turn, and there's no better way to see the sights than by your hop-on hop-off sightseeing tour!
Aboard your open-top, double decker bus, ride around town and see top San Sebastián attractions such as the pretty Bridge of Maria Cristina and Miramar Palace with its regal-looking façade. Pass along downtown streets near Playa de la Concha, San Sebastián's arc-shaped beach, or perhaps hop off at Alameda del Boulevard for a browse of its shops, restaurants and cafes. A complimentary map is included with your hop-on hop-off tour ticket to help you find your way around town.
With your ticket, you can remain on the bus for an entire loop (roughly 1 hour) as you listen to the informative audio commentary, or you can hop on and off at any of the 29 stops around the city to discover San Sebastián's countless delights.
San Sebastián Hop-On Hop-Off Tour Stops:
Paseo República Argentina
Paseo Salamanca
Paseo Nuevo
Calle Aldamar
Alameda del Boulevard
Calle Legazpia
Santa Catalina Bridge (Puente de Santa Catalina)
Paseo de Francia
Bridge of Maria Cristina (Puente de María Cristina)
Paseo del Árbol de Guernica
Calle Miracruz
Avenida Ategorrieta
Avenida de Navarra
Avenida Zurriola
Zurriola Bridge (Puente de Zurriola)
Alameda del Boulevard
Calle Hernani
Calle Andia
Miramar Palace (Calle Miramar)
Avenida de la Libertad
Calle Zubieta
Paseo de la Concha
Avenida de Satrustegui
Plaza del Funicular
Calle Pamplona
Avenida Zumalacarregui
La Concha Bay (Playa de la Concha)
Calle de San Martín
Paseo de los Fueros

January 2016
This was a nice tour and I found it to be pretty useful. Although San Sebastián is not a huge city, a lot of the locations that are worth seeing are far away from the center. I sat on the bus for a panoramic view and learned about the city's history. Overall, it was worth the cheap asking price.
June 2015
Good overview of the city.
May 2015
we enjoyed the sightseeing hop on off tour, it was easy convenient and a great way to see the entire area.
May 2015
we enjoyed the sightseeing hop on off tour, it was easy convenient and a great way to see the entire area.
June 2014
Great introduction to the city.
November 2015
The best of the three were on.
Paul M Australia
August 2015
Wonderful tour of an amazing city
August 2015
Typical of the brand. Useful for orientation, etc. Ramp for wheelchair access on our bus did not work, discouraging any hopping!
July 2015
The tour started off OK, but more and more people boarded the bus at different stops and hardly anyone got off. There were people standing as they did not have a seat and it ended up running late. It was very hot and we decided to leave the tour before the final stop.
July 2015
The route was not much to see. It was challenging finding a stop to catch the bus. Booth was closed signs not clear.
Advertisement
Advertisement