Enjoy the scenic splendor of one of Chile's most famous wineries on a half-day tour of Concha y Toro from Santiago. Accompanied by a knowledgeable guide, stroll around the verdant vineyards and gain insight into complex manufacturing methods; pleasure your palate with a lavish wine tasting session; and descend to the subterranean depths of an underground cellar. Awaken your senses to the natural beauty and gastronomic prowess of the famous vineyard during this enriching excursion, with which hotel pickup and drop-off is included.
Highlights
4-hour wine tour to Concha y Toro winery from Santiago
Visit one of Chile's most legendary wineries
Explore the 100-year-old vineyards and admire views of the Maipo Valley
Enjoy a wine tasting of varietals such as carmenere and sauvignon blanc, paired with a gourmet cheese plate if option selected
Round-trip hotel transport included
What You Can Expect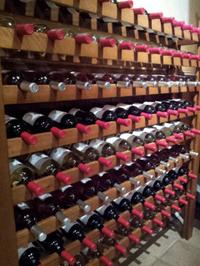 Depart from your hotel in Santiago and sit back during the scenic 30-minute drive south to the city of Concha y Toro; admire spectacular views of the Maipo Valley as you cruise into the countryside in an air-conditioned minivan.
Sail through the grand entrance and admire the sculpted beauty of the winery's grounds, before beginning your tour of the gorgeous Casona gardens. Venture into the verdant Pirque vineyards and wander amid sprawling vines as your guide offers insight into the winery's cultivation and production methods. Listen to captivating tales of the winery's history as you absorb the alluring aesthetic of the landscape.
Next, treat your taste buds to a sample of Cassillero del Diablo, a world famous wine grown on the grounds, and then descend into the darkened depths of the wine cellar, known as the Cellar of the Devil. Hear fascinating tales of the winery's eccentric former owner, who inhabited the cellar in order to protect his precious wines from intruders.
Conclude your culinary tour with an extended tasting session in the elegant wine bar; savor the smooth taste of two flagship wines, or select the wine-and-cheese pairing option to feast upon premium cheeses as you drink, increasing your wine samples to four rather than two.
Palate pleasured, head back to the minivan and relax during the journey back to your Santiago hotel.
Please note: Click on the 'View additional info' below to ensure your hotel is included in the pickup and drop-off zone.

June 2016
Marco was a great driver and guide. With time to spare before the tour, we got fresh empanadas from a roadside hut. Concho y Toro was great and the taste testing was amazing.
June 2016
Rod was excellent and very funny. Small group was great. Winery staff was knowledgeable and helpful, and everyone was very patient. Suggestion: Give directions to the hotel from the metro. Google Earth is not accurate.
September 2015
Very nice tour. Not sure why there is a driver and a guide, some economy could be in place if the guide drove. Guide provided some geographic and political insight while enroute.
May 2015
Great driver. very knowledgeable. Wine tour pretty good, we went for the add-on tasting with cheese, which was well worth it.
March 2015
Great winery to experience and nice wines to try.
Naviin H N India
April 2016
Perfect for family with little or no knowledge about wines. We learnt a lot and experienced some tasty wines and finally saw Casillero del Diablo....
Lightside was we were picked little late from our apartments due to some bad traffic however made it on time to the tour
July 2015
The tour guide was very knowledgeable not only about the winery, but local customs and history. It was very convenient being picked up at our hotel.
June 2015
The driver was very knowledgeable and friends Emily. Clean car and all you need. Would strongly recommend to check out these guys :-)
February 2015
This turned out to be a Private Trip to Concha Y Toro Winery. While that was wonderful, we would have preferred a group tour. This is not a working Winery, however it was a nice tour.
Edwin F Puerto Rico
December 2014
Advertisement
Advertisement