Gallop through Chile's magnificent mountains on an exhilarating 6-hour horse riding tour from the city of Santiago. Escape the crowds of the capital and inhale fragrant woodland air as you canter across gentle streams and rocky river beds with an experienced guide. Ride atop a strong and secure Criollo horse, creatures renowned for their mild temperament and impressive stamina, as you enjoy the rugged and remarkable natural panorama. Conveient round-trip transportation from your Santiago hotel is included in the tour.
Highlights
3-hour horseback ride through Santiago's rugged cordillera (mountain range)

Throw on some chaps and follow local cowboys off-track
Savor a hearty lunch while admiring the vista
Sip mate (a hot drink steeped from yerba mate leaves) or a cup of coffee at the home of a local cowboy
Ride small but sturdy Criollo horses – no experience necessary

Sunset and full-moon tours are available during the summer
What You Can Expect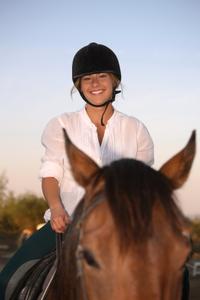 Depart from your Santiago hotel in a comfortable, air-conditioned minivan and relax during the 30-minute drive into the rugged mountain range known as the Cordillera. On arrival, don professional riding gear and select your horse from a herd of gentle Criollos, mild creatures famed for their long-distance stamina upon mountainous terrain.
After a brief orientation session from your professional guide, set out on a slow saunter to explore the splendid surroundings of Santiago. During a 3-hour ride, scale mountain paths, traverse meandering streams and admire the dramatic natural panoramas on offer.
Observe the flora for diverse wildlife species as your guide offers fascinating insight into the abundant birdlife and complex eco-system of the enclave. Capture fabulous photographs at a variety of picturesque viewpoints before continuing your journey to an authentic arriero ranch.
Enjoy a warm welcome form the ranch owner and his family, sipping a steaming cup of coffee to refresh after the long ride. Feast upon a flavorsome and fulfilling picnic lunch of freshly balked bread, creamy cheeses and exotic fruit and appease an appetite for cultural authenticity by trying mate, a traditional South American drink reputed to have healing properties.
Relax during the return journey back to your hotel, where the adventurous excursion concludes.
Tour Options:
In the summer months, evening and night rides are also available. Admire the views of Santiago during the sunset tour.
April 2016
Fantastic day, very relaxing and a beautiful way to see the Andes. Tour guide brilliant and we had a fantastic Chilean lunch washed down with red wine. Neither of us had any experienced horse riding but had no issues going over the mountainous terrain as the horses were very well trained and the guide kept a close eye on us and coached us well on the way up.

November 2015
This was EXCELLENT. We were in a tour of two other couples--which apparently was one of the largest tours they had done for a while. We had an excellent trail ride through the hills with an incredibly knowledgeable guide Juane who spoke perfect English and was full of really interesting facts about the area. The lunch was simple and delicious, and everything was capped off with a great glass of wine. We would HIGHLY recommend this tour--probably the best part of our 12 day Chile trip.
One slight word of warning, though--the description says no horseback riding experience needed, but I would argue that more experience on horses is better for this. It's a real trail ride, and the horses, and the very nice horses they use DO have personalities as opposed to some other trail rides where they just follow the lead horse at a slow walk. You will trot, and probably have quick bouts of cantering, during this ride. But, that's one of the things we really enjoyed! Excellent tour from start to finish.
May 2015
..............................................................FANTASTIC.............................................................
Firstly I must say my wife and I are not horse riders, or very young.
When we booked this we somehow imagined it to be a gentle clip clop along the track, looking up at mountains, we were totally wrong. When our Columbian guide from the horse ranch set off down a steep slope into a dried up river bed I almost refused to follow, but he showed me how to do it and we were soon 2000 metres above Santiago enjoying an amazing view. There was just the 2 of us , our guide from the ranch and our very helpful and friendly guide from the tour company. The ride back down was exciting and was followed by a relaxing picnic with time to discuss the experience. We were then taken back to our hotel. Just one note of caution: Because of the morning traffic in Santiago, the company cannot pick you up from a city centre hotel, so we took a taxi to another one, they did take us back to our hotel. an excellent, personal service. I cannot rate this brilliant experience too highly, thank you.
April 2015
One great riding tour around the mountains of Santiago. The horses were well behaved and the scenery around the course was fantastic. Our tour guide was friendly and explained alot. Definately worth doing the tour lots of fun

October 2014
The tour guide was great, and the views were fantastic! They did an amazing job making our honeymoon even more special than it already was.
April 2016
Great experience and we are not accustomed to riding horses. Will definitely recommend it.
Advertisement
Advertisement