Indulge your creative side on this 9-hour tour to Isla Negra and the handicrafts village of Pomaire from Santiago, including hotel pick-up. Discover Isla Negra home of Pablo Neruda and Pomaire's long history of ceramic making, browse the many pottery shops and learn the meticulous art of sculpting, setting and painting ceramics. Shop for unique souvenirs at the artisan stores, like colorful woven ponchos or lapis lazuli jewelry.
Highlights
7-hour day trip to Pomaire from Santiago
Explore the ceramic-producing village of Pomaire with a local guide
Shop for handcrafted Pomaire pots and local souvenirs
Learn about the history and art of Pomaire pottery production
Round-trip hotel transport and bottled water included
Recent Photos of This Tour
Isla Negra and Pomaire Day Trip from Santiago
What You Can Expect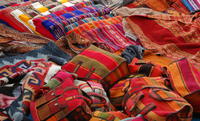 We first head to the coast, to Isla Negra, home to Pablo Neruda's museum beach house. Pablo Neruda, a Nobel Prize winner, passed away in 1973. He left behind his remarkable collections both in writing and in physical objects, divided over his 3 houses. In his beach house you will find over 3.500 collected memorabilia, such as masks, bottles, insects, shells, letters, photographs, pieces of boats etc. Of all his houses, in our opinion, this is the most remarkable one and at the same time it is also here that Neruda and his wife are buried.
After lunch, we drive towards Pomaire, famous for traditional handcraft pottery dating back to the 1500's. Here you can observe local artists, find the best shops for souvenirs and try some typical Chilean dishes. You can find some nice sombreros, traditional alpaca ponchos or beautiful handmade (lapiz lazuli) jewelry. On most of the days we are able to enter an artist's workshop and watch him throw pottery on the wheel, so you can see just how fast the artists are able to make these incredible and unique pots.
You will be picked up at 9am and returned by 6pm max to your hotel (1.5 hours drive from Providencia).
August 2013
I wanted to make the most of a short stopover in Santiago, and to see something of the countryside I decided on the trip to Pomaire and was delighted with the choice. Suzanne and Tessa both accompanied on the trip, so with two lovely ladies looking after me and very comfortable transport, a great day was guaranteed. They were very informative in response to my non stop questions as I was keen to learn as much as possible about Chile with a future return trip in mind. The traditional pottery cottage industry and craft in the village was very interesting and the village itself had a special character with a range of crafts for sale. I bought a lovely throw rug. Lunch offered the opportunity to try local cuisine and Suzanne and Tessa gave me a complete overview of local dishes to help me make a choice. A great day and thoroughly recommended. I'll be back ..............
Athens Hootie United States of ...
September 2015
Although this trip was interesting, I was surprised to find that the local artisans seem to all make the same stuff. They should learn to differentiate their craft, they should sign their craft and they should provide shipping. I would have bought many pieces if I were able to easily ship right from the stores. It was interesting to see the potter making the pieces by hand. We had an American girl as a tourguide in training, along with our Chilian guide. I have to admit, that although she was very nice, I would be disappointed to get an US American as a guide who hasn't grown up there knowing and living the customs. Also, be careful about the day you take your trip because many of the stores where closed the day we went Tuesday.
Advertisement
Advertisement