Experience the color and culture of two Chilean coastal towns on a full-day private tour from Santiago. On the way, sample delicious wines in the verdant valleys of Chile's prime winemaking region, then discover the gorgeous greenery of Vina del Mar, a seaside gem declared the 'Garden City.' Immerse yourself in the bohemian beauty of Valparaiso as you stroll the serpentine streets with a knowledgeable guide, visiting the historical highlights of the UNESCO World Heritage-listed city. Convenient round-trip hotel transportation is included in this tour.
Highlights
Private day trip to Vina Del Mar and Valparaiso from Santiago
Stop at Vina del Mar - 'the garden city'
Visit Pablo Neruda Museum in Valparaiso
Wine tasting
Private transportation and guide
Hotel pickup and drop-off
Recent Photos of This Tour
Private Tour: Vina Del Mar and Valparaiso Day Trip from Santiago
What You Can Expect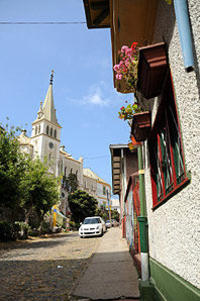 After hotel pickup, climb aboard your comfortable minivan and begin the journey to the verdant vineyards of the Curacavi and Casablanca valleys. Stop at one of the region's most successful wine producing wineries and pleasure you palate with the smooth taste of a signature wine.

Continue along the curving coastal road until you arrive at the beautiful beach area of Renaca. Sink your toes into the sands then set out to explore the flower filled streets and gorgeous gardens of Vina del Mar; admire the impressive architecture of the Gaming Casino and peruse enthralling exhibitions in the town's museum.

Next, venture to the visionary town of Valparaiso; laden with architectural eccentricities that tumble over a total of 43 hills, the town is considered a UNESCO World heritage site because of its distinct and dazzling beauty. Explore serpentine streets for vibrant street art and ascend to elevated hilltops on traditional funiculars for outstanding ocean views.
Visit the Museum of Pablo Neruda to gain insight to the iconic Chilean poets life and work, then return to the minivan and relax during the scenic journey back to Santiago.
April 2016
This was an excellent tour. Our English speaking guide Paula was absolutely wonderful and gave interesting explanations of everything we saw. Max our driver was very capable and safe. Ken kurtz
March 2016
Our guide was Carol and she did an amazing tour with us. She was on time, friendly, and her English was perfect. She answered all of our questions and provided helpful information. We enjoyed all of the sights and the lunch location was spectacular. The winery stop was better than I had imagined and was glad that we had booked it. Our trip to the market was fun and with Carol's assistance we were able to buy souvenirs. Our travel group all agreed that this was fabulous. Everything about this day was special and our tour guide was extra special.
Chris USA
February 2016
Our guide Tanya made this private tour outstanding. She had our driver take every road in Valparaiso up and down hills, have him stop wherever and have us get out and walk and wind up meeting the driver somewhere else. Got us into the museum and knew to do it before a long queuing line appeared as my wife and I finished our tour of it. Stopped for a very nice lunch that did not break the bank. Helped my wife buy a ring from a trusted store in Vina Del Mar. Only letdown was Vina Del Mar that was nice to drive through but had not much to offer. I would recommend this tour over a group tour for a better experience.
January 2016
Excellent tour, driver was friendly and the guide was very pleasant, extremely knowledgeable and made sure we were comfortable and saw everything we wanted to see. We were very pleased.
November 2015
Wow!
What a great day with our Tour Guide Carol and driver Rodrigo.
Carol is an extremely pleasant, knowledgeable, courteous professional that was a pleasure to be with.
Starting in Santiago, we stopped at a winery along the way to Vina De Mar.
It was also the time of a Chicha festival in Curacavi where we stopped and sampled this really tasty drink.
Stopping in Vina Del Mar, we toured the city on foot, and then had a great lunch in a restaurant that overlooked the sea.
Spending the remainder of the day in Valparaiso was just fantastic.
Pablo Naruda's house, incredible Graffiti, old winding streets, old buildings, buildings built within buildings, incredible sites, smells and sounds.
Thank goodness Carol was our guide as we believe that it is probably very easy to get lost in this great old winding city.
Thank you to Carol and our safe driver Rodrigo for a very memorable day!
June 2015
Excellent tour guide. Very good overview of the ride from Santiago to Viña del Mar and Valparaiso. She took us beyond the normal touristy stuff and showed us things that we would never found on our own.
May 2015
The tour guide was so friendly and spoke great English. She and the driver accommodated us in every way, including walking our baggage down to the hotel because the street had been blocked off. We tried to help but they wouldn't let us. It was an excellent tour and experience.

Deanne Australia
April 2015
Our driver was Franciso and our guide Laurina. Both were friendly and knowledgeable I wouldnt hesitate to recommend this tour. We were able to tailor the time we spent in places, miss some completely and they were totally accommodating. Before going to Santiago so many people said you must go to Vina-Del-Mar and Valparaiso and the day did not disappoint. Valparaiso has interesting, brightly coloured houses, the port, amazing murals and it was an interesting place to visit. We had lunch in Vina-Del-Mar overlooking the ocean and whilst it was good to see the town, it may not have stood out for me, except there was a Moai, which was a complete surprise. Bucket list item check! Great day.
March 2015
We had a private tour lead by Cristian. He is a knowledgeable guide well versed in All aspects of Chile. His English is very fluent and his enthusiasm and willingness to answer all our questions is much appreciated. We enjoyed our day immensely Highly recommended
Trevor H United Kingdom
November 2014
Long day but very interesting and wrth it
Advertisement
Advertisement