Maximise your vacation time and minimise the stress of traveling by pre-booking a private departure transfer to Santiago Airport. Your driver will meet you at your city hotel, help with your luggage and drive you to the airport in a comfortable, air-conditioned vehicle. There's no need to worry about inconvenient departure times or missing your flight either: transfers are available 24 hours a day, 7 days a week.
What You Can Expect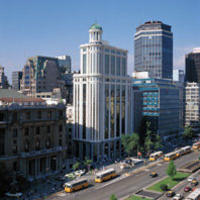 Avoid the hassles of public transport and risking being ripped off with taxi fees, book your transfer from the airport to your Santiago hotel. You'll be picked up from your Santiago hotel and taken directly in an air-conditioned vehicle to the airport.

Take the easy way out and book your departure transfer in Santiago now. Don't forget to also book your arrival transfer!

Price is per person, based on 6 adults per car/vehicle.
June 2016
On time, informative and helpful transfer.
April 2016
Prior reviews mentioned Cesar by name and when he actually arrived at our hotel, I was amazed. He gave us more information about the area on the ride to the airport and was extremely helpful at the airport. He stayed with us all the way up to security. Made our departure very easy.
Glenda H Australia
November 2015
Were on time and stayed with us until we had checked our luggage and had boarding passes, very helpful
May 2015
No problems here Picked up on time and delivered to the right terminal with plenty of time by a lady who spoke English
April 2015
Fran and Elias provided excellent service.
April 2015
this was expensive, but so worth it. We were collected on time in a plush SUV. When arrived at the airport the young lady who our guide ruched off and got a trolley for our bags. She then took us in to departure check-in, spoke i Spanish to and official and then found our check-in desk was on the second floor, she took the trolley and sent us up the escalator and then met us took us to the check-in desk and again spoke in Spanish and helped our check-in. Fantastic service and worth the ultimately to be treated so well on our departure from Chile.
March 2014
It was a great joy to have a friendly face there after a long trip. The guide was terrific! When we got to the hotel there was a snafu and she was helpful. She gave us her phone number and we called her the next day for help again and she came to the rescue.

John D Australia
July 2013
Glady's, the local guide, was wonderful, friendly and so helpful. Usually with transfers to airports they drop you off and wave you on your way to navigate a strange airport. Not Glady's. She guided us all the way through check in, using her language skills to ensure we had seats together. Glady's left us at the immigration gates. It made the whole process so easy.
June 2013
Driver on time and vehilce modern and clean.

March 2013
My husband and I managed to get by pretty well on our way into Santiago, by bus. Since we didn't speak Spanish we went with the crowd, and got off the bus when it seemed like everyone else did. Luckily, when we went to get the luggage the driver sent us back to the bus, and we finally got to the right terminal in Santiago. Now on our trip home, our flight was late at night, and we chose to go with Viatour. What a delight, no confusion at all due to our lack of language skills! Here we had a driver and our own English speaking guide that held our hand all the way to the check in counter. Plus, he answered a lot of questions and shared a lot of info on his city. Luckily, he was there to help, as the airline we were scheduled to take was flying under a different name. I'm sure we could of worked it out, but we we would of fumbled along, and wouldn't of had sure a pleasant experience.
Advertisement
Advertisement