Ensure a smooth start to your vacation by pre-booking a shared arrival transfer from Santiago airport to your city hotel. There's no need to queue for public transport, pay high taxi fares or waste time waiting around – these one-way transfers will ensure you make it to your hotel relaxed and ready to start sightseeing.
What You Can Expect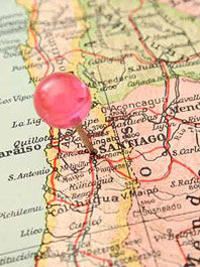 Avoid the hassles of public transport and risking being ripped off with taxi fees, book your transfer from the airport to your Santiago hotel. You'll be picked up from the airport and taken in an air-conditioned vehicle to your hotel.

Take the easy way out and book your arrival transfer in Santiago now. Don't forget to also book your departure transfer!
June 2016
March 2016
We could not have been more satisfied with the gentleman that picked us up at the Santiago airport on Fed. 27/16. He and the driver was so helpful. His name was Domingo Carrascog. They took us to our hotel where he stayed with us until we were checked in which in itself was no small feat as it turned out to be an apartment hotel with the check in on the 6th floor. The receptionist did not speak English but he stuck with us, interpreting and helping us get to our rooms. He went far and above what was expected. We were both surprised and gratified at how he had our best interests at heart. If all of your workers are as good as him we will never travel again with any other tour group. Thank you Domingo and Viator!
February 2016
Excellent service. We were picked up on time. They even made sure our hotel check-in went smoothly before leaving.
November 2015
September 2015
June 2015
April 2015
Pat and Juan were waiting at the airport for us. Pat gave us a nice chat about Santiago on the way to our hotel. Our bags were taken into the hotel for us. They both arrived exactly on time to pick us up and then deposited us at the airport. Excellent service.
March 2015
was excellent he had a board with our name on it was so easy he spoke very good english would use you again
April 2014
Staff very helpfull and reliable, supper transfer.
January 2014
The driver was on time and very helpful with the luggage. On the way to our hotel, he described life in Santiago, and the sights along the way. Would definitely repeat.
Advertisement
Advertisement