Enjoy a stress-free end to your vacation by pre-booking a shared departure transfer to Santiago airport. Meet your driver at your city hotel and travel by comfortable, air-conditioned vehicle to the airport, with plenty of time to spare before your flight.
What You Can Expect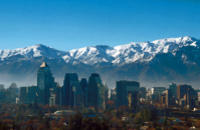 Avoid the hassles of public transport and risking being ripped off with taxi fees, book your transfer from the airport to your Santiago hotel. You'll be picked up from the airport and taken in an air-conditioned vehicle to your hotel.

Take the easy way out and book your departure transfer in Santiago now. Don't forget to also book your arrival transfer!
David J USA
March 2016
Both Eduardo's were superb. They arrived a few minutes early and were eager to obtain and place our bags into the car. The arrival time was coordinated about 3 days before out scheduled departure. The coordination included travel time during rush hour traffic which took a little less than an hour. Our guide Eduardo gave us narrative about the city areas we were traveling to the airport. Upon arrival, Guide Eduardo obtained the necessary information and escorted us to the proper gate for checkin. This included transporting some of our bags. Two truly great professionals.
November 2015
Because of Tanya's efforts, this departure transfer went very well. She was awesome - and we forgot to tip her.
January 2014
On time pickup and very smoothe trip through traffic. On time airport arrival
July 2013
Great tour. The tour guide was very knowledgeable and spoke clear and distinct English. They were always on time and answered all our questions. Will definately use VIATOR again; maybe in a different City.
Maurice D Canada
December 2009
This was a very enjoyable trip to meet with our shuttle bus!
Laura C United Kingdom
August 2008
Transfers great - early every time, guide and driver excellent.
April 2015
Our driver was waiting at the airport for us, deposited us at our hotel and then came and picked us up again again on time and without fuss.
February 2015
Arrived early at our hotel. Trip to airport was very comfortable and arrived at Santiago Airport in good time.
August 2013
A very safe driver. Probably didn't need to be picked up so early, because there wasn't much traffic before sunrise. Still better to have to wait at the airport than be running late I guess
Marvin B USA
August 2008
Went without a hitch. Great service.
Advertisement
Advertisement