Experience the spectacular sights and sounds of Santiago like a true local on a cultural 6-hour private walking tour. Explore bespoke boutiques, vibrant food markets and intriguing neighborhoods as you stroll around the city with a knowledgeable guide. Savor the sublime flavors of freshly made street food and enjoy a national cocktail in an ambient bar, gaining insight into the country's intriguing history and colorful culture as you wander.
Highlights
6-hour private insider walking tour of Santiago
Experience the city like a local with a private guide!
Ride the metro to downtown art murals and visit two bustling food markets, including La Vega Central

Stroll along shop-lined streets, through Plaza de Armas and across the Mapocho River
Enjoy lunch at a seafood restaurant as well as local street food, such as sopaipilla
Try a Torremoto, a popular Chilean drink, at a bar in Santiago's Bohemian district, and have a cup of coffee at a popular café
Recent Photos of This Tour
Santiago Like a Local: Private Walking Tour with Coffee, Markets, Street Food and San Cristobal Hill
What You Can Expect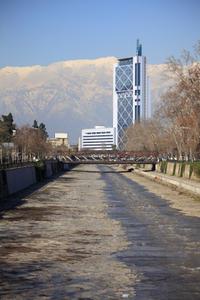 Depart from your hotel in Santiago alongside your interesting and insightful guide. Stroll to the local metro station then disembark at Universidad de Chile to admire the glittering murals that depict significant events from Chilean history.
Next, immerse yourself in the charismatic crowds of Santiago's downtown district to discover the colonial majesty of the area. Admire attractive architecture before experiencing the cultural tradition of
café con piernas
(coffee with legs) in a traditional coffee shop; sip steaming coffee served by scantily clad waitresses wearing alluring outfits.
Then, browse the bespoke boutiques of Paseo Ahumada, an immensely popular street filled with sophisticated shops. Absorb the atmosphere of Plaza de Armas, a gathering spot for Chilean immigrants, and sample some of the authentic offerings from street food stalls; try classic
sopaipilla
, a delicious pastry made from deep-fried pumpkin dough, before admiring the ecclesiastical elegance of the Santiago Cathedral.

Pass the stylish shoe stores of Puente Street until you reach the legendary Mercado Central; awaken your senses to the unique sights, sounds and smells as you admire wonderful wrought-iron architecture and the fresh and exotic produce of the stalls. Indulge in a sublime seafood speciality at one of the rustic restaurants within, trying zesty ceviche, razor clams or freshly baked fish fillets.

Refuelled, meander to Mapocho River to La Vega Central, a market brimming with seasonal produce like figs, quince, persimmons and chirimoyas (custard apples). Stroll to the beautifully bohemian neighbourhood of Bellavista, an artistic enclave in which decorate street art adorns the walls and bespoke boutiques brim with artisan treasures. Gain insight into the artists and poets who have resided there before visiting a local bar for some regional specialities.
Pleasure your palate with the sweet and sublime taste of a terremoto, a typical beverage whose name translates as earthquake. Enjoy the taste of pineapple ice cream combined with sweet fermented wine before returning to your hotel in a comfortable and air-conditioned minivan.
July 2015
Excellent tour and Carol was a very good guide. She spoke excellent English and explained the history of the city well and the importance of the various areas that we saw. It was Sunday so the city was quiet and easy to walk around and see the buildings. The highlight for us was the market and lunch in one of the restaurants there. The cafe with legs was also an experience - unique to Santiago.
June 2013
Kudo's to Paola our guide. Came out in unexpectedly cold weather and on time. Had a great day with her - just wasn't long enough!
May 2013
(see review for Private Walking Tour, Santiago like a Local). Our tour guide was Gladys and she was excellent in every way. Can't recommend this half day tour with her enough - we wish all of our tours this week had been with Gladys, such was her knowledge of the subject matter, country and culture. She had excellent English, was and looked very professional and was fun - she joined in our English humour. Fascinating day, the best tour we did as it gives you a great introduction and background to the city and country you're in. If there's one thing you do in Santiago, do this tour. A very nice lady. Thank you Gladys - you're a credit to your employer.
April 2013
February 2013
We had a wonderful tour guide, Richard Soto. He took us to all the sites a tourist would appreciate. His English is superb and his knowledge of Chilean history was very good. I am a knitter he found yarn shops for me. I asked him to take us to a "hole in the wall" restaurant....he granted my wish.
Stuart United Kingdom
December 2013
Good tour and the guide was very knowledgeable.
June 2013
Need to do some walking to get a better understanding of the city. Coffee with legs not to be missed. It was also good to look inside some interesting buildings.

May 2013
Local took us for the tour. Interesting sites and facts about the city. Excellent lunch. Unfortunately, we were driven up to San Christobel Hill, but we had to pay to get down on the funicular. This was supposed to be part of the fees, so a little disappointing.
December 2015
I was there on a religious holiday so not everything was open. San Cristobal Hill was deleted from the tour. Paula the tour guide was great. Mostly walking tour. Good lunch and explanation of the capital and culture.
March 2015
This was NOT the tour I thought I'd signed up for. We ended out on a downtown walking tour and I kept saying to the guide - but what about the markets? I kept getting the brush off - she was saying - we will go to the blue stone market. After our walk on San Cristobal Hill she took us to her friend's Lapis Lazuli store - this was NOT appreciated. I wanted to try market food and get a taste of the cuisine.
Advertisement
Advertisement