Special Offer
Book by June 15th, 2016 to travel before December 31, 2016, and save 5% off our previously offered price!
Experience the colorful coastal town of Valparaiso like a local on a fascinating full-day tour from Santiago. Accompanied by a knowledgeable guide, stroll through serpentine streets to discover historical and cultural highlights. Ride elevators to hilltops to enjoy panoramic ocean vistas; sample delicious local specialties like chorrillana in ambient eateries; and sip refreshing beer in some of the UNESCO World Heritage-listed site's best bars.
Highlights
Full-day excursion to Valparaiso from Santiago with 3.5-hour walking tour

Experience the city like a local with a private guide!
Stroll through uptown avenues and downtown alleys
Ride the Ascensor Concepción funicular for hilltop views
Embark on a harbor tour of Valparaiso Bay
Enjoy a classic lunch at Jota Cruz Martínez Casino Social
Round-trip transport from Santiago included
What You Can Expect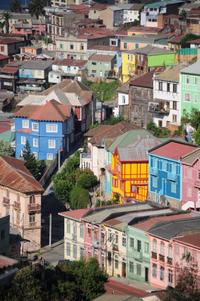 After hotel pickup, sit back and enjoy a scenic 2.5-hour drive in a comfortable, air-conditioned minivan. Admire gorgeous ocean views as you enter Valparaiso through the busting Avenida Argentina, an ambient avenue home to the weekend fruit and vegetable market.
Stop at the social center of Plaza Sotomayor and direct your attention to prominent buildings such as the Chilean Navy Headquarters. Next, glide to the top of the town on the El Peral elevator and begin your enriching exploration of the meandering streets.
Stroll along the picturesque promenade of Paseo Yugosalvo; marvel at the fabulous façade of the Baburrisa Palace; and wander down streets lined with vibrant architectural eccentricities. Then, take the city's oldest elevator to the serene summit of Cerro Concepcion, a vertiginous hill that offers stunning views of the surroundings. Sip a cup of aromatic coffee at the popular Café Brighton while absorbing the sublime sights.

Refreshed, ride back down to the financial district to discover the oldest stock exchange in Latin America, then continue your wander to a traditional tavern to enjoy one of Valparaiso's most famous dishes. Treat your taste buds to the flavorsome and fulfilling chorrillana, a hearty meal of French fries topped with steak, onions and a fried egg.

Refueled, head the picturesque port of the UNESCO World Heritage-listed city to tour the bay by boat. Cruise the curve of the coast as your guide points out legendary landmarks and even a wild colony of sea lions.
Return to shore and toast a refreshing beer or cup of coffee in the town's most iconic bar before relaxing during the journey back to Santiago.
February 2016
We had a wonderful day in Valparaiso with our guide Roberto and driver Miguel and would recommend this tour to anyone who wants to explore Valparaiso like a local, walking the tiny alleys, riding the elevators and trolley buses, boating in an open boat and eating the local dishes.
July 2015
This is the perfect way to see Valparaiso when the focus of your trip is elsewhere in Chile. It is a delightful city, not to be missed, and you feel that you have truly been exposed to it when the day trip is over. Our guide, Daniel, was just wonderful...an absolutely enjoyable personality. As well, he lived in Valparaiso in the past, so he does, indeed, know the city. It was a well planned and well executed trip. I know that you will be pleased, as well.
April 2015
A great full day tour. Interesting city, and history. A great personable guide, eating what the locals eat with the locals . Really enjoyed it. Great start to our holiday.
March 2014
The tour delivers exactly what it says: spending a day in Valparaiso like a local (albeit one who had a day off and was determined to remind themselves of everything that Valparaiso had to offer). Our guide, who arrived at our hotel in Santiago promptly, was a very personable and knowledgeable young philosophy teacher, acting as a tour guide in his spare time. On the way to Valparaiso we stopped to sample some sweet local pastries at a road-side café and then some interesting wine at a bodega in the Casablanca valley (and no-one said:"..of all the bodegas in all the valleys in all the world and you had to walk into mine"). In the city, we had an hour to visit the house that belonged to Pablo Neruda with its stunning views over the city and the harbour and its collection of quirky artefacts: the place reverberated with poetry. Then we toured the streets and alleyways on foot, taking in the English and German quarters, a funicular ride, a stop at what could only be described as a confectionery speak-easy (our guide knocked a door and a woman appeared bearing dulce de leche sandwich cakes) and then another stop at a cool local café for refreshing fruit smoothies. Back in the lower part of the city, we took a tram ride, then strolled back through the streets and squares to an excellent retro restaurant, reminiscent of 1950s Paris with its long bar and sepia décor, for lunch, preceded, inevitably, by pisco sours. Then it was back on another rickety funicular and a wander through more of the colourful alleyways and cobbled back streets before a cruise around the harbour to take in the sweeping views of the city from the water. It was a long day but an immensely enjoyable and rewarding one.
June 2013
Fantastic day Ricardo was informative and helpful. We would highly recommend this tour to others
December 2015
Our guide Ceasar spoke excellent English. He was well informed and very pleasant.
The walking tour was interesting and the harbor tour gave good perspective of the hills of Valparaiso.
Emma our driver was very competent.

December 2013
Loved the tour which really helped me understand the history and beauty of Valparaiso. The guide and driver were most kind, the lunch delicious and we were amazed by the neighborhoods of the city. On the negative side, it was terribly expensive for the two of us since no one else signed up. I hated paying around $150 extra for the 2 of us. Also, the harbor cruise was lovely but the narration was only in Spanish with no English.
August 2015
This tour certainly kept us busy! From a car ride very comfortable, Sebastien was a great driver to a trolley ride paid for by our guide, to a boat ride again, arranged by the guide to coffee guide, to a funicular ride and then a tour of the Valparaiso hills and a stop at Neruda's house. The guide was extremely knowledgeable.

November 2015
To start, the confirmation email said 9:30, but the tour operator arrived at 9am, causing us to have to rush through breakfast which was important to eat for a full day tour!. They stopped at a little gas station halfway for us to relieve ourselves, as well as a wine outlet on the way to Valparaiso--both good additions. However, we spent pretty much all day staring at the facades of buildings--I'm a history person, and I found it disorganized and poorly executed. The harbor cruise was nice we saw several sea lions!. We didn't eat lunch until 5pm and not at the restaurant specified in the description, and completely missed the beer portion. Valparaiso seemed like a lovely place, but we were not thrilled with this tour. Felt absolutely haphazard and like I didn't come away actually learning much about the city--just endlessly staring at buildings from 1890 to 1920. Wished we could have at least gone INTO one of the buildings--but seriously, the furthest we went was to stand in bank and hotel lobbies and stare at architecture. The day also stretched much longer than expected--the ten hour tour went from 9am to 8pm. Not our favorite tour.
October 2014
We were very disappointed with our tour experience. The trip from Santiago to Valparaiso was a boring long trip along a highway with a stop at a barn-size commercial winery along the way with no cultural value at all. The heritage-listed area of Valparaiso was gorgeous, but frankly we would have enjoyed it more without our guide. The commentary was banal, and we were treated like children. Our guide was an ex-teacher and we can only presume she was a primary teacher. We did not consider it good value for money - US$300 each, with a cheapo lunch at a zero atmosphere establishment. The harbour cruise was incredibly disappointing - just a short circuit around what was essentially an industrial port. To others I'd say: save your money, buy a decent local map, and wander around Valparaiso by yourself.
Special Offer
$151.99 Save $7.60
Advertisement
Advertisement