Dip into ancient ruins, volcanic wines and local beers on this variety-packed 6-hour tour of Santorini. With an expert guide, venture to the Akrotiri Santorini archaeological site to explore the semi-crumbled buildings and relics buried here by volcanic ash 3,600 years ago. Then, visit three traditional wineries and taste a total of 12 varietals, all defined by the island's mineral-rich soils. Finish at Santorini's only brewery, the Donkey Brewery (excluding Sundays), to sample three fresh, unfiltered local beers.
This tour is limited to eight to ensure a small-group, personalized experience.
Highlights
6-hour small-group tour of Akrotiri and three Santorini wineries with a professional guide
Explore the excavations of Akrotiri, a Minoan city that lay buried for centuries after a volcanic eruption
Hear of Akrotiri's links to Plato's Atlantis, an ancient city that was said to have disappeared after the Greek gods were angered
Visit three traditional wineries and enjoy a platter of local delicacies alongside wine samples
Try up to 12 varietals of Santorini wine including nykteri and assyrtiko
Small-group tour with a maximum of eight people ensures personalized attention
Sample three fresh and unfiltered local beers at the famous Donkey Brewery (Monday-Saturdays only)
What You Can Expect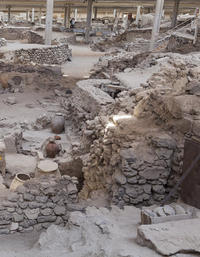 Begin your experience with a pickup from your Santorini hotel. Meet your friendly guide, hop aboard your comfortable, air-conditioned minivan with the rest of your small group, and set out on your 6-hour tour.
Make your first stop at the fascinating archaeological site of Akrotiri, an ancient Minoan Bronze Age settlement that was destroyed and buried by a major volcanic eruption some 3,600 years ago.
Stroll around the semi-crumbled, multi-storied buildings with your archaeology-expert guide, and view the frescoes, pottery and other relics as you hear how life would have been here aeons ago. Of particular interest is the ingenious drainage system that testifies to the sophistication of the engineers of the time.
Many speculate that this timeworn site is home to the remains of Atlantis, a mythical city that was described by Greek philosopher Plato.

Santorini's long history of winemaking is evidenced in some of Akrotiri's remains, providing the perfect cue for your next round of visits — to three of the island's traditional wineries.
Admire the views of the vineyards as you travel to each of the wineries, and taste a total of 12 wines across your three visits. Wines have been made on the island for more than 4,000 years, and are renowned for their delightful crispness and high acidity, both resulting from Santorini's aspa — the island's unique, volcanic soil.
Enjoy a cellar tour at each winery and learn about the different winemaking processes. Hear how the grapes are grown in baskets near the ground rather than on trellises to capture maximum moisture from the island's minimal rainfall.

 Your 12 tasting wines will include favored varietals such as nykteri, vinsanto and assyrtiko and be paired with local goodies such as olives, salami, cheese and breads to balance out their tastes.
Afterward, pay a short visit to the legendary Donkey Brewery, Santorini's only brewery. Here, wrap your tastebuds around three unfiltered and fresh local brews as you hear how they're made and chat about their distinct flavors.
Finally, end your tour with a drop-off back at your hotel.
June 2016
This was a great way to see much of the island without having to rent a car and deal with driving and traffic. Our guides were great and it was a nice mix of activities.
April 2016
This was amazing! 14 different wines in 3 wineries. 4 beers at the brewery. Lots of fun!
December 2015
Tour guide was exceptional in his knowledge of wines. Great tour! highly recommend. Akrotiri is NOT TO BE MISSED.
October 2015
We had a wonderful time! The tour guide at ancient Akrotiri and the wine tour were fabulous! I recommend eating a good breakfast before going because they do not provide very much food.
October 2015
Dennis was a wonderful guide. His wine knowledge was terrific. We've lived in northern California for 40 years and still learned things from him about wine appreciation. He set us up with Katie, a very passionate, knowledgeable guide at Akrotiri. We went to 3 wineries and a brewery. The snacks served with the wine made a delicious lunch. Santorini can be so crowded when cruise ships come in. Of the people on our small cruise ship, all agreed that our day sounded like the best Santorini experience ever.
October 2015
This tour was fantastic! I have been on many wine tours and on many tastings over the years and this was by far the best in terms of what I learned in how to pair the wines with food that I am eating. I was also delighted with the olives, salami, cheeses and breads to eat with the wines that I tried.
The ancient Akrotiri was very interesting. My boyfriend and I do not like to drink first thing in the morning so it was a great start to the morning. We enjoyed learning about all the ancient settlers to Santorini and how their homes were covered by a volcanic erruption. I highly recommend to wine, food and history lovers!!
August 2015
A fantastic tour! Our guide, Stamatis, was extremely knowledgeable and friendly during the wine tasting. We explored various varieties of wine from Santorini, including some sweet wine, and they are very unique and flavourful. We also visited the Santorini brewing company, which was a pleasant surprise. Highly recommended!
June 2015
Tour was great! Picked us up on time in a clean van and offered us bottled water. Your had total of 4 pairs (8 total) and was perfect size. 3 wineries and 1 brewery. Lasted 9-5 approximately from door to door. Stopped at excavation site in beginning for maybe 45 minutes that was interesting.
June 2015
Well informed guides both at Akrotiri and at the three wineries we visited. Very educational and a lot of fun.
October 2014
Advertisement
Advertisement