17 Reviews
Location:

Santorini, Greece

Duration:

5 hours

(approx.)
Venture around the ancient ruins of Akrotiri on a walking tour, and then spend the afternoon sipping crisp Santorini wine during visits to three island wineries! This must-do half-day tour offers an exciting insight into the island's unsung history and winemaking heritage. From a professional guide, hear tales of Akrotiri's links to the mythical city of Atlantis, learn about ancient and modern-day winemaking on the island and taste 12 different types of Santorini wine.

Numbers are limited to eight on this small-group tour, ensuring personalized attention from a guide.
Highlights
5.5-hour small-group tour of Akrotiri and three Santorini wineries with a professional guide
Explore the excavations of Akrotiri, a Minoan city that lay buried for centuries after a volcanic eruption
Hear of Akrotiri's links to Plato's Atlantis, an ancient city that was said to have disappeared after the Greek gods were angered
Explore three traditional island wineries and enjoy a platter of local delicacies alongside wine samples
Try up to 12 varietals of Santorini wine including nykteri and assyrtiko
Small-group tour with a maximum of eight people ensures personalized attention
What You Can Expect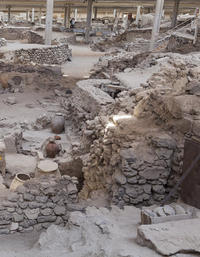 Start your day with a hotel pickup and travel to the archeological site at Akrotiri, an ancient city that was frozen in time after a volcanic eruption some 3,600 years ago. Head inside with your guide — an expert in archeology — and learn about the Minoan city before the catastrophic event occurred. Many speculate that the site is actually Atlantis, a mythical city described by the Greek philosopher Plato as being a prosperous land that disappeared without trace after the Gods were angered.

Gaze in awe at the ruins of multistoried buildings that date back to the 16th century, and admire the intricately designed drainage system that hints at a talented civilization more advanced than its time. Frescoes and fascinating ceramic artifacts are just a few of the finds that add even more intrigue to the site as you wander around.

Evidence of the island's winemaking heritage has been uncovered at Akrotiri and, after learning about the processes used in bygone days, leave the attraction and set off to discover how Santorini wine is made today.

Producing some of the most distinctive wine in the Mediterranean, the island owes its success largely to aspa, a blend of volcanic soil that gives the wine its rich minerality and light flavor. Grapes are grown in baskets close to the ground rather than on trellises, allowing much-needed moisture from the island's minimal rainfalls to be retained.

Visit three of the island's traditional wineries, and enjoy cellar tours of each one to see how the winemaking process unfolds, from harvesting the grapes to bottling and maturing the wine. Take a walk around one of the volcanic vineyards to see the grapes growing in the unforgiving island conditions and, of course, try glasses of Santorini wine galore – up to 12 samples in total!

Try popular varietals such as assyrtiko, nykteri and the rich vinsanto, and enjoy a platter of local delicacies including cheese, salami, bread and olives to complement and balance out the flavors of the wine. After learning about wine and history, finish your experience with a hotel drop-off.
October 2015
We had a wonderful time! The tour guide at ancient Akrotiri and the wine tour were fabulous! I recommend eating a good breakfast before going because they do not provide very much food.
October 2015
Dennis was a wonderful guide. His wine knowledge was terrific. We've lived in northern California for 40 years and still learned things from him about wine appreciation. He set us up with Katie, a very passionate, knowledgeable guide at Akrotiri. We went to 3 wineries and a brewery. The snacks served with the wine made a delicious lunch. Santorini can be so crowded when cruise ships come in. Of the people on our small cruise ship, all agreed that our day sounded like the best Santorini experience ever.
October 2015
This tour was fantastic! I have been on many wine tours and on many tastings over the years and this was by far the best in terms of what I learned in how to pair the wines with food that I am eating. I was also delighted with the olives, salami, cheeses and breads to eat with the wines that I tried.
The ancient Akrotiri was very interesting. My boyfriend and I do not like to drink first thing in the morning so it was a great start to the morning. We enjoyed learning about all the ancient settlers to Santorini and how their homes were covered by a volcanic erruption. I highly recommend to wine, food and history lovers!!
August 2015
A fantastic tour! Our guide, Stamatis, was extremely knowledgeable and friendly during the wine tasting. We explored various varieties of wine from Santorini, including some sweet wine, and they are very unique and flavourful. We also visited the Santorini brewing company, which was a pleasant surprise. Highly recommended!
June 2015
Tour was great! Picked us up on time in a clean van and offered us bottled water. Your had total of 4 pairs (8 total) and was perfect size. 3 wineries and 1 brewery. Lasted 9-5 approximately from door to door. Stopped at excavation site in beginning for maybe 45 minutes that was interesting.
June 2015
Well informed guides both at Akrotiri and at the three wineries we visited. Very educational and a lot of fun.
October 2014
October 2014
Excellent trip and well worth the money. After the trip to Akrotiri we had a tour of three wineries and one brewery. The guide for the wine tasting was extremely knowledgeable and the maximum people was 10 so a very personal and enjoyable afternoon with at least 12 different wines and 3 beers!
September 2014
August 2014
Fantastic! We thought it was a half day tour, but it ended up being all day. Great wine! Excellent tour.
Advertisement
Advertisement