Venture into Brazil's Mata Atlântica (Atlantic Forest) on a half-day eco-tour from São Paulo.

Traveling to Cantareira State Park by private vehicle, you'll catch a breath of fresh air in the dense forest landscape that surrounds the city – declared a São Paulo City Green Belt Biosphere Reserve by UNESCO! As you hike the trails with a local guide, enjoy plenty of bird-watching opportunities along with breathtaking views of the sprawling city below.
Highlights
Learn about the native flora and fauna in the area, like jaguars, howler monkeys and many species of birds
Explore the Mata Atlântica (Atlantic Forest) during a private 4-hour tour
Trek through the dense foliage on the park's network of trails
Enjoy private round-trip transportation from select São Paulo hotels and the attention of a dedicated guide
What You Can Expect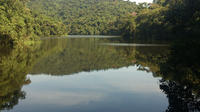 After your guide picks you up from your hotel by private vehicle, head to the hiking trails of Cantareira State Park, known as Parque Estadual da Cantareira. Part of Brazil's vast and protected Mata Atlântica Biosphere Reserve, which covers 14 states, this section of the Atlantic coastal forest spreads over more than 20,000 acres (8,000 hectares).

Your guide will select the best trails to suit your ability, ranging from easy- to medium-level trails, and point out the area's natural features along the way. The rich natural environment displays scenic views and an abundance of native flora and fauna, including more than 260 species endemic to the Atlantic Forest. Learn how the forest canopies support rich vegetation and a surprising mix of ferns, mosses, orchids and bromeliads, as well as the howler monkeys and jaguars that inhabit the verdant jungle.

Just one mile (3 km) up the mountain is a vista point called Pedra Grande (Big Rock), which offers one of the best views of São Paulo. Keep an eye out for the harpy eagle, red-tailed Amazon and black-fronted piping guan, among many other birds that rely on the area as an important breeding ground. When you've hiked to your heart's desire, relax on the comfortable drive back to your hotel.

October 2015
The trip was great. Our guide, Carlos, was fantastic.He contacted us at the hotel when we arrived and was at the hotel exactly when he said he would be. He made sure the entire trip was a pleasureable experience for us. He provided water and snacks which was a pleasant surprise. He was knowledgeable about the history around the park, the different plants and animals we came across. Even on the way to the park as we drove through the city he pointed out different points of interest and shared the history with us. The park was great. The hike could be steep at times, but nothing major. We were afforded a great view of Sao Paulo from atop a large stone formation and ventured to a small lake which was very scenic. I would recommend this for anyone looking for a nice outdoor activity and to experience the forest.
September 2015
Advertisement
Advertisement