Hear about local legends and shocking scandals on this fascinating night tour of Savannah's historic pubs and taverns. Your entertaining guide will lift the genteel mask of Savannah to reveal haunting and titillating pieces of the Georgia city's past. Walk around the old colonial part of the Savannah Historic District, stopping to visit eight pubs including Churchill's Pub and Molly MacPherson's. You'll be able to purchase drinks at discounted rates at these historic watering holes. This 2-hour tour is an ideal way to learn about Savannah's colorful history while checking out some of its best pubs.
Highlights
2-hour night walking tour of historic Savannah pubs and taverns

Explore the old colonial section of the Savannah Historic District

Learn about Savannah legends and scandals from your knowledgeable guide

Stop at eight historic Savannah pubs and enjoy their drink specials (own expense)

Immerse yourself in Savannah's culture and nightlife and meet new people!

Recent Photos of This Tour
Historic Savannah Tavern Tour
What You Can Expect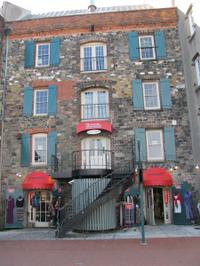 Your night tour of historic Savannah pubs begins in the northern part of its National Landmark Historic District, the largest such district in America. Walk along cobblestone streets amid silvery fronds of Spanish moss as you listen to your informative guide share tales of Savannah's turbulent past. Learn about the two massive fires and yellow fever outbreak that ravaged Savannah. Hear how General Sherman was so charmed by the lovely city that he spared it and offered it to President Lincoln as a Christmas present.

Your guide will also tell you about the local legends, racy scandals and scintillating secrets of this almost 300-year-old city. Along the way, stop in at historic pubs such as Churchill's Pub and Molly MacPherson's and learn the part each plays in Savannah's colorful history. Indulge in drink specials at the pubs (own expense) and soak up the local culture.

During your easy 2-hour walking tour, you'll cover a total of about one mile (1.6 km). Your tour will conclude at a pub in downtown Savannah, where you can easily continue your night on the town on your own.
April 2015
Ted is a warm and knowledgeable tour guide. We highly recommend him!
January 2015
We were disappointed that we only visited 4 taverns, not the 8 mentioned and not the main ones. there were 17 people on our tour which was too large to be waited on easily and difficult in the small taverns. Our fellow travellers were delightful and that saved the evening for us. Tour guide was just adequate.
September 2014
The two of us were the only ones in the group, so the fun part of a bunch of people adding their stuff to the stories was missing. The guide did his best and we had a good time after all.
February 2015
A very disorganized, disjointed tour that was made worse, by miscommunication and a very inebriated obnoxious group of 9 women on a bachelorette party (before the pub crawl/tour even began). I was left very unhappy with this tour at the end of the night, which was my birthday.
August 2014
We have been to other, similar tours in Savannah (Creepy Crawl, and a kid friendly one as well). Our tour guide wasn't very engaging or knowledgeable. He seemed to be already buzzed when he picked us up. Every member of our party had more personality and by the end my husband was making up ghost stories about the pubs we visited to entertain us. He asked us not to submit a negative review... we alleviated our guilt by tipping high. But - spend the extra $7 and take the Creepy Crawl. It was much better.
May 2015
Tour leader never showed up. We called the number on the voucher and left a message, but nobody ever got back to us. Don't book it.
February 2015
The guide was unenthused and seemed more interested in his own drinking than in telling us stories to complement the taverns that we visited. Very boring tour! The best part of the tour was when we ended it prematurely and made our way back to our hotel.
October 2014
Our confirmation did not include the meeting place for our tour. When I called the local contact number I got a message that the mailbox had not been setup. After several attempts, the tour operator did call me and we arranged our rendezvous point. When we arrived, our tour guide was waiting for us and we set out. He gave us some historical anecdotes but wasn't the great storyteller we had hoped for. By the half way point he was pretty tipsy and the stories were peppered with colorful language. We were glad when the two hours were over and we set out on our own. Great concept for a Savannah tour but I would suggest a different tour operator.
June 2014
Well, Cliff, was our tour guide and we started out at Zunzi's 2. Never have had a guide who wanted to smoke while doing a tour! We only went to 3 other bars and as the tour was leaving the 3rd pub to go to the last stop, Cliff said he hated to rush us but he had a another tour coming up at 10PM! Needless to say, my group of 7 decided to leave the last stop and go our own way! I have lived in the Savannah area for 14 years and have done numerous ghost tours and pub crawls and this had to be the worst one I have ever done!
Advertisement
Advertisement