Sip your way around Savannah on a 1.5-hour evening martini tour! With a friendly local guide, travel around the Historical District on foot, and visit four of the city's popular cocktail lounges and bars. Tables are reserved in each bar, and the tour includes a signature martini in each place. Learn fun facts about the famous gin- and vermouth-based cocktail as well as snippets of city history; and sample a Prohibition-era specialty, an elderflower-flavored martini and more!
Highlights
1.5-hour martini tour of Savannah, led by a friendly local guide
Visit four bars around Savannah's Historical District and enjoy drinks in each one
Hear fun facts about the city's history and learn about the speakeasies that existed in the Prohibition era
Try a popular Prohibition-era martini, as well as different flavor varietals such as tropical fruit
Travel by foot, and hear local celebrity gossip plus trivia about Savannah and its nightlife
What You Can Expect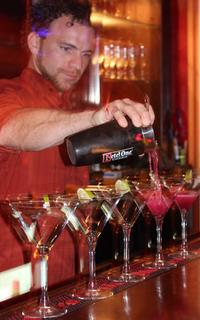 Meet your guide in the center of town at Savannah Visitor Center. Then, head out to explore Savannah's stylish cocktail lounges and bars while learning about the city and its nightlife scene.

Head to a venue famous for its Prohibition-era martini, and hear fun facts and trivia about the city during Prohibition days when speakeasies were commonplace. Hear about the 1990s renaissance of the humble martini thanks to Sex and the City, and chat about the different types of the classic cocktail that can be found around the city.

Continue exploring Savannah's Historic District by foot, and visit three further bars or restaurants to try a different cocktail in each one. If you have a sweet tooth, try a tropical fruit martini! Or, if you're looking for a more refined flavor, sip on an elderflower martini, and compare the different flavors with other drinkers in your group.

Besides learning about the bars and different martinis, hear tips from your guide for other restaurants and bars to visit independently. You'll also get the lowdown on local celebrity gossip, as well as some entertaining trivia about the city and its captivating nightlife scene.

After your fourth and final bar, travel back to the start point at Savannah Visitor Center where your martini tour finishes.
March 2015
Roger was very informative and interesting. loved it
February 2015
Amazing tour! Ralph was an awesome guide and brought us to four bars for Martinis. It involved walking which did not bother me but if walking is an issue then you should probably reconsider. We had a Rice Krispie martini at Jen and Friends which was delicious.
February 2014
This tour was great! You'll learn the history of the martini and some Savannah history as well. The martins were excellent :) I would make sure to eat before this tour or you will be "feeling it" rather quickly. My favorite martini was at Jen and Friends, there they served us a rice krispy treat martini. Yummo!!
August 2014
It was fun to get to know some of the bars in town...tour guide was filling in for the regular tour guide so did get some fun history on all the movies filmed in Savannah.
September 2014
Great idea, but needs work on the execution. I didn't like standing in the street with a plastic cup as my martini. And a sports bar???? Get martini bars that want to actively participate and do it right. Guide was not entertaining. Overall, well below acceptable.
Advertisement
Advertisement