Delight in the southern-style cuisine of Savannah, Georgia on this guided, 3-hour food tour of the city's famous Historic District. Visit six of Savannah's best eateries — including Paula Deen's the Lady and Son's Restaurant — and sample dishes like fried green tomatoes, southern barbeque meat and much more. Learn about the region's culinary history, like the origins of soul food, while covering a 15-mile loop in an air-conditioned bus. Bring a hearty appetite and a sense of adventure. Georgia peach tea and water are included. Hotel pickup/drop-off available for a fee.
Highlights
3-hour 15 mile loop Savannah food tour by air-conditioned bus
Learn about Georgia's culinary history from a food-expert local guide
Try classic southern specialties including fried green tomatoes and southern BBQ meat
Sample traditional soul food dishes while exploring six eateries around Savannah Historic District
Visit The Lady and Son's Restaurant, run by ex-Food Network presenter, Paula Deen
What You Can Expect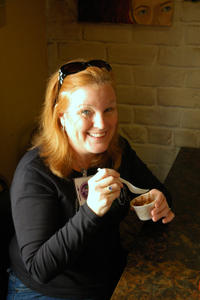 Arrange for a hotel pickup ($5 surcharge) if desired, then begin this guided food tour at the Savannah Visitor Center, located in the passenger terminal at the Central of Georgia Railroad complex. Climb on board an air-conditioned bus and embark on a 3-hour journey to discover Savannah's finest foods.
Listen as the guide talks about Savannah's history and its impact on the region's cuisine.
Then enjoy six different food stops, including Paula Deen's the Lady and Son's Restaurant for a taste of one of their Southern classics. Elsewhere, sample dishes like fried green tomatoes, southern barbeque meat and much more, including deserts, of course, and plenty of soul food.
There will also be time to explore Savannah's famous Historic District before the tour ends with a return trip to the Visitor Center.
April 2016
We had such a great time. Our tour guide was so helpful and so accomodating. The restaurants were welcoming and the food was great. I would recommend this to anyone who has or has not been to Savannah before. A fabulous way to see the city.
February 2016
We really enjoyed our food tour while in Savannah. Not only did we experience popular eateries but also places where the locals like to frequent.
Our guide also shared the history of Savannah with us.
The food was plentiful, we even went back to the rib house for dinner that evening.
February 2016
We are four retired teachers who travel together and each one gave the trip a thumbs up. I chose this trip because it was not a walking trip and it turned out to be just the right choice. We went to places that were different from each other but all served good food. Would diffently recommend.

January 2016
Wonderful tour. we visited many restaurants that we would never had even heard of on this tour. we were with a cousin from Toronto, Canada, who is a real foodie and my mother, who cannot walk long distances. The bus tour worked great for us in allowing us to see so much of Savannah that we would not otherwise have seen on a day trip. Also, my mom was able to join us since the tour was on a bus, as she would not have been able to go if we did a walking food tour.
November 2015
We had a great time and were able to see several places that we wanted to go to but had very limited time. Our guide was interesting and helpful.
November 2015
Gary was a fantastic host. A life-long Savannah resident he gave great background on all the restaurants as well as the other landmarks we passed.
The locations and food were terrific. The tour starts out with a appetizer type of food and goes through a multi course meal as you stop at the additional locations, ending with a really nice candy / desert shop.
I really felt well fed at the end of the tour. We were warmly created at all the stops by the restaurant staff.
I highly recommend this tour.
August 2015
The guides were awesome and the food tasty. I recommend you book the food tour next time your in Savannah, Ga
July 2015
Great food and tour guide
April 2015
The tour was great. our guide Gary was wonderfully friendly and very knowledgeable of the area, Would defiantly recommend it to others.
April 2015
We enjoyed our food tour of Savannah. Gary was very knowledgeable and entertaining. This trip was our first to Savannah, and we only spent one day on our way to Florida. My husband and I would love to go back again. The restaurants we visited were diverse and we thought the food, although only samples, was ample. We were so full we didn't eat dinner.
Advertisement
Advertisement