See Seattle's main attractions on this 9-hour, guided sightseeing tour in an around the Emerald City. Visit must-see sites like the iconic Space Needle, the beautiful Seattle waterfront, historic Pioneer Square and Puget Sound, among many others. Enjoy 1.5 hours for lunch and leisure at the world famous Pike Place Market on the waterfront. Then tour the massive Boeing assembly plant, the world's largest building by volume. See airplanes being built and the Future of Flight Aviation Center. This tour includes hotel pickup and drop-off.
Highlights
Ultimate Seattle combo tour
Get oriented with Seattle on a 3-hour city tour of major attractions and neighborhoods

See Pioneer Square, Ballard Locks and the Space Needle, and stop for a panoramic photo op of the skyline and Puget Sound
Enjoy 1.5 hours at Pike Place Market to wander around at your leisure
Take a behind-the-scenes tour of the Boeing factory to watch planes like 747s and Dreamliners being assembled
Design your own plane and ride in a flight simulator at the Future of Flight Aviation Center
Hotel pickup and drop-off included
Why Our Insiders Chose This Tour
This package combines the best Seattle has to offer with a morning city tour, a stop at Pike Place Market and a Boeing Factory tour to finish out the day.
Recent Photos of This Tour
What You Can Expect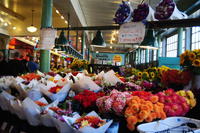 This comprehensive tour of Seattle is broken into three parts: a tour of the city itself, time at the famous Pike Place Market and a fascinating journey through the Boeing factory and Future of Flight Aviation Center.
The day begins with a hotel pickup before venturing to Seattle's main attractions and landmarks in and around the city. There's the famous Space Needle, of course. Also stop at historic Pioneer Square and Ballard Locks, which provides a link for boats between Puget Sound, the Ship Canal and Lakes Union and Washington. On a clear day, majestic Mt. Rainier will be visible in the distance. See it all, and cover an impressive 50 miles of real estate, in only three hours.
Then it's off to Pike Place Market, one of the oldest farmer's markets in the United States, for lunch (own expense) and leisure. Spend 1.5 hours wandering and welcoming the sights, sounds and smells (and tastes, definitely tastes) of this remarkable nine-acre market.
Finally, the tour moves to Boeing, the world's largest aerospace company, and their factory north of the city in Everett, WA. Upon arrival, a Boeing representative will uncover the inner workings of the assembly plant where Boeing airplanes are manufactured. Go ahead, be impressed. It is, after all, the largest building in the world by volume. See the planes as they are being built and watch a short film that will further reveal how a plane is constructed from start to finish. Then stop at the Future of Flight Aviation Center, with interactive exhibits to not only build a plane, but also fly it in a simulator. Amazing.
The tour concludes with a return trip to Seattle.
Itinerary
Sights seen on the city tour include:
Seattle waterfront
Pioneer Square
Waterfall Garden Park
Klondike Gold Rush National Historical Park
Safeco and Qwest stadiums
Chinatown and International District
Lake Washington
I-90 Floating Bridge
Mercer Island
Fremont neighborhood and Fremont Troll
Lake Union and Ship Canal
Fishermen's Terminal
Ballard Locks and salmon ladder
Discovery Park
Magnolia Bluff and its beautiful homes
Space Needle
Seattle Center
Pike Place Market
Views of Olympic Mountains, Cascade Mountains, Puget Sound and downtown Seattle
June 2016
Excellent. Gerry did a great job. He is certainly a valued employee. Keep up the good work. Dennis Hoffacker NC
Glenda H Australia
June 2016
Arthur S USA
June 2016
Great tour from the van tour through the factory tour.
June 2016
This was excellent...the tour guy was superb LOVED his job...I just wish everyone would have tipped him he deserved every penny....they should know better even if coming from another country...Loved that you went of your way to pick us up at our airport hotel!!!! Thank you....
June 2016
My husband and I loved this tour. It was informative and entertaining. The guide was very knowledgeable and we never felt rushed.
June 2016
I was thoroughly pleased with the tour. It was all I expected it to be.
June 2016
The City Tour brought us to experience different towns and bridges and view points, with enough time to walk and take pictures. The Pike Place Market was very interesting, we bought the famous Rainier Cherries and the delicious lunch, and watched the fun fresh Fishes Market. The Boeing Factory was beyond our normal plane travel, it gave us the deeper appreciation of Plane Building Business, with so many pieces of parts and sophisticated technology. This 3 in 1 Tour summed up the Life and business of Seattle, and witnessed the ever expanding City.
June 2016
Great trip, we learned so much about Seattle. We never would have seen half of what we saw on our own. The traffic in Seattle was so horrid, but we just relaxed and let the driver handle everything.
June 2016
We loved this tour. Wesley the guide was a hoot, he made it special with his commentary and quirky sense of humour. We both feel in love with Seattle. It was a long day but worth it. The Boeing Factory tour was a revelation, would have loved to stay longer just to look at the beautiful aircraft!
June 2016
Our tour guide Adam was very knowledgeable and enthusiastic. We covered a lot of ground, got a good overview and sense of Seattle, and the entire day was enjoyable and did not feel too long.
Advertisement
Advertisement